How Can I Track My Child's Phone without Them Knowing
Posted in Parental Control by admin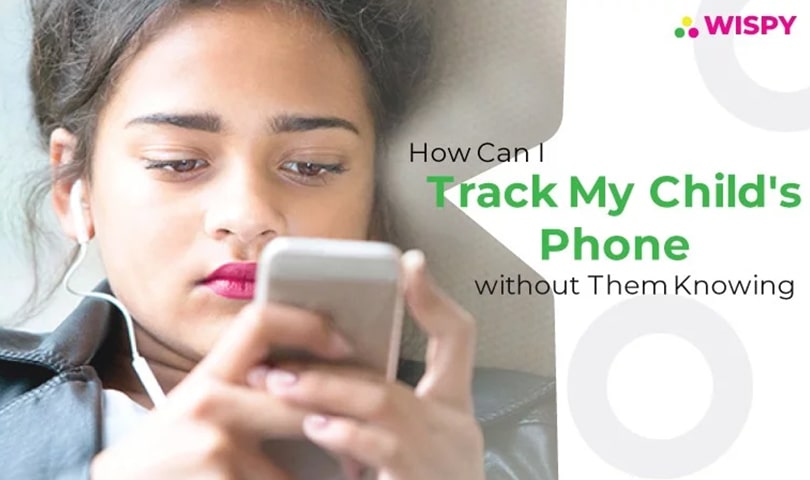 Are you looking for ways to help you track your child's phone?
Well, every parent is anxious about what their kids do on their mobile phones, whom they meet, where they go after school or college, etc.
The evolution of technology has automated most of our daily tasks. We have become so dependent on our mobile devices that it feels uncommon if our kids use smart devices all day. Children, today, are much more intelligent than us. Even toddlers can unlock your phone once they learn your unlock pattern or passcode.
Having tech-savvy kids is both a proud moment and a matter of worry for parents. The reason is simple, digitally active teens are more potent to hide their online space from their parents. Not only this, but there is a big chance that teens keep their parents uninformed about their whereabouts.
Are you sure your child comes home straight after college?
Do you know the friend circle of your kid?
If you don't, then no worries.
In this article, we are going to cover how you can monitor your kid's mobile phone without any suspicion.
Amazing isn't it?
Let's get started.
How Can I Track My Child's Phone without Them Knowing:
The online and physical worlds are indeed full of possible dangers, especially for teens and tweens. The rate of kidnapping and child molestation is increasing with the passing time. But, kids do not understand the sensitivity of such nuisances.
Teenage is a time of exploration. Teens do get offended when their parents ask them about how they spent their whole day outside or what activities they do online.
We understand that, as a parent, you only want to make sure that your child is safe.
So, let's jump to the main topic; How can you track your child's phone secretly?
If you just ask your teens to hand over their phones to you, then it might create problems in your parent-child relationship. Teens want privacy and freedom to use the internet.
The most efficient way to track your teen's phone is with the help of a non-intrusive cell phone tracking app. Using a mobile tracker, you can trace the real-time location of your child without any suspicion.
Here is the ultimate way to track my kid's cell phone effortlessly.
TheWiSpy Mobile Tracker – Know Where Your Kids Are:


Tracking the Android devices of your kids is not as difficult as it seems. Especially when you have an advanced parental control app for tracking – TheWiSpy.
TheWiSpy is an app to monitor child mobile GPS, which helps parents to track the real-time location of their kids. No matter where your children are, you can trace their location history and active pinpoints to make sure they are safe outside. The amazing thing about TheWiSpy parental control app is that it not only provides GPS location tracking, Parents can completely manage and monitor their kid's online space.
Here is a glimpse of the leading parental control app features for tracking smartphones and tablets.
Call Recording: You can listen to all the incoming and outgoing call recordings of your child's phone and find out who contacts your kids and what they talk about.
SMS Tracking: With SMS tracking, parents can keep eyes on all the sent, received, drafts, and deleted messages of their kid's phone.
Social Media Spying: TheWiSpy allows parents to secretly and remotely monitor the social media accounts of their kids to make sure they use the internet space safely.
Web Browsing History Monitoring: Parents can now monitor the web browsing history of their teen's mobile devices without them knowing.
Location Tracking: The GPS tracking feature enables parents to keep track of their kid's whereabouts. You can track your child's location history and monitor active pinpoints remotely and secretly.
Geo-Fencing: With geo-fencing, parents can set safe and unsafe zones on the map of their kid's devices and get notified whenever their child breaches the boundary of safe zones.
App Monitoring: TheWiSpy app monitoring helps parents to see how much time their kids spent on each app installed on their mobile phone or tablet.
WhatsApp Tracker: TheWiSpy WhatsApp tracker lets you monitor WhatsApp conversations of your kids android devices.
TheWiSpy cell phone tracking app works in a complete stealth mode enabling every parent to track the mobile devices of their kids secretly.
Your kid will never know that you are tracking their every digital move.
Here is how you can track my child's phone with TheWiSpy cell phone tracker.
How to Track My Teen's Phone with TheWiSpy App?


With TheWiSpy, you do not need any sort of technical knowledge to track your child's device. Even the installation process of this app is as easy as pie.
Here are some steps you need to follow:
Sign Up: The first and foremost step is to get registered with TheWiSpy app. You need to buy the license of the mobile tracker by choosing the subscription plan.
Configure The App: Once you get registered with TheWiSpy, the next step is to install and configure the app in your target device. You may require physical access to your child's phone to follow a one-time installation process.
Open Dashboard: The minute you install and configure TheWiSpy cell phone tracker in your child's phone, you become enabled to track the target phone. Just open TheWiSpy dashboard from any web browser, and start tracking your children without them knowing.
TheWiSpy cell phone tracking app is a premium solution for parents to track the whereabouts of their teens and tweens.
The app comes with the following benefits:
Easy Installation
Remote Monitoring
100% Stealth Mode
No Battery Drainage
LightWeight App
Remote Uninstallation
Isn't it amazing how a single app can help you track the real-time location of your kids?
Well, stop worrying and be a smart parent by starting tracking your child's phone with TheWiSpy app.
Summary:
Parents are always anxious regarding their kid's safety in the outside world. The only solution that relieves parents is keeping them updated with the location history of their children with the help of a mobile tracking app. Now parents can track the GPS location of their kids without them knowing. They can monitor other cell phone activities of their kids without any suspicion. Thanks to technology for the incredible advancement in our routine lives. Do you track your kid's phone?