Mobile Location Tracking Apps – An Ultimate Solution to Trace Online Activities
Posted in Mobile Tracking by Mike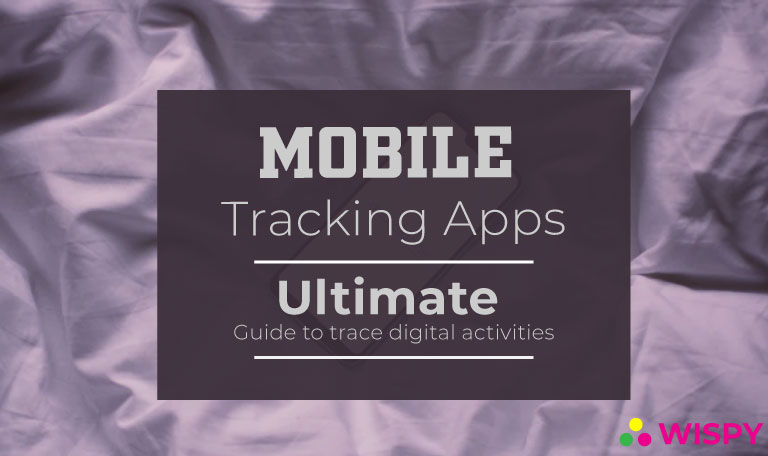 Do you want to know mobile location tracking helps find the real-time location of your children?
Do you feel anxious if your kid does not reach home on time?
As a parent, you must worry about where your teens go and who they meet. It is natural to feel conscious about your children. With so many physical threats, parents do not feel secure to send their kids alone outside to play or for other extracurricular activities.
Today, many parents are aware of the location-sharing feature of apps like WhatsApp, Uber etc. The modern parents are adapting technological legal ways to monitor their kid's whereabouts and to ensure that their family is safe outside.
But, have you imagined having a software that would provide you with a 24/7 location history of your child's phone?
Yes, mobile trackers are designed in such a way that parents can trace their kid's whereabouts anytime they want.
Let's discover what a mobile tracker is, first.
Mobile Location Tracking Apps – An Introduction:
Google and other search engines receive a massive amount of queries like;
Can I track the location of a cell phone for free?
Or
How to trace the location of a cell phone?
Well, such queries itself explain the demand for cell phone trackers. The urgency of cell phone trackers has been increasing with the flaring rate of physical threats including; kidnapping, accidents, business corruption, etc.
Now, let's come to the main point, what is mobile location tracking?
Mobile location tracking is the activity to locate the geographical location of a certain smart device. By using GPS technology, cell phones can be traced through a tracking app or IMEI number. The global positioning system known as GPS sends and receives radio waves signals from satellites to the target device and tracks its location.
Today, we are familiar with the concept of location sharing whether it is on instant messengers like WhatsApp or online taxi services like Uber.
What if we tell you that now you can track your Android devices with the help of software specially designed for location tracking?
Impressive, isn't it?
How People can Utilize Online Mobile Location Tracking
Apps for mobile phone tracking enable people to navigate their family and staff members, remotely. Teens, nowadays, hide so many things from their parents. For instance, a kid who smokes or drinks secretly would never want his/her parents to find out about it.
According to the stats of National Institute of Alcohol Abuse and Alcoholism;
29.8% of the kids have had an alcoholic drink one time at least by the age of 15.
58% of the teenagers have had drunk alcohol by the age of 18.
Obviously, kids do such prohibited activities behind the back of their parents. A number of teens indeed go to bars and pubs without the knowledge and permission of their parents.
To avoid such situations, parents have modernized their ways to keep their kids away from such a nuisance. The use of cell phone tracking apps helps parents to track the geographical location along with active pinpoints and location history.
So, let's discover some top-rated mobile trackers of today's modern era.
Track Your Mobile Devices with Top Cell Phone Location Tracking Apps:
The internet has thousands of mobile tracking software, but the best ones offer some cutting-edge and efficient solutions to track smart devices.
Here is a list of top cell phone location tracking apps;
FamiSafe
TheWiSpy
HoverWatch
iKeyMonitor
MobiStealth
So, let's explore some details about these mobile tracking apps.
1- FamiSafe Cell Phone Tracking:
FamiSafe is an amazing cell phone tracking and monitoring app, enabling its users to explore every detail of the target smart device.
Features:
FamiSafe offers advanced location tracking features to track lost or stolen devices. Parents can use the FamiSafe location tracking solution to track their teen's smartphones.
It allows the end-user to geo-fence safe and unsafe localities.
FamiSafe ensures iOS and Android compatibility.
With affordable pricing packages, the FamiSafe location tracking app offers advanced features so that anyone can easily track their cell phones.
The one-month subscription of FamiSafe costs as low as $9.99.
2- TheWiSpy Mobile Tracker:
TheWiSpy cell phone tracker is a leading GPS tracking solution used by parents and employers worldwide. Despite location tracking, TheWiSpy offers other mobile monitoring and spying features to give full access to the target device to the end-user. The app is safe to use and provides a user-friendly interface.
Features:
Exclusive mobile tracking features to enable you to track your smart devices remotely.
No need for technical knowledge to install and operate the app.
Latest geo-fencing features to set allowed and prohibited areas with quick notification alerts.
TheWiSpy app is Android compatible.
Pricing starts from $29.99.
3- HoverWatch Cell Phone Tracking Software:
HowerWatch is a premium application for parents to track their kid's phones secretly without them knowing. The app offers some basic features for free, but to avail advanced mobile tracking solution, you have to get a paid subscription.
Features:
Advanced cell phone tracking without the internet and disabled GPS. The app tracks mobile devices with the help of cell phone towers.
HoverWatch provides detailed reports on the location history of the target device.
You can track WhatsApp, Facebook Messenger, and other IMs with this app.
HoverWatch app is compatible with operating systems including Android, Windows, and Mac.
License subscription starters from $24.95/month for personal use.
4- iKeyMonitor Location Tracking:
iKeyMonitor is a premium parental control app for parents enabling them to track their kids and set parental controls for device usage. The app is designed to save kids from cyber threats including; online predation, cyberbullying, and inappropriate content.
Features:
Using iKeymonitor, you can locate your child's real-time location with a few clicks.
The app enables parents to mark boundaries between safe and unsafe zones with geofencing.
iKeyMonitor provides advanced features including keystrokes tracking, password chaser, etc.
The app is compatible with both iOS and Android devices.
Subscription starts from $29.16 for the premium version, some basic features are free of cost.
5- MobiStealth Cell Phone Tracking:
MobiStealth mobile tracking solution offers ultimate features to monitor your target phone or tablet remotely. From location to IMs tracking, you can trace everything online happening in your target device.
Features:
MobiStealth tracks mobile phones even if the GPS is inactive in the target device.
You can track SMS, calls, and IMs with MobiStealth, as the name indicates, in stealth mode.
Premium features include keylogging and surround recording.
MobiStealth can run on Android and iOS operating systems.
Paid subscription starts from $59.99 per month.
Read Also: How to Track Cell Phones with Just a Number?
Concluding Thoughts:
Mobile location tracking apps have become a necessity in our routine. Due to a busy work schedule, it is becoming difficult for parents to keep track of their kid's whereabouts. But, with the help of advanced technology, tracking mobile devices has become easier as mobile tracking apps are here to help us. Hopefully, the above-mentioned cell phone tracking apps will assist you to choose the best tracking solution for the mobile phones of your kids.