TheOneSpy Review 2022 [Updated]: Reliable Spyware or Complete Waste of Money?
Posted in TheWiSpy alternatives by admin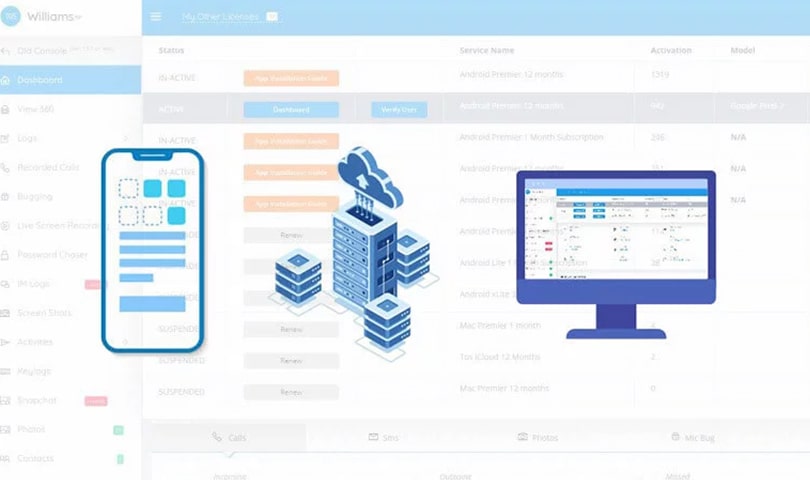 Are you ready for TheOneSpy review?
While reviewing top mobile spy apps, how can we forget TheOneSpy monitor?
The surge in spyware usage is at its peak due to unfiltered digital security threats. No one can live without smart devices, as we all are dependent on technology.
Yes, from grocery shopping to booking a ride, most mobile phone users consume apps to achieve daily tasks. Even the recent global pandemic has made us closer to technology.
With kids learning online, parents must track the screens of their children. The reason is simple; teens and tweens are exposed to digital devices more than ever before. Such a sudden dependence can impel kids to explore the internet a bit more.
Mobile spy apps have helped parents for many years to control and monitor the online space of kids.
Today, we have come up with TheOneSpy app review. Continue reading and explore the extensive features of this fantastic spyware in this review of TheOneSpy.
TheOneSpy Review [2022 Updated]: Reliable Spyware or Complete Waste of Money?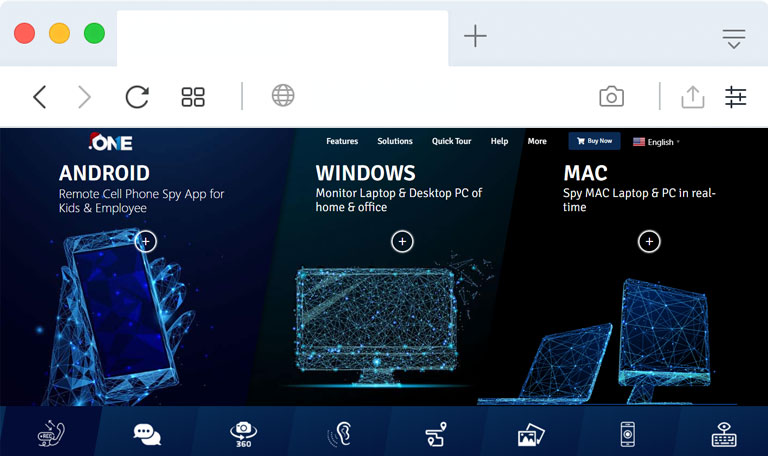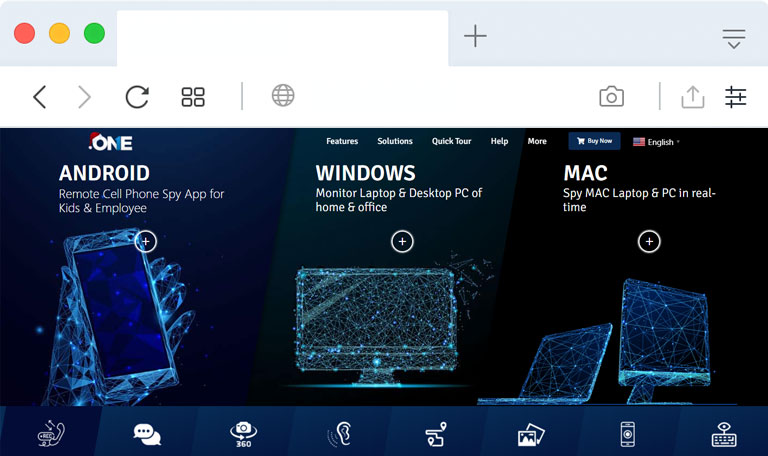 TheOneSpy is a popular spy app with a 3.5-star rating on Trustpilot. As per Sitejabber, TheOneSpy reviews are quite positive with a 3.79-star rating. The majority of spyware users are satisfied with the performance of TheOneSpy app.
In this review of TheOneSpy, we are going to throw light on the incredible functionality, pricing plan, and other qualities of this app that make TOS popular around the globe.
Read the following section to navigate through the essential points of TheOneSpy review.
What is TheOneSpy?
How is TheOneSpy Different from Other Spy Apps?
Which Devices are Supported by TheOneSpy App?
What are the Features of TheOneSpy?
How to Install TheOneSpy App?
Is TheOneSpy Costly?
Allow us to elaborate on each point to clear the air about TheOneSpy app and its functionality.
What is TheOneSpy?
TheOneSpy is a mobile surveillance software for parental use, business management, and personal device tracking. The app is equipped with advanced cell phone and computer monitoring features to help you keep track of your target device's ongoing digital activities. Using TheOneSpy, you can monitor your kids, supervise work computers, and track personal devices remotely.
How is TheOneSpy Different from Other Spy Apps?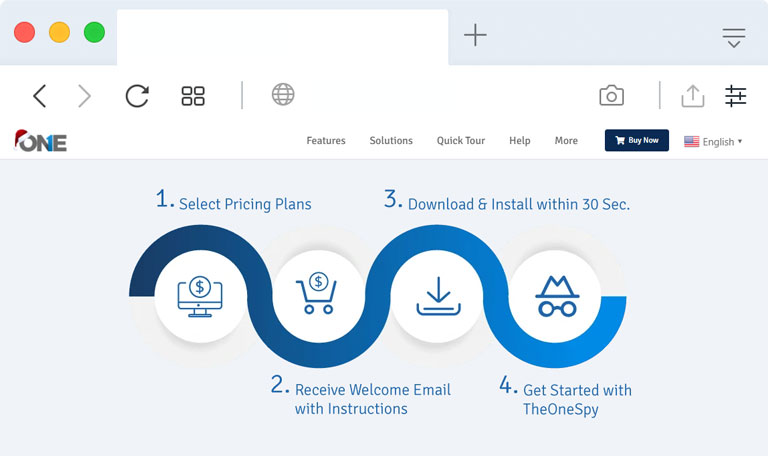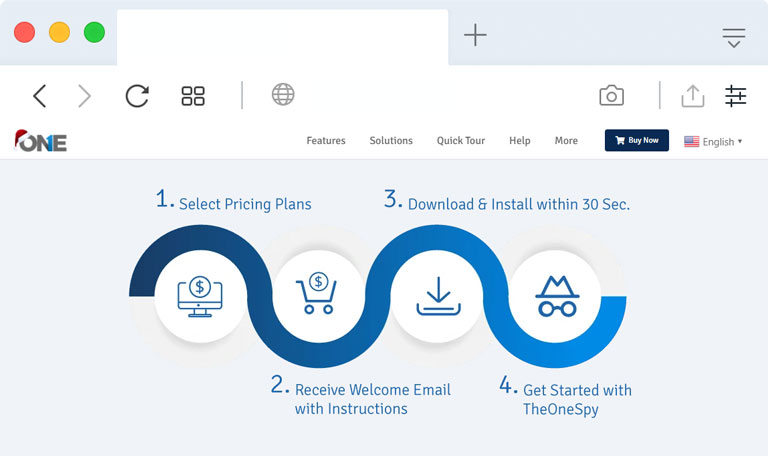 The beauty of TOS app is that it offers various features at affordable pricing. TOS is invisible mobile spyware that stays undetectable and does not let the target user know about its secret spying activities. To get started with TheOneSpy app, you need to buy the licensed subscription and install the spyware on your target device. Once installed, TheOneSpy app starts fetching the digital details from the target device. TheOneSpy then sends the recorded details to an online dashboard where the end-user can monitor the spied information. TOS app is in great demand for providing high-end monitoring features with super compatibility with most smart devices. Speaking of which, read the next section and discover if your target device is compatible with TheOneSpy or not.
Which Devices are Supported by TheOneSpy App?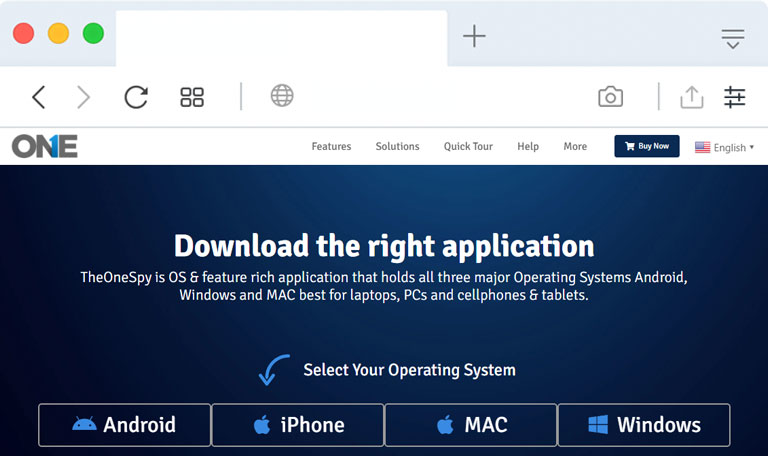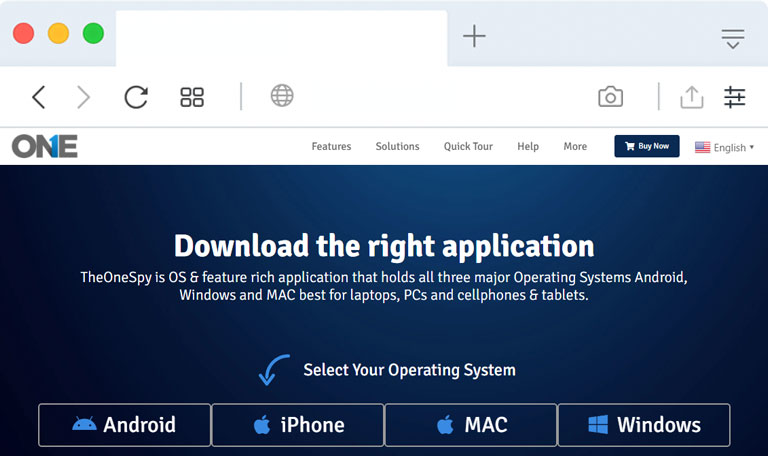 When it comes to compatibility, TheOneSpy leads in supporting the majority of digital devices.
From Android to MacOS, this spyware can monitor everything.
Here is a detailed review of TheOneSpy compatibility;
TheOneSpy for Android:
Supports Android OS versions 5.0 up to 11.
TOS for iOS:
Supports iOS 11 up to 14.1.
TheOneSpy for Windows:
Supports Windows 7, 8, 10.x.x.
TOS for MacOS:
Supports Leopard, Snow Leopard, Lion, Mountain Lion, Mavericks, Yosemite, El Capitan, Sierra, Mojave, and Catalina.
What are the Features of TheOneSpy?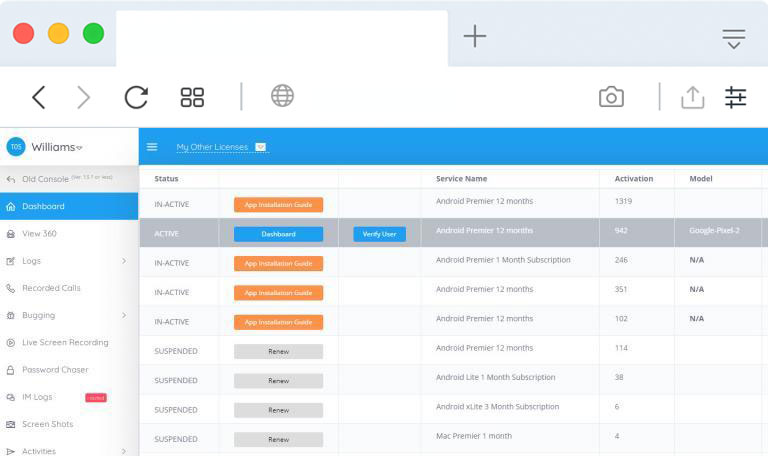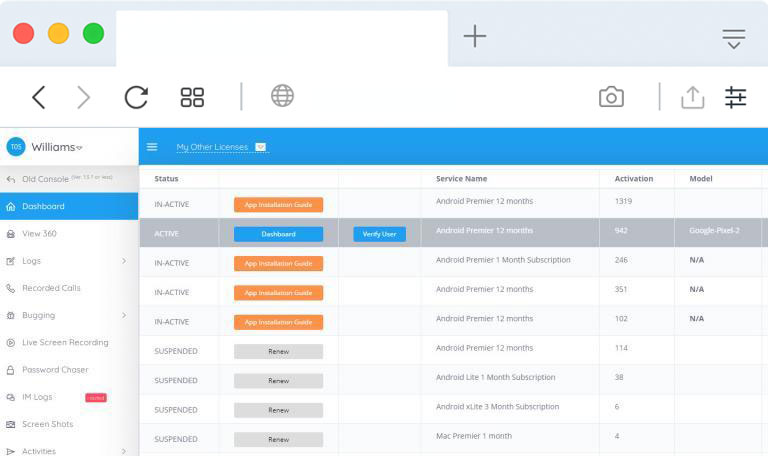 TheOneSpy app features are powerful enough to fetch everything from the target smart device. Mentioning detailed TOS features here is impossible due to the great functionality of this spyware. So, we have come up with a list of top features of TheOneSpy app.
Let's review TheOneSpy top features;
Spy 360 Live Recording:
Spy 360 live camera and mic recording enable you to watch and listen to your target device's surroundings. You can activate camera streaming or mic recording remotely and discover everything happening around your target device.
Call Recording & Restrictions:
The call recording feature of TOS app helps you record incoming and outgoing phone calls remotely and secretly. You can listen to dialed or received calls and hear all the conversations without leaving any clue. The call restriction feature of TOS allows you to block unwanted spam calls from the target device.
Password Chaser & Keylogger:
TOS offers a high-end password chaser tool to enable you to reveal the pin or unlock pattern of your target device. The keylogging feature of TOS app records all the typed keystrokes. It helps parents know if their kids are involved in sexting or use inappropriate language using smart text abbreviations.
SMS Tracking:
SMS tracker can record all the sent, received, and even deleted text messages. The fantastic thing about TOS SMS tracking is that it enables you to track SMS logs with the device location. Using this feature, you can monitor iMessages and MMS as well.
Social Media Chats Monitoring:
Social media chats or instant messengers can be monitored by TheOneSpy app. You can read WhatsApp messages remotely. Moreover, TOS enables you to secretly monitor Facebook Messenger, Instagram chats, Snapchat streaks, etc. You can read text chats, view multimedia, and attached documents with TOS app.
Live Screen Recording:
Live Screen recording is a comprehensive feature of TheOneSpy software. You can record the screen of your target device anytime you want. Screen recording enables you to record WhatsApp, Facebook, SMS, Camera, Gmail, and other active screens remotely. TOS lets you send remote commands to allow the live screen recording feature.
GPS Tracking:
If you don't know how to track the GPS location of kids, you need TOS app right now. GPS tracking is an advanced feature enabling parents and employers to track their kids and staff members' active location. However, TheOneSpy GPS location tracking can help you track your lost device.
Geo-Fencing:
Geo-fencing is a premium feature of TOS that allows you to mark safe and unsafe boundaries on electronic geographical maps. Whenever your target device user enters or leaves the marked edge, TOS sends an instant notification to alert you about the active location. For instance, employers can use such a feature to draw boundaries for offices and work sites. Likewise, parents can mark school and home as safe zones while pubs, bars, clubs, etc. as unsafe zones.
TOS app features include call logs tracking, video cam bug, email tracking, contact tracking, web browsing history monitoring, and many others. If you need an all in one spy app, TOS is the best option.
How to Install TheOneSpy Android App?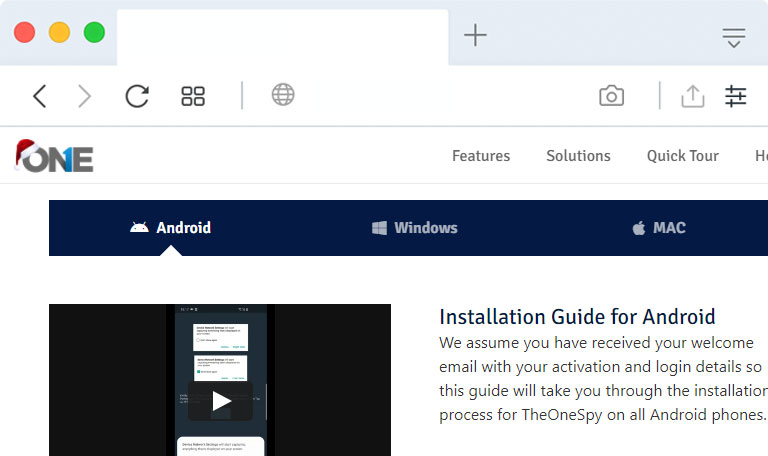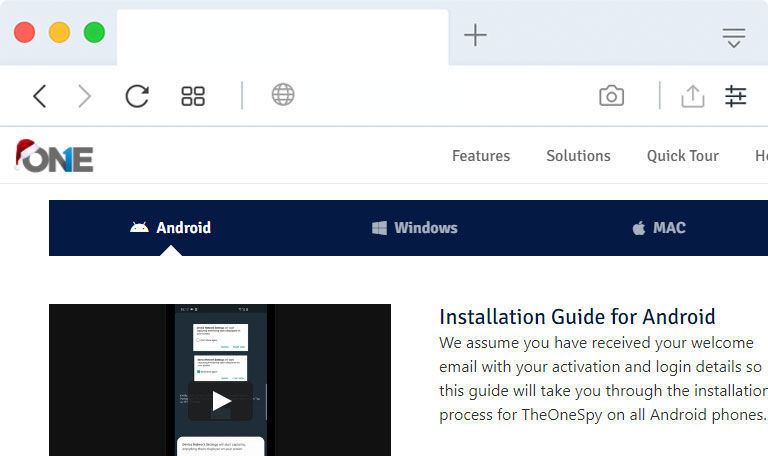 TheOneSpy installation process for Android phone is easy. The app is designed to provide parents and employers a life of serenity regarding kids' and businesses' online security.
Installing TheOneSpy app is like a piece of cake.
Here are a few steps to follow;
Go to the website www.theonespy.com.
Click on Buy Now from the main menu.
Pick the suitable subscription package for your target device.
Pay for the subscription.
Once you purchase the license, TOS service providers will send you an official email containing the license key, login credentials, and download URL.
Now, hold your target device.
Open the browser from the target device and enter the download URL.
Download the APK file.
Install TOS app on your target device.
Give permissions to specific settings.
Hide the app icon (if you want).
And, you are done with TheOneSpy installation. Remember that TOS installation only takes up to 5 minutes, and for that, you need physical access to your target device. Moreover, you require a stable internet connection for TOS to work efficiently.
Is TheOneSpy Costly?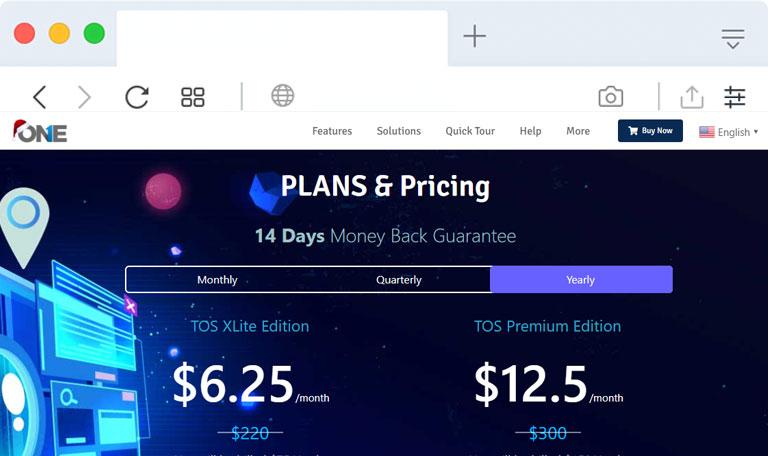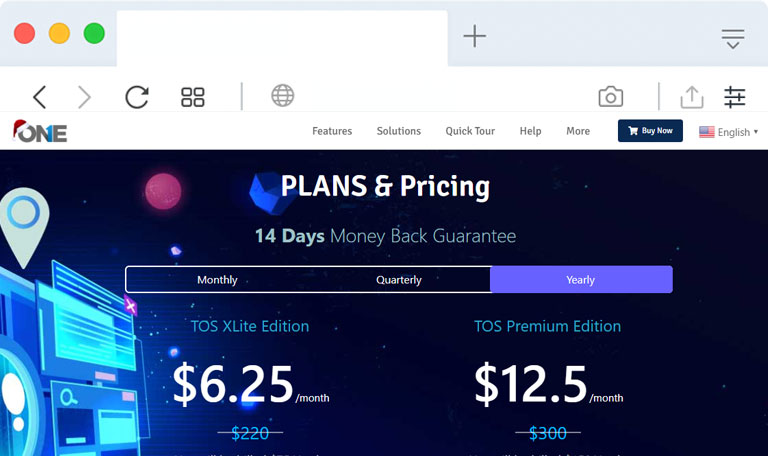 As compared to other top mobile spy apps like FlexiSpy and others, TheOneSpy is very much affordable.
Here are the pricing plans of TheOneSpy app that will amaze you.
TheOneSpy Android Pricing:
TOS XLite Edition:
Monthly Subscription: $25
Quarterly Subscription: $45
Yearly Subscription: $75
TOS Premium Edition:
Monthly Subscription: $50
Quarterly Subscription: $95
Yearly Subscription: $150
TheOneSpy iOS Pricing:
iOS Premier Edition:
Monthly Subscription: $35
Quarterly Subscription: $55
Yearly Subscription: $140
TheOneSpy Windows Pricing:
Windows Premier Edition:
Monthly Subscription: $40
Quarterly Subscription: $60
Yearly Subscription: $110
TheOneSpy Mac Pricing:
Monthly Subscription: $40
Quarterly Subscription: $60
Yearly Subscription: $110
TheOneSpy Review – Final Words:
TheOneSpy has improved so much that today it stands in top mobile tracking apps and spyware. With high-end features, the app is the best pick among parents for its user-friendliness and affordability. Although, like other mobile spyware, TOS demands physical mobile access for the installation process. All the features work great, making TOS efficient spyware for both desktop and mobile devices.
Don't Forget to Read TheWiSpy Reviews, MobiStealth Reviews, XnSpy Reviews.