Spyic Review 2022 [Updated]- Is Spyic Cell Phone Monitor Worth Buying?
Posted in TheWiSpy alternatives by Julie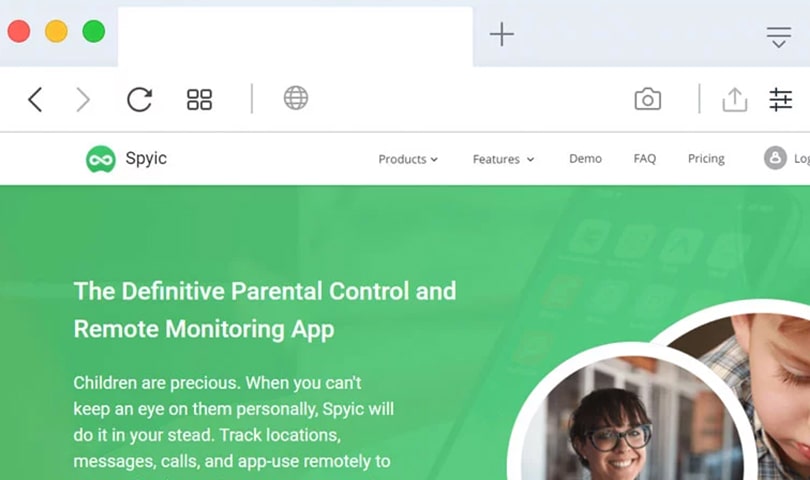 You must be researching the spy app industry that brings you here to read the Spyic review. It is quite impressive that you are considering options before investing money in a mobile spy app.
As per the recent spy app usage analysis, 2021 has made people use more stalkerware apps, raising the spyware demand by 51%.
shocking, isn't it?
Parents, nowadays, are in dire need of a reliable mobile monitoring app. Cell phone monitors can help them track the online and offline activities of their growing kids.
In this article, we assure to provide you with an honest review of Spyic app. Continue reading and discover the Spyic functionality, features, and pricing before purchasing the app.
Shall we begin?
Spyic Review 2022 –  Is Spyic Cell Phone Monitor Worth Buying?
We know how difficult it is to find a suitable yet reliable mobile monitoring app that is not heavy on your pocket. As per Trustpilot, Spyic reviews attained a 4.1-star rating which is quite splendid.
Spyic is a credible spyware. Although the Spyic is a cost-effective cell phone tracking app, it still has some flaws.
Let's start this unbiased review of Spyic app and discuss everything about this progressing spyware.
Read through the following points and discover interesting facts about Spyic app.
Spyic App – An Overview
How Spyic Works?
Which Devices are Compatible with Spyic App?
What are the Top Features of Spyic App?
How to Install Spyic on Your Target Device?
How Much Spyic App Costs?
Let's explore each point thoroughly so that you can get a detailed Spyic review and decide whether this mobile monitoring app is worth buying.
Spyic App – An Overview:
If you are a newbie to technology and do not know what is Spyic, we got you covered.
Spyic is a mobile phone monitoring software. You can monitor any smart device remotely with Spyic. All you need to do is install the spyware and you are all set to watch everything happening on your target phone or tablet.
Spyic is a versatile app that you can use for various purposes like;
Monitor your teens' phones and tablets.
Watch work phones activities.
Track personal devices and backup saved information.
Kids take gadgets and cell phones with them wherever they go, and Spyic can shadow them all the time. So, whether or not you are with your child, you can still monitor his/her mobile activities and track them remotely with Spyic app.
Read the next section and nurture your curiosity by exploring how Spyic app works.
How Spyic Works?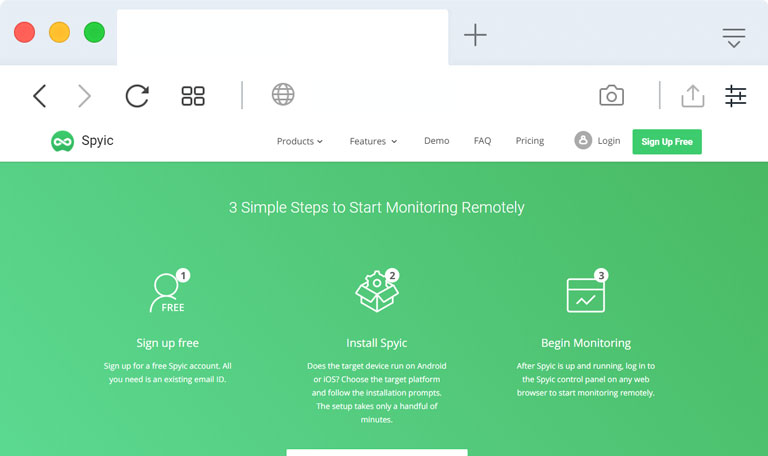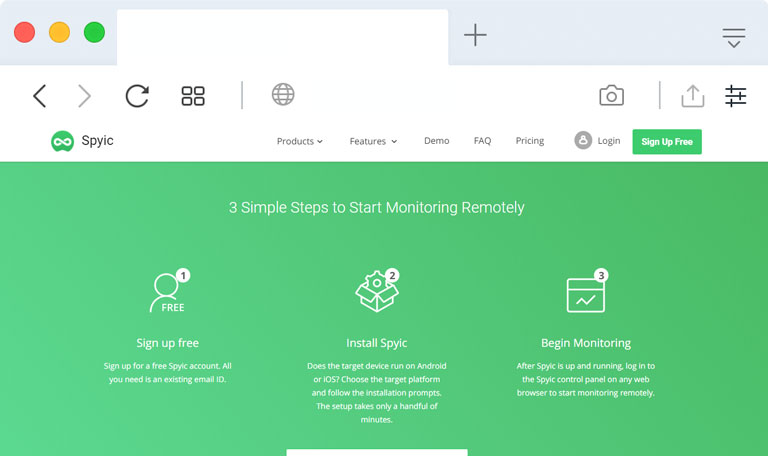 Spyic mobile monitoring app gathers the digital details of your target smart device. The spyware then transfers the recorded information to a web-server known as Spyic dashboard. You can access the spied information via Spyic control panel.
Spyic cell phone monitor is an undetectable spyware. It integrates with the operating system of your target device secretly, leaving no clue behind.
Which Devices are Compatible with Spyic App?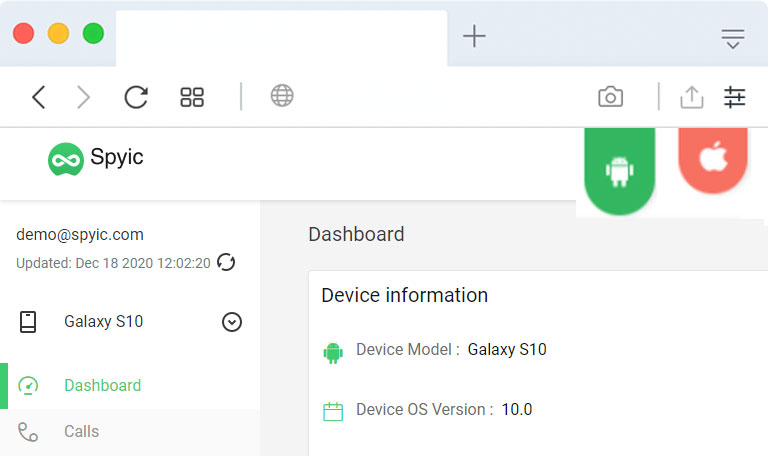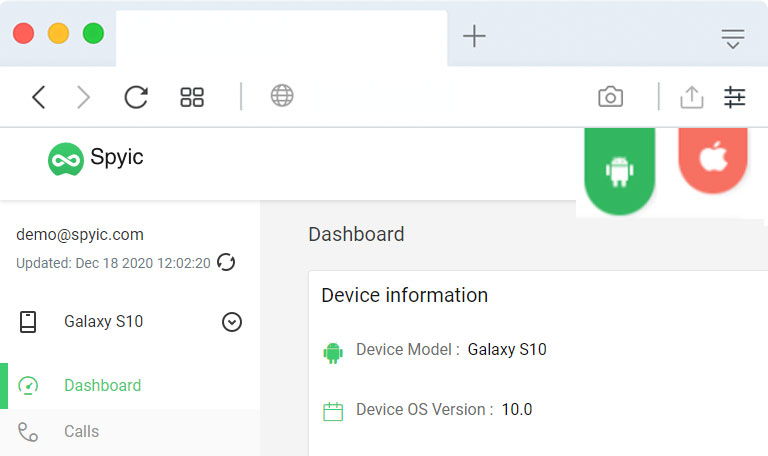 Before you decide on purchasing Spyic app, make sure it supports your target device's operating system. In general, Spyic is compatible with Android and iOS.
Let's dig in more and see what Android and iOS versions are supported by Spyic app.
Spyic for Android:
Android devices cover the major portion of all smart phones and tablets. On average, Android users are more in number than any other OS users.
So, how can it be feasible to launch a spy app that doesn't support the Android operating system?
Spyic offers super compatibility with Android devices. The spyware runs perfectly on Android smart devices with OS 4.0 or higher. Although, you need to install and configure the Spyic app manually on the desired Android device.
So, if you need an Android monitor, you can choose Spyic mobile monitoring.
Spyic for iOS:
iOS is the second most consumable operating system around the globe. Spyic app is smart enough to provide iOS monitoring features with high-end functionality. Spyic offers a non-jailbreak version for Apple devices that run iOS 7 or higher.
The non-jailbreak version of Spyic fetches data from the iCloud backup instead of the target device itself.
If you ask for our suggestion, we won't recommend you to go for a non-jailbreak version of Spyic.
There are two reasons for that;
You need to make sure that the iCloud backup is enabled. Otherwise the spyware is of no use.
You need to pass the 2FA to get started with iOS monitoring.
If the Apple device you wish to monitor is already jailbroken, then Spyic will work perfectly on it. However you require Apple login ID and password to monitor iOS devices, under any circumstances.
What are the Top Features of Spyic App?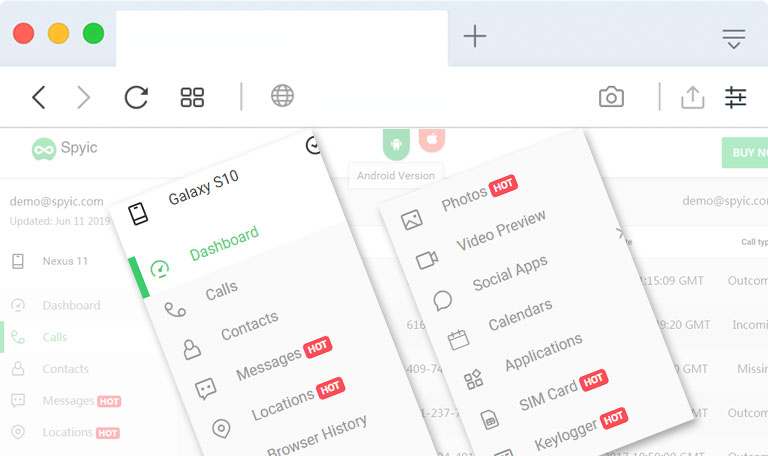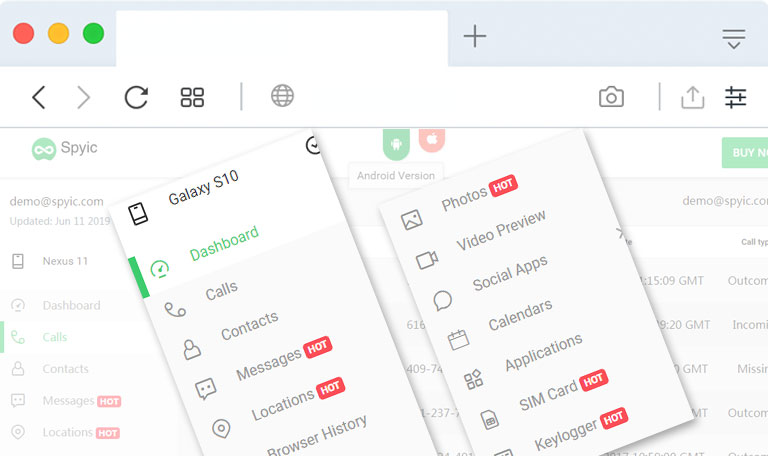 The Spyic review can not be completed if we don't mention its flexible yet versatile features. As compared to other top mobile trackers and monitors, Spyic offers limited features.
Here is a brief review of Spyic features;
Call Tracker:
Using Spyic, you can track every incoming and outgoing calls. Monitoring call can reveal if someone is targeting your kid via cyber threats. Moreover, call tracking enables you to find out if your loved ones are becoming the victim of catfishing and deception. Call tracker feature of Spyic provides a detailed report on inbound and outbound calls. You can get contact name, number, call duration, and timestamps with this amazing mobile spyware.
SMS Tracker:
If you find your child glued to the mobile screen texting friends, it's time to track his/her text conversation. Sexting among teens is getting common. Children use encoded text abbreviations to hide their private life from parents. Spyic, as an SMS tracking app, can help parents to read all text chats that their kids send or receives. Employers can use such a feature to ensure if their staff members are not leaking the business details.
Location Tracker:
Spyic GPS tracker is a handy feature to track the GPS location of your loved ones or employees. The app also offers Wi-Fi-based location tracking services. You can now track your kid's location remotely.
While tracking the GPS location of your target device, make sure you abide by your states' location tracking laws.
Geofencing Alerts:
The geo-fencing feature allows you to set geographical perimeters and restrict unsafe zones on the virtual map of kids' cell phones. Geo-fencing alerts send instant notifications whenever kids breach limited boundaries. The use of dating apps among kids is becoming a regular activity. Parents can restrict all the dating spots and receive alerts if their teen enters one behind their back.
Instant Messenger Tracker:
Spyic instant messenger tracking helps you monitor WhatsApp, Viber, Snapchat and other chats of messenger apps. You can monitor Facebook and Instagram chats secretly and remotely.
Browsing History Monitor:
Tracking browsing history can help you find out if your kids watch porn or search for inappropriate content. The online world offers gambling games which kids play with great interest. Spyic browsing history monitor can reveal top searches, most visited sites, and bookmarked web pages. Monitoring web history can make kids vigilant and develop online etiquettes among children.
SIM Location Tracker:
One of the unique features of Spyic mobile monitor is the SIM location tracker. If you want to track location with IMEI number, Spyic IMEI tracker can help you find the IMEI number in no time. Moreover, you can track network-based location of your target device.
How to Install Spyic on Your Target Device?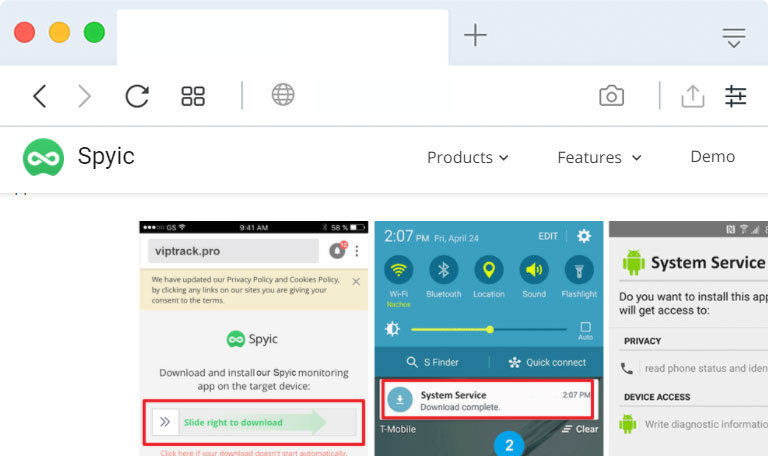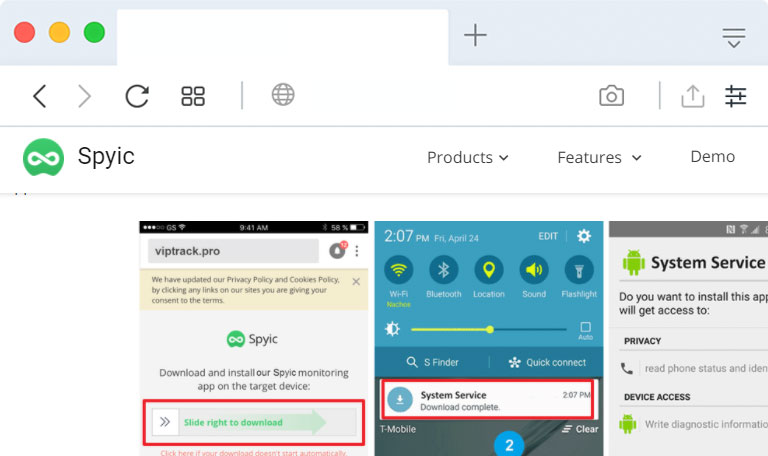 Spyic installation process is only a 5-10 minute procedure. For Android installation, you have to install manually the app with physical access to the device. However, for iOS you need Apple credentials only.
In this Spyic review, we are going to elaborate its installation process in simpler words so that you can understand it easily.
Step 1: Buy Spyic License:
Go to official website of Spyic from any browser.
Click on the Sign Up Free option previewed at the top right corner of the page.
Register by providing your email ID and setting up a strong password.
Now, choose the operating system of your desired device.
Select the pricing plan for your subscription.
Provide some basic details such as target user's name, age, and device type.
Once you pay for the subscription, Spyic will send you an email. The email holds the license activation key and app download URL..
You're ready for step 2.
Step 2: Step Up Spyic on Target Device:
Before setting up Spyic on your target device, disable the Google Play Protect from the Playstore settings.
Once done, open browser from target device and go to official website.
Slide right to download the APK file of Spyic app.
Once downloaded, tap on install to get started.
Agree to the EULA. Agree with the Privacy Policy of Spyic.
Now, log in to the app with your registered credentials.
Allow specific permissions to let Spyic app work properly.
At last, you will be asked if you want to hide the Spyic app icon.
You are done with the 2nd step, and you are all set to monitor the target device.
Step 3: Access Spyic Dashboard and Start Monitoring:
Now, login to Spyic from your device.
Open dashboard.
You will see a list of all spying and monitoring features. Pick the feature and access spied details remotely.
How Much Spyic App Costs?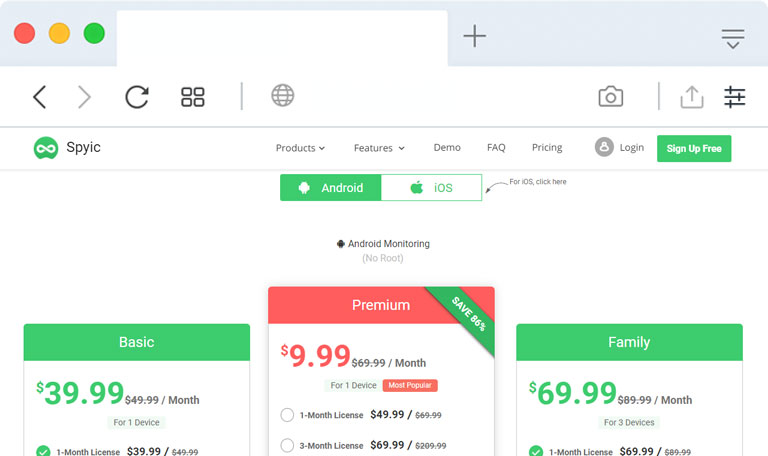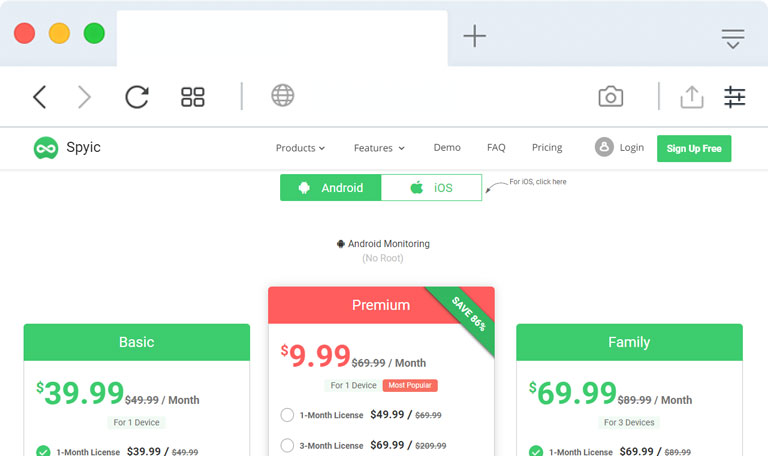 Spyic offers three diverse pricing plans for both Android and iOS devices. You can choose monthly, quarterly, and yearly subscription as per your spying needs.
Here are the details of subscription packages.
Spyic Android Pricing:
Basic Plan (for 1 device):
1-Month Subscription: $39.99
3-Month Subscription: $59.99
1-Year Subscription: $99.99
Premium Plan (for 1 device):
1-Month Subscription: $49.99
3-Month Subscription: $69.99
1-Year Subscription: $119.99
Family Plan (for 3 devices):
1-Month Subscription: $69.99
3-Month Subscription: $99.99
1-Year Subscription: $199.99
Spyic iOS Pricing:
Premium Plan (for 1 device):
1-Month Subscription: $49.99
3-Month Subscription: $79.99
1-Year Subscription: $129.99
Family Plan (for 5 devices):
1-Month Subscription: $99.99
3-Month Subscription: $199.99
1-Year Subscription: $399.99
Business Plan (for 25 devices):
1-Month Subscription: $399.99
3-Month Subscription: $699.99
1-Year Subscription: $999.99
Spyic Review – The Verdict:
Spyic is a competitive mobile monitoring app. If you compare Spyic with other top mobile tracking apps, you'll see that the app resembles with CocoSpy to much extent.
However, every cell phone spy app is unique with respect to its features and functionality. You can read mSpy review, TheOneSpy review, FlexiSpy review, XNSpy review, even our own app TheWiSpy review in detail.
We hope that this Spyic review will clear the air about this high-end mobile spyware. So, do think Spyic is worth the shot?