SpyEra Review 2022 [Updated] – Read This Before Purchasing SpyEra Mobile Monitoring App
Posted in TheWiSpy alternatives by admin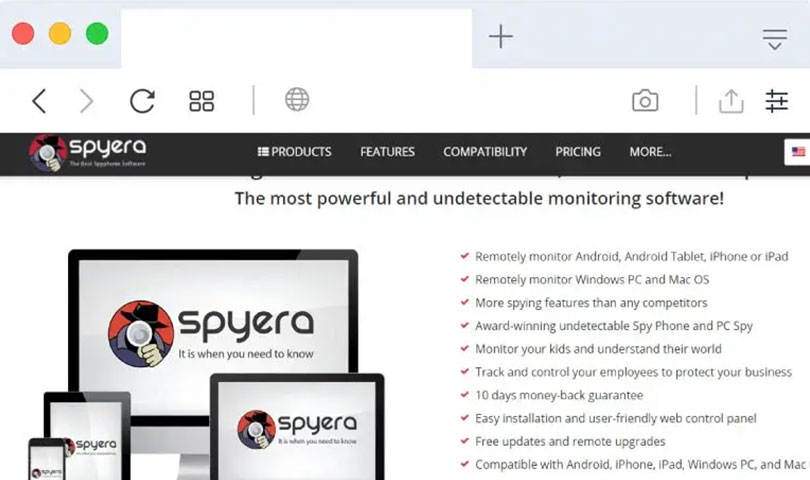 If you are looking for a tool to monitor your kids' Android, iOS, Windows, and macOS devices, you can try the SpyEra app. Being a popular mobile monitoring app, SpyEra offers multiple tools to track mobile phones, tablets, laptops, and desktops.
Kids are glued to the smart screens nowadays, and adults are also spending maximum time using cell phones and tablets.
In this SpyEra review, we are going to tell all of you how you can monitor mobile, tablet, and desktop activities using the SpyEra app.
So, let's get started.
SpyEra Review 2022 – Read This Before Purchasing SpyEra Mobile Monitoring App
SpyEra claims to be an elite cell phone spy app that allows you to monitor mobile phones, tablets, and computers remotely. The SpyEra service providers allegedly state to deliver the best mobile phone monitoring services.
But, the customer reviews say something else!
As per customer reviews, SpyEra has gained a 2.7-star rating on TrustPilot, which is relatively low compared to other mobile spy apps. Moreover, SpyEra app reviews comprise 40% of negative comments, which the service providers never replied to such negative reviews.
Can you believe that?
It is not like the SpyEra app is of no use; it offers pretty much good service. But the pricing is a bit expensive. If you want an affordable yet advanced mobile monitoring solution, read TheWiSpy review.
Here are the key points to assist you to navigate the SpyEra review. Continue reading and find amazing facts about the SpyEra app.
What is SpyEra?
How SpyEra App Functions?
SpyEra Compatibility – Which Devices SpyEra Supports?
What are the Features of SpyEra App?
How to Install SpyEra on Your Target Device?
Is SpyEra Expensive?
Allow us to elaborate on each point thoroughly so that you can get a detailed review of the SpyEra mobile tracking and monitoring app.
What is SpyEra?
SpyEra is a tracking app that helps you monitor the digital devices of your kids, employees, and loved ones. The app offers diverse cell phone and tablet monitoring solutions compatible with a range of Android and iOS devices. Using SpyEra, you can monitor everything happening on the smart screens of your kids. SpyEra is a useful parental control app endorsed by millions of parents worldwide. The app offers high-end cell phone monitoring and computer surveillance features that work in 100% stealth mode. SpyEra tracks everything your child does on his/her mobile phone, tablet, or personal computer.
How SpyEra App Functions?
If you want to spy on a digital device using the SpyEra app, you must install it on the target device first. The installation process of SpyEra is simple, and you don't require to try complicated hacking techniques for that. SpyEra provides a complete installation guide to help you set up the spyware on your target device.
Once you install the SpyEra app on your target phone, tablet, or computer, you can access all the digital information through an online control panel.
SpyEra is undetectable spyware. The app functions under stealth mode and interacts with the running OS of your target device. After fetching all the digital data, SpyEra uploads the recording information on the web-based dashboard. You can log in to your SpyEra control panel anytime and monitor anything you want. The dashboard also helps you to send remote commands to on/off particular spying and tracking features.
SpyEra Compatibility – Which Devices SpyEra Supports?
SpyEra review is incomplete if we don't mention the spyware compatibility. Spyware is of no use if it does not support the target OS and device.
Why would you buy something if you don't intend to utilize it?
Let's dig in more and review SpyEra compatibility.
SpyEra for Android:
Supports all Android phones and tablets.
Compatible with all Android OS (including v11).
Advanced features require rooting the target Android device.
SpyEra for iOS:
Supports iPhones and iPads.
Compatible with iOS up to and 14.1.
Jailbreak is required.
SpyEra for Windows:
Compatible with;
MS Windows 7.
Windows 8.X.
MS Windows 10.
SpyEra for macOS:
Supports macOS;
macOS Sierra / High Sierra
macOS El Capitan
Yosemite
Mavericks
macOS Mojave
macOS Catalina
Note that rooting an Android device or jailbreaking an iOS device are complicated procedures. Try to avail features that don't require such a condition.
What are the Features of SpyEra App?
If you want to get a reliable phone or computer tracking software, review its features first. In the following section, we are going to explain features in SpyEra review so that you can get a clearer view of this app.
So, let's see what incredible features are offered by the SpyEra app:
Live Call Recording & Listening:
Discover who is on the other side, talking on the call with your child. Listen to live calls and hear telephonic conversations in real-time. Monitor call duration, contact details, and timestamps without any suspicion.
Surround Recording & Listening:
Listen to what is happening around your kids' or employees' target device. Remotely turn on the microphone of your teens' or employees' phone and hear every surround noise secretly.
Remote Camera Access:
Send remote commands to your target device camera and click secret photos without any suspicion. Record videos from your target device camera and reveal the routine activities of your teens, partner, or employees.
Location Tracking:
Track the location of mobile phones and tablets secretly. Trace the visited places, location history, and active pinpoints in real-time without letting the target user know.
Geo-fencing:
Mark safe and unsafe zones on the digital maps of your target device. Restrict prohibited places and allow safe zones by marking the territories. Get instant alerts when your target device user enters or leaves the marked localities.
Desktop/App Screenshot Capturing:
Send secret commands and capture screens of your target device. Take random screenshots remotely and explore the digital space of your kids and employees. You can take mobile apps screenshots as well as desktop screenshots secretly.
Instant Messenger Tracking:
Listen to the incoming and outgoing instant messenger calls remotely. Track Facebook Messenger, WhatsApp, Line, and other IMs apps, read messages, hear call recordings, monitor chats, track contact details, etc.
SMS Tracking:
Read sent and received text chats via SMS tracker. Monitor text conversations and reveal if your child is using inappropriate text abbreviations and acronyms.
SpyEra offers keylogging, address book monitoring, app activity tracking, browsing history monitoring, multimedia tracking, email monitoring, and many other features.
How to Install SpyEra on Your Target Device?
The installation process of SpyEra is simple. Just like other spy apps, TheWiSpy, mSpy, XnSpy, etc., SpyEra requires physical access to get installed.
For your convenience, we are going to review SpyEra installation steps in the following section.
Go to the website of SpyEra and purchase its license.
You will receive an email with a download URL and app login credentials.
Pick your target device. Open the download link on its browser.
Once installed, it's time to set up SpyEra by allowing specific permissions.
You can hide the app icon in the last step of configuration.
Now, log in to your SpyEra dashboard and monitor everything. Send remote commands and control your target device.
Note that remote installation is not possible. However, you can buy a mobile device with SpyEra pre-installed on it.
How Much Does SpyEra Cost?
As compared to other cell phone monitoring software, SpyEra is quite expensive.
Here is a quick review of SpyEra pricing;
SpyEra for Smartphones (Android & iPhone):
Monthly Subscription: $89
Annual Subscription: $389
SpyEra for Tablets (Android & iPad):
Monthly Subscription: $69
Annual Subscription: $279
SpyEra for Computers (Windows & Mac):
Monthly Subscription: $49
Annual Subscription: $199
SpyEra All-in-One Package:
Annual Subscription: $479
SpyEra App Review – The Final Words:
Finding a suitable parental control app compatible with your kids' or employees' target device is challenging.
Several parental control apps claim to be the best ones in the spy app market. SpyEra is a powerful mobile and desktop spy software that supports almost every digital device. So, if you can't find an app that is compatible with your target device, check SpyEra supported OS list. We hope that in this review of SpyEra, we have covered all the major points that any of you need to know before purchasing the app.