Social Media Memes – TheWiSpy Parental Guide
Posted in Social Media by Julie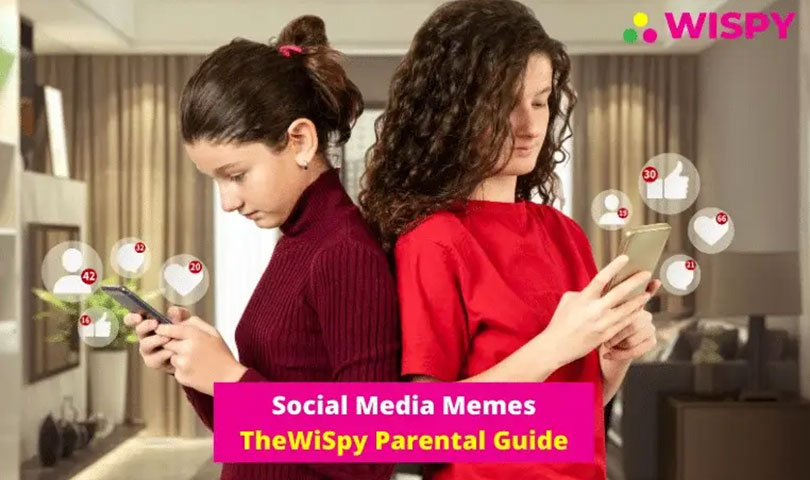 Social media meme culture has thrived in the online world like a wildfire. Memes are photos edited by adding some text that refer to different circumstances. The young community, especially teens indulge in too much meme sharing activities. Memes can contain any message. It can also include mocking and bullying messages as well. For such reasons, parents must be cautious regarding the meme sharing activities of their teens and tweens.
Let's discuss what memes are and how memes affect the teen community.
What are Social Media Memes?
In literal meaning, a meme refers to an element, passed from one individual to another via imitation. On social media, memes are photos containing text, mostly humorous, that is copied and shared on social networking sites with little or no alteration.
Memes are famous on social media platforms. People take awkward photos of their fellows, add up some text and make it viral on the internet. Making memes by using a picture of your peer without consent is an unethical activity.
Kids enjoy memes and forward such images to their friends. Parents are liable to ensure that their kids do not start finding joy in mocking others.
Social Media Memes – How Teens are Getting Affected?
Memes can be funny, yet memes can be dangerous. Despite humorous content, memes may contain violent, cruel or life-threatening messages. Moreover, social media memes promote sexism and bullying.
Doesn't it haunt you as a parent?
Why are Social Memes So Popular Among Teens?
The reposting and sharing of funny or relevant content are becoming a habit among social media users. Research shows that more than 71% of youth is active on two or more social networking channels. The investigation also exposed that 9/10 teenagers are active on social media.
Memes can be brutal. Spreading an awkward picture of someone by turning it into a meme can become a nightmare for the targeted person. However, memes are not always bad. Some may encourage kids to do rightful acts.
But, again, most of the meme content focuses on mocking or sarcasm.
Here are two main reasons that make memes so popular among teenagers.
Memes Can Make You Famous:
Memes are easy to design, and spread on the online world like a fire. Creating memes does not cost you a single penny. People can get fame overnight if they appear in the meme trend.
Kids are familiar with memes. They save meme photos to exchange with peers and friends. Memes are easy to share and engage online audiences at a higher level.
The Impact of Social Media Memes on Kids – What Parents Need to Know About?
Memes can be destructive. Teens are unaware of the fact that memes can destroy someone's life. Parents must get familiar with the meme concept and ongoing meme campaigns on social media. As a parent, you can teach your child about the adverse effects of memes, only if you get yourself aware of the meme trends.
Parents must discuss the adverse effects of memes. Moreover, kids must understand the true meaning of a meme before clicking the share button. Children must develop empathy towards peers and know that something they find funny can hurt the feelings of others.
Here, we are mentioning some tactics that will help parents stop their kids from sharing too many memes.
Parents must instruct their kids about cyber etiquettes. Parents are inclined to tell their kids about the consequences of memes over-sharing. As a parent, you can have a detailed conversation with your teen regarding memes sharing habits. Ask your child to seek permission before sharing the picture of anyone.
If your child develops an addiction towards meme over sharing, you can restrict internet usage. Restrict screen usage time so that your child does not misuse the online space.
Use a mobile monitoring app. If you want to discover whether your child is becoming a cyberbully, you can start monitoring his/her online space. Parental control apps allow you to view all the online activities of your children and authorise you to control the internet space of kids.
 
TheWiSpy App Can Help Parents Combat Meme Addiction Among Kids
TheWiSpy is robust mobile monitoring and parental control tool that helps parents to combat memetic addiction among teens and tweens. It has been observed that teens share memes to relate a real-life event. They express their feelings or thoughts on social media platforms. Memes can make kids either bully or the victim; it all depends on the sharing context.
TheWiSpy app can benefit parents in several ways. You can not only restrict your child's social media activities but also save your kids from other potential online threats.
Here are some ways in which TheWiSpy helps to combat meme addiction among teens and tweens.
Social Media Monitoring
Use TheWiSpy to monitor the ongoing social media activities of your kids, especially teens. You can monitor contacts to whom your kid shares memes. TheWiSpy delivers a complete report on the social media activities of their kids in real-time. Using such a parental control app, parents can find out if their kids are meme addicts or not.
Screenshot Capturing
With remote screenshot capturing features, parents can randomly take screenshots of their kid's device without letting them know. Secret screenshot capturing allows parents to find out the mobile activities of their children and reveal if their kids are sharing memes with friends. TheWiSpy also gives multimedia access to parents.
Parents can view all the saved photos of their kids' phones. They can see if they have downloaded meme images in the mobile gallery.
IMs Tracking
Instant messengers can be the shared medium to send memetic photos to family and friends. TheWiSpy app monitors the ongoing IMs activities and allows parents to read chats of their kids.
Keywords Alerts
TheWiSpy keylogging empowers parents to set keywords alerts. Using such a feature, parents can reveal what search queries their kids' type and what sort of content they search on the internet.
Instant Alerts
TheWiSpy instant alerts keep parents posted on the ongoing internet activities of their teens and tweens. So, anytime your child shares or receives something, TheWiSpy will send you an instant notification alert.
The Concluding Lines
Memes indeed drive our social media world. The overexposure of teens has made our young generation addicted to memetic content. Parents can still save their children by controlling social media use with the help of a parental control app – TheWiSpy.
So, please don't wait and let memes destroy your children. Start monitoring their online space with a powerful parental monitoring solution.