How to Keep Children Safe from Cyber Dangers
Posted in Cyberbullying by admin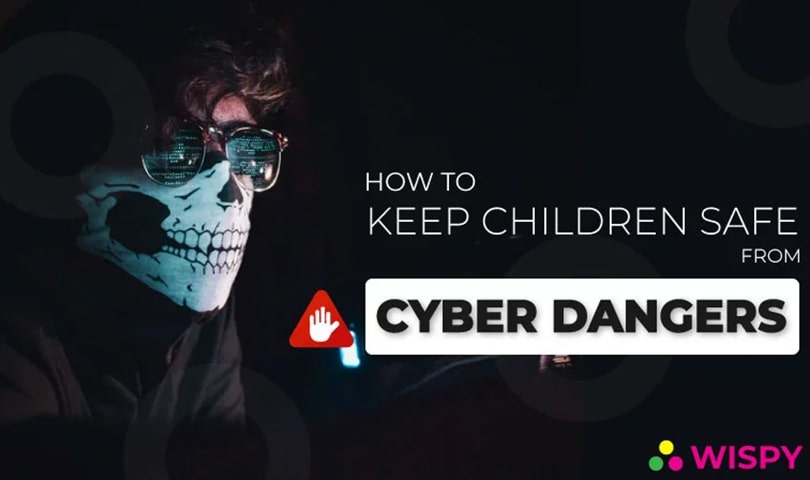 The online world is full of information that would help your kids to learn things faster. There are so many educational advantages of the internet that parents won't like their kids to miss out the privileges of the digital world.
But is the online world is really safe for children?
Well, people who actively use the internet must know that the harms and hazards of the online space. Internet, as a free space, allows people to contact anyone they want. And talking to strangers was never a good idea, especially for teens and tweens.
So, what would you do as a parent to keep your kid safe from online threats?
Are you aware of cyber dangers?
If not, then no worries.
Let us explain to you what types of threats your child might encounter during an unsupervised internet session.
Cyber Dangers – The Red flags of the Internet World:
The online world is indeed full of valuable knowledge that helps parents and teachers to power up the learning process of kids. Yet, on another side, the internet world can be so daunting and can damage the innocence of children.
Do you know how the internet is bad for kids?
Well, there are so many possible dangers in the online world that no parent would like kids to encounter.
Let's have a look at some serious cyber threats.
Online Predators to prey on juveniles :
The online space is an easy way for sexual predators to prey on juveniles. People with sick mentality such as molesters take advantage of social media channels to target vulnerable teens. Around 78% of girls and 82% of boys get victimised by sexual predators online.
Cyberbullying to Terrify Online Teens:
Do you know that nearly 34% of the kids get cyberbullied? Mean comments and hurtful behaviour never leave our side. Cyberbullying is another threat that terrifies teens and provokes them to do self-harm. Unfortunately, bullies also use social media networks to disregard people.
Sexting To Provoke Kids Emotions:
Sexting is a menace that involves people to send sexually provoking texts or images. Teens easily get trapped in sexting, because they get emotionally attached to any person, who shows compassion to them.
Adult Content to Damage Children Minds:
No parent would like kids to watch content that contains violent or adult scripts. Content that explicit eroticism, violence, blasphemy, etc. can severely damage the child's way of thinking, and might spoil them too. 55% of underage kids are at risk of getting exposed to adult content online.
Security Threats on Social Media:
Kids are unaware of the significance of privacy. Teens use social media so carelessly that they don't even bother to put privacy on their personal information.
Hackers and scammers take advantage of such personal details and use photos and videos of kids to blackmail them. No one can guarantee if someone stalks your teens and harm them following their check-ins from social media.
As a parent, it is your responsibility to check for every single cyber threat that might harm your kids before giving them internet and mobile freedom.
Keep Children Safe from Cyber Dangers – What Should Parents Do?
You must be thinking about different ways to help you secure your kid's digital space.
Well, the first and foremost responsibility of parents is to get awareness about the pros and cons of the online world. You can not save your child from cyber threats if you are unaware of the potential online dangers that can harm your child brutally.
Here are some ways to help parents secure their kids from cyber threats.
Educate Your Child about Online Safety:
The internet indeed provides a lot of information that helps kids to learn things easier.
Parents are aware of the fact that the internet is a beneficial thing for their children. But on the other side, parents must know that unsupervised internet access can damage their child's mentality, as the online world holds content of all types. Other menaces of the internet are molesting, bullying, security attacks, etc.
The best way to keep your child safe from cyber threats, you must educate your kids about the significance of online safety. You can always start by telling your kids how bad guys can reach them using the internet.
Aware of your kids how people can misuse the personal details of others for their own benefit. Once your children get the picture of the cyber threats in their minds, they will be more conscious while using the internet.
Set Computer System in the Common Room of Your House:
Keeping eyes on your kids while they use the desktop is always a good idea to know what they do online. Parents have no idea how much their presence can make kids more prudent of their doings. Kids who know that their parents are watching their digital activities stay attentive and carefully use the internet space.
So, moms and dads, always make sure that your home computer is always placed in the common area of your home. The more you watch your kids, the more they behave.
Set Rules for Computer Usage:
Being a parent, it is your responsibility to look after your child's cybersecurity. Kids between ages 10-17 use the internet for educational and entertainment purposes.
Research has shown that among every 4 kids, 1 kid sees unwelcome pornographic content. Strangers contact kids among which are 60% of teenagers and between these targets, half of the teens reply to strangers. 1 in every 5 kids gets sexually harassed online.
Do you still allow your kid to use the internet alone?
Parents can not cut off internet usage from their children. Instead, they can parental controls to set time limits for internet sessions. Kids can research for their homework or play games online only within the allowed time.
Restricted time can make kids focus on significant tasks and save them from futile browsing.
Talk to Your Kids:
Gaining your child's trust is the most important part of parenting. Parents must ask their kids how their day went, what did they do, who they meet etc.
Staying aware of your child's daily routine is the best way to know how your kid is doing. Children who are frank with their parents discuss everything with them. And kids afraid of their parents hide things from them.
So, as a parent, you must erase the boundary line that is keeping your kids away from you. Be frank with your children and discuss everything with them so that they can come to you in time of need.
Monitor Your Kids with Computer and Phone Monitoring Apps:
If you can't make time to monitor your kids because of busy work routine, try kids monitoring software. There are plenty of apps available enabling parents to keep eyes on their kids.
One of the most demanding kid's monitoring apps is TheWiSpy. Parents around the world prefer TheWiSpy child monitoring solution due to the advanced cellphone, tablet, and desktop surveillance features it provides.
Here is what parents can do with TheWiSpy kid's monitor:
Listen to call recordings
Track GPS location
Read sent and received messages
Track emails
Geofence localities
View media files
Monitor notes and reminders, etc.
Isn't it amazing how a single app can help you protect your kids from cyber threats?
Wrapping Up:
Cyber threats are increasing with the increase in internet use. Parents must not allow their kids to use the internet unsupervised. To save your children from online dangers, there are many helpful ways to consider. The most effective and efficient way to keep your kid away from cyber dangers is the use of kids monitoring app. So, are you ready to get started with kid's monitoring?