5 Ways to Restrict Screen Usage with Parental Controls
Posted in Parental Control by Julie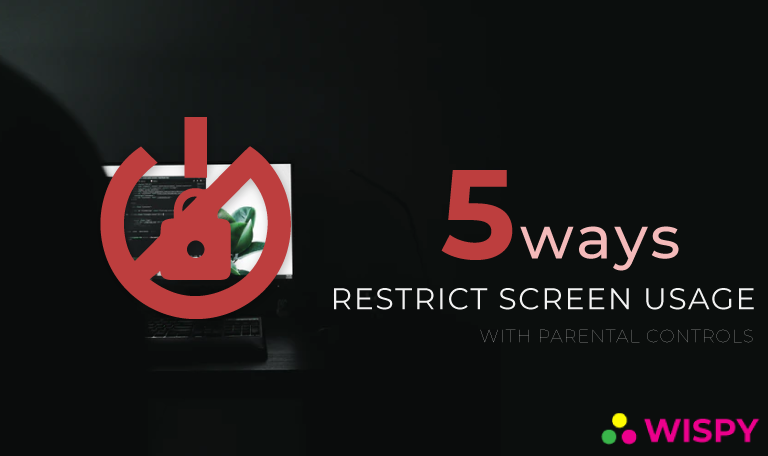 Being an employed parent, managing work and parental responsibilities, become quite challenging. At the present age, we live in a digitized world, where mobile devices are so common in use.
Parents today have much indulged in the work duties that they neglect what their kids do when they are not around them. To cope with this, some parents contact their children from work to check on them.
Well, as we all know, kids indeed love mobile devices and seek alone time to spends hours on them playing games, texting, watching videos, etc. Parents, when around, restrict children to use too much screen. As a result of too many limitations, kids spoil themselves with digital devices when their parents are at work.
But, no need to worry.
You can still control your kid's activities in your absence.
Just remember that technology doesn't leave loopholes, and everything is traceable.
Let's find out how.
Parental Controls – Restrict Screen Usage of Your Child's Effectively:
Parental controls are features of a mobile OS or app to limit and manage the digital activities of a cell phone or tablet. Parents are now only a few clicks away to provide a secure online environment to their kids.
Parental controls enable parents to limit screen usage, inappropriate content, app purchases, and many other things that you do not want your kids to operate digitally. You can enable parental control features on the web browser, video sites, App Store or Playstore, etc.
Android and iOS, as the most demanded operating system, offer parental control features considering that 53% of the kids and 84% of teenagers now own smart devices. Not only mobile devices, but you can also now restrict screen usage of desktop and internet.
Here are some golden ways to limit screen time for your child's online safety.
Use iOS and Android Restrictions
Limit the Use of Video Streaming Sites
Control Desktop Usage
Restrict Search Engines
Limit Gaming
Use iOS and Android Restrictions:
iOS and Android are the most commonly used operating systems in the world of smart devices. Both Apple and Android provide high-level parental control features that enable parents to manage the digital space of their kids. Remember that, Google Family Link app and iOS settings are enough for creating a safer online environment for your kids.
Here is how you can manage mobile devices using Apple and Android parental controls:
1- Limit Screen Usage:
Spending hours on mobile screens not only wastes your child's time but also impact negatively on the kid's brain. Studies showed that too much screen usage results in weaken eyesight, headaches, bad posture, etc.
As a parent, you still have time to control and manage the screen time of your kids.
MUST-READ: Reasons Why Parents Must Use Parental controls
Here is how you can do it;
For Android:
People who use Android phones and tablets can easily limit the screen usage of their kid's smart device just by installing Google Family Link app from the PlayStore. This app is free, and it enables parents to set screen time for their kid's mobile usage. You can restrict screen usage of mobile for study, dinner, and sleep times.
For iOS:
iOS allows parents to set screen time by scheduling time limits from the phone's settings. Like Android, you don't need to install an app to manage screen time. Instead, you can restrict screen usage time from the settings menu of your target iPhone.
2- Control Apps:
Mobile apps are diverse, some made for learning purposes, and others for entertainment. If you give your child independence to use smart devices, then no one can guarantee what your kid does on his/her mobile phone or tablet. But with parental controls, parents can manage the app usage of their kids.
For Android:
Android users can easily manage mobile apps by creating multiple profiles on the target device. Parents can create a restricted account for their kids so that the juveniles will never encounter bad or spoiling games and apps. Once again, Google Family Link app helps parents a lot to create multiple profiles to limit the internet and app usage of kids.
For iOS:
iOS does not allow you to switch between various accounts to control your child's online space. However, you can restrict app usage of your kids by adding them to your family. You can also limit screen time from the settings of their iPhone or iPad. Furthermore, if you want to restrict specific content, you can go to Content and Privacy Restrictions from the screen time settings of the target device and limit the app usage.
3- Ensure Privacy and Data Protection:
Keeping your personal information safe online is quite a challenge. With too many social platforms, people share private information fearlessly like no one can misuse their details. In the online world, juveniles, especially teens, get bullied or mistreated by cyber criminals. The only reason that brings bullies and hackers to your profile is your publicly posted personal details.
For Android:
As mentioned above, Google's Family Link app is all you need to prevent your kids from the harms of the online world. It allows parents to restrict photo sharing and secures your child's information online.
For iOS:
Apple devices are securer than Android. Parents can level up their data protection game by limiting app access from Content and Privacy settings. You can also restrict photos and other apps just from the settings menu of your target iPhone or iPad.
Now, let's move to the ways which will help you use parental controls for other digital devices.
Limit the Use of Video Streaming Sites:
Video content is everywhere. There are tonnes of videos available online, all of the different genre. Video streaming sites such as YouTube and Netflix are in great demand nowadays. Parents must not completely cut off their kids from such video streaming websites, but they should enable restrictions to create a secure online environment.
Here is how parents can limit the content from popular video streaming sites:
YouTube:
Kids love to watch videos, and YouTube is an amazing site for educational and fun videos for children. YouTube gives you two parental control options; either install YouTube Kids in your child's phone or enable restricted mode from the original app. Both Kids and original version keep your kids away from PG-13 and R-rated content.
Netflix:
When it comes to quality content, Netflix is the site that comes in everyone's mind. Though Netflix contains video content of almost every type, parents must not let their kids watch Netflix without supervision. To ease parenting, Netflix offers a variety of parental control features to let you restrict screen usage of inappropriate content from your kids. You can create custom profiles for your kids with proper filters and controls.
Here are the details of Netflix filters:
Little Kids Mode: Movies and shows appropriate for all ages. Anyone can watch the content of this mode.
Older Kids Mode: All ages,7+, and 13+ rated media.
Teens Mode: Movies and shows suitable for teens of 13+ age.
Adults Mode: Everything is available. No filters, no limitations.
So, gear up your parenting and avail the parental control features of YouTube and Netflix for secure online surfing.
Control Desktop Usage:
When it comes to providing protected digital space to your kids, parents should supervise the desktop and laptops of their children. For the convenience of parents, operating systems such as Windows and Mac have already offered parental control features.
You can restrict app purchase, block inappropriate websites, apps, and games using the parental controls of Windows and Mac.
Restrict Search Engines:
Search engines like Google Chrome, Firefox, and Opera etc. allows parents to set restrictions to enable safe browsing for kids. You can go to the browser settings and toggle on the restriction mode so that your kid won't be able to see prohibited websites and content.
Limit Gaming :
We all know how much kids and teens love gaming. Parents often concern that their kid might develop gaming addiction if not supervised properly. Well, gaming consoles such as Nintendo, Play Station, and Xbox etc. offers parental controls to limit gaming among kids. Parents can set profiles for their children with specific parental control features.
BONUS: Try Third-Party Parental Control Apps:
Using built-in parental controls features is amazing, but have you ever imagined that you can control and manage your child's device remotely?
Well, with top parental control apps, yes, you can.
Various third-party apps ensure advanced parental controls to help parents with digital parenting.
One of the top-rated best parental control apps in 2021 is TheWiSpy.
Here is a quick review of it:
With TheWiSpy parental controls, parents can:
Control Screen Time
Block Inappropriate Apps
Limit Internet Access
Restrict Improper Content
Geofence Safe and Danger Zones
Block Websites
Parents can now enjoy remote monitoring and management of the mobile devices of their kids.
So, are you ready to control your child's online space?
Summary: In today's modern era, parents must control the online space of their kids. Almost every operating system comes with parental controls and helps you create a safe profile for your kid's use. However, parents can always use parental control apps such as TheWiSpy to boost their parenting with advanced monitoring and remote control features.
RELATED: Is it Legal to Use Parental Controls