Increased Rate of Sexting Among Teens Shocked Parents to The Core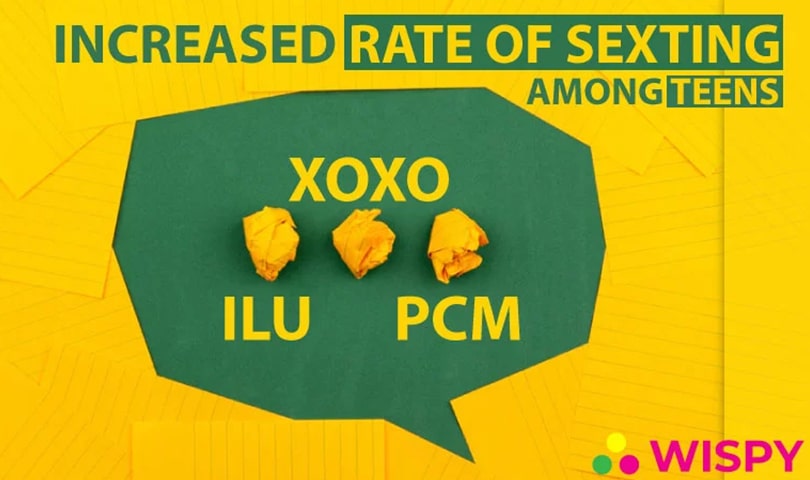 Unlike texting, increasing rate of sexting is ruining the mentality of our youth and spreading among teens like a wildfire.
The concept of personal digital space has given teens the liberty to do anything they want without the knowledge of their parents. Teens communicate with strangers online and indulge in bad and unlawful activities. Many parents fail to teach cyber etiquette to children which can result in bad circumstances.
Parents must be aware of such nuisance and keep eyes on the social as well as cyber behaviour of their kids to protect them from bad company.
The use of smartphones has made it easier for teens to hide their online space and do whatever they want to do online.
Research published in 2018 by JAMA pediatrics revealed that there has been a boom in sexting among teens since 2009. Statsshow that the current percentage of teens owning smartphones is 84%.
Cell phones have become a need for everyone. The alarming rate of sexting is a red flag for parents out there.
Let's discuss dreadful insights about sexting and how it is affecting teens and tweens.
What is Sexting?
Just like texting, sexting is a form of communication, but sexting involves sending sexually explicit content to others. Unlike texting, which includes written texts to inform or communicate with someone, sexting encompasses intimate or erotic images, videos, or other content.
The internet is a huge and free space for sexual predators to target juveniles and engage them in sexual activities. The rate of sexting is increasing with the increase of internet and cellphone freedom among teens.
READ ALSO: Kaspersky Broke The Ice Regarding Transparent Tribe Malicious Spy Activities
Rate of Sexting Among Teens Statistics – Consider the Red Flags:
JAMA Pediatrics have researched the sexting rate among kids, and the studies showed that a substantial number of minorities engage in sending or receiving sext messages.
We can't just take away phones from our teens. However, we can keep records of their online space.
Here are some shocking facts revealed by studies:
1 in 7 teens was reported to have sent sext messages.
1 in 4 teens was reported to have received sext messages.
In total, nearly 15% of the teens engage in sexting, and 27% of teens receive sext messages from strangers or people they know.
Girls and boys participate in sexting equally.
The research on rate of sexting among teens, published in JAMA Pediatrics, is a combination of the meta-analysis of 39 international studies, making 110380 participants, from the period 2009-2016. Based on this study, kids younger than 18 years of age indulge themselves in sexting. On average, children aged 15 years start sending nude images or videos using their electronic devices. However, older teens are more into sexting than younger ones.
Sexting as a Cyber Threat – What Are the Consequences?
Teens and tweens are vulnerable, and sexual predators benefit from such vulnerability and engage juveniles in phone sex or sexting. According to the CDC, 41% of teenage boys and girls actually perform sexual intercourse in the United States. Sexting, on the other hand, is also a sexual behaviour that arouses kids to share explicit content. If we talk about requester or senders, boys request nudes more than girls. And, girls send more nudes than boys.
Sexting can invite so many cyber dangers including; blackmailing, identity theft, etc. Nobody can guarantee that the sent sext photo or video will get leaked by the receiver or not. Non Consensual rate of sexting is also increasing with an increased rate of online threats.
It is important for all of us to get familiar with the concept of coercion and sextortion. Online predators force and blackmail juveniles to send them sexually explicit photos and videos. Such harassment or sextortion should be acknowledged by parents.
But, how can parents save their kids from sexting?
Well, there are several solutions to that.
Parental Concerns About Sexting Among Teens:
Have you found your kid sexting?
Do you worry about your teens indulging in sexting?
Sexting is as bad as watching porn. Kids engaging in sexting can develop addiction towards sexual content that can badly affect them both physically and mentally. We live in a modern world, with modern problems and advanced solutions.
3 Tips To Secure Your Kids From Sexting:
Here are a few reasonable and powerful tips for parents to secure kids from menaces like sexting. Most of these informative points are practically applicable and a lot of parents trust these practices.
Teach Your Kids The Importance of Privacy:
Cybersecurity is a hot topic nowadays. The internet is a limitless space with tonnes of information and threats. Though your child productively uses the internet, who knows what type of online danger is waiting to target your kid?
From cyberbullying to online sexual predators, your kid can encounter any possible danger while surfing online. That is why it is important to teach kids how to keep things private in the online world. Not everything is sharable, and there are a number of people waiting to misuse personal information of others.
Restrict Screen Usage of Kids:
Parents must set rules for the internet usage of their kids, especially for underage kids. By restricting the online space, and to control the rate of sexting, parents can ensure that their kids are not indulge in evil activities.
However, it is challenging for parents to restrict mobile usage for older teenagers. For that, parents can go the other way around and start monitoring their teen's phone and tablet secretly.
Check Your Teen's Text Messages Secretly:
There are several ways parents can ensure the cybersecurity of their kids. One of the modern ways to power up the online safety of kids includes the use of cell phone monitoring apps. With great demand, Android spy apps are getting popular in the online world. Parents can install such Android monitoring apps on teens mobile devices and secretly spy on text messages or sexting activities.
By tracking cell phones, parents can have an upper hand on the digital space of their kids, which makes them detect potential sexual predators and deal with them in their own way.
Wrapping Up:
Sexting is becoming a usual activity as we all have mobile phones and internet freedom. Teenagers misuse their personal digital space by doing unethical activities including; sending nudes or sexually explicit content. Parents around the world are worried about their kid's online space. But today, parents can leverage technology and spy on the mobile devices of their kids remotely. Spy apps like TheWiSpy enable parents to control the cellular and internet activities of their kids without getting into any suspicion. No need to put kids in trouble while you can secretly and remotely block potential cybercriminals from their smart devices.