Phone Addiction In Teens and Employees – Here is What to Do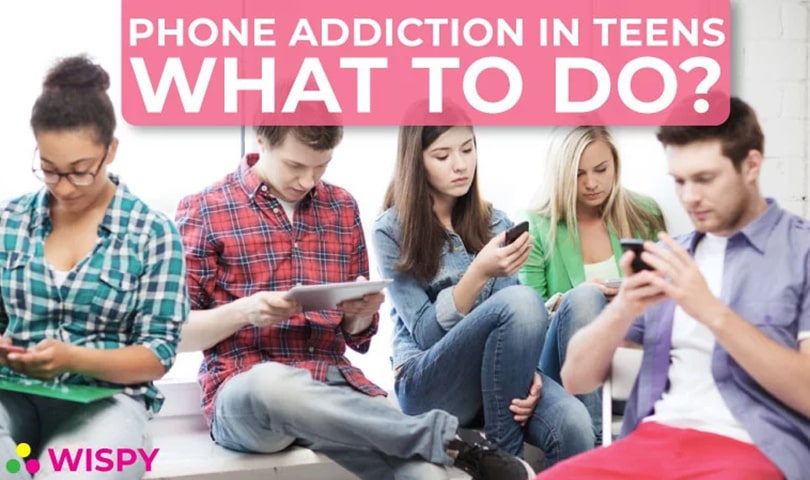 Cell phones have indeed become a substantial part of our lives. We all have become so much dependent on our smart devices that we can't imagine our lives without a cell phone or tablet.
From digital learning to navigating sites, technology has made our lives easier. But, using too many smart devices can disturb other routine activities.
The excessive use of the mobile phone can affect your teen's grade and employee's performance. Doing the right thing at the right time brings the essence of the particular task. If we do multitasking, it will negatively impact our overall work performance.
Teens use cell phones all the time, either texting or playing online games. Well, using a smartphone is not bad, but spending hours on a mobile phone can cause harm to children.
When we talk about work productivity, companies observed that using mobile devices during work hours decreases the performance of employees.
Let's see how cell phone addiction in teens and employees impacts negatively.
Cell Phone Addiction in Teens:
Research showed that 92% of teens use the internet daily. Almost half of the teenage population goes online several times a day. If we talk about cell phones, 94% of teens use the internet using a smartphone.
But what do teens do online?
The strong influence of social media networks impacted teens at a higher rate. Today, 71% of teenagers use Facebook, while 52% and 44% use Instagram and Snapchat, respectively.
Despite social media, teens and tweens play online games using their cell phones. As a parent, you must know that the online world holds too many potential threats that can harm your kid. Cyberbullying, sexting, online predation, inappropriate content are the main dangers that can ruin your kids mental health.
If you see your teen using the phone all the time, consider it alarming. Your child might have developed a cell phone addiction that can be daunting for his/her academics and health.
Cell Phone Addiction among Employees:
If you are an employee, you must know that the cell phone is a big distraction during work hours. Studies revealed that more than 50% of the employees use their smartphones while working.
If the workers get busy entertaining themselves using phone, then who will work?
Cell phone addiction in staff indeed is a bad habit, resulting in an overall decrease in the productivity of a business. Stats show that 43% of people check their mobile phone every 20 minutes.
Well, using cell phones during work is not ethical.  The inappropriate behavior of using smartphones in the office is not new to businesses. To tackle such addiction, companies warn their employees to minimize mobile usage. Otherwise, employees have to face serious consequences that might put their job at risk.
Harmful Effects of Mobile Addiction:
Addiction in any way harms the brain of humans. Once we develop a dependence for a particular thing, it becomes hard to resist something we have an addiction.
The human brain develops until the age of 25. Addiction or dependence over anything during such a period can be harmful to the human body.
Here are some dangerous effects of cell phone addiction, everyone should know.
Anxiety
Low Self-Esteem
Depression
Lack of Concentration
Anti-Social Behavior
Headache
Neck Pain
People with cell phone addiction tend to get anxiety attacks if they lost their phone. Other behavioral changes such as irritation, change in sleep pattern, loss of appetite occur with a disturbing routine of screen usage.
But, no worries!
There is always a way out.
If you see someone with mobile phone addiction, step forward and help them overcome the phone obsession.
Let's discover how you can do it.
How to Deal with Cell Phone Addiction Among Teens & Employees?
Helping your child or employee to overcome mobile phone obsession is not as difficult as it seems. No one wants to risk the life of kids over some phone addiction. Similarly, no business wants loss due to frivolous attitude of employees.
If you are a parent, here is what you can do if your child has phone addiction:
Set some ground rules.
Befriend your teen, talk about the harms and restrict of excessive screen usage.
Gain your kid's trust and make your child responsible for his/her actions.
Talk about the digital space of your kids.
Set some tech-free time in which you have to restrict your kids from using digital devices so they can value family time.
In case you are a business owner, here are some tips to keep your company in place:
Set no phone using policy.
Allow work phones during office hours.
Mention the penalties of breaching rules in the contract.
Keenly monitor your employees.
Warn your staff about the consequences of phone usage.
Have you done all these things and worried about the mobile addiction of your kid or employee?
Don't worry.
You can use a cell phone tracking app to monitor teens and employees.
Here is a bonus for you.
TheWiSpy mobile monitoring app provides spying solutions for personal and corporate use. Parents can now explore the digital space of their kids by installing TheWiSpy monitoring app in their teen's phone. Businesses can also ensure the safety of their confidential information by monitoring the work phones of their employees.
TheWiSpy offers the following advanced cell phone spying features:
Call Recording
GPS Tracking
SMS Spying
Contacts and Call Logs Monitoring
Social Media Monitoring
Surround Recording
Email Tracking
Multimedia Spying
There are a lot more mobile phone monitoring features offered by TheWiSpy app. So, you can see what's happening in the mobile phone of your kids or employees and help them cope with cell phone addiction.
Final Thoughts:
Cell phone addiction can ruin a child's life. Not only this, but the workplace with mobile addicted employees can go upside down due to a lack of dedication. To keep kids safe from cyber dangers and employees from cell phone addiction, you must check on the routine online activities of your teens and employees. Start using mobile monitoring app today, and explore the digital space of your teens and employees.