Lockdown and The Global Pandemic – Here Are The After Effects of COVID-19 on Parenting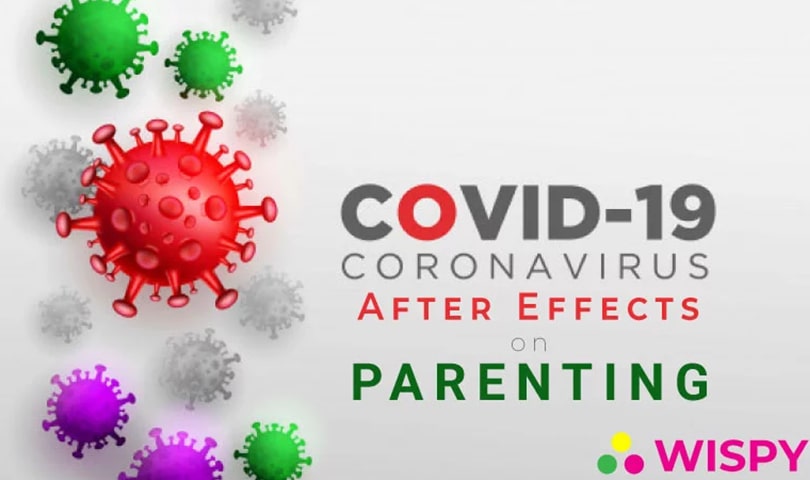 Parenting has always been challenging. But lockdown and the global pandemic has made it even more complicated. With work from home and online classes, parents have been facing difficulties to cope with everything.
We must say that technology has played a big part during the global pandemic. From tracking the COVID-19 patients to work and academic meetings, we have experienced tech evolution during such a challenging time. However, with the help of technology, connecting with a colleague or taking online classes have become easier .
Now that there is a slight relaxation in the lockdown, we all are coming back to usual routines. But still, maintaining social distancing is a must. Let's find out how the global pandemic has overturned our lives and how we can cope with such an intense situation.
Lockdown and The Global Pandemic:
Either it is virtual education or distance learning, both parents and kids have been adopting new ways to deal with the lockdown situation. Parents are more stressed as they have to make sure that neither of their jobs nor their kids' academic performance is getting compromised. We all are adapting precautionary measures to maintain social distancing during lockdown and the global pandemic times. We must admit that our lives now revolve around the use of face masks, sanitizers, and antiseptic aerosols and other products.
MUST READ: How Global Pandemic Affects Well Being
For working parents, it is quite tough to carry on job duties and parenting. Kids are spending more time using digital devices, which is nerve-wracking for parents. Using smart devices for educational purposes is alright. But too much mobile or internet exposure can make children dig into the dark side of the online world.
Here are some tips for parents to manage remote work and boost parenting at the same time. So, let's get started.
5 After Effects of Lockdown and The Global Pandemic on Parenting:
The COVID-19 outbreak has threatened us all. We are living in a more stressful situation than ever before. The following are some highlighted after effects of the global pandemic;
Less socialising has created a stressful environment. As humans are social animals, we can't just stay at our homes and cut off with everything happening outside.
We all are cell phone addicts to some extent. Zoom meetings, online classes, even grocery shopping, we are using too much of the cellular devices.
Children have developed online addiction. Kids stay online for hours rather than doing any productive activity.
Managing work tasks and keeping eyes on kids have become difficult for parents.
Adapting new approaches to avoid communicating spread is tiresome for parents as well as kids.
Let's throw some light on a few effectual tips to help you with keeping balance with both professional and personal life.
Effective Tips to Live Stress-Free Life During The Pandemic Crisis:
With offices, schools, restaurants, and other public places closed, we are confined to our homes. Social distancing is somehow beneficial for our health. But, at the same time, people are developing stress and frustration due to managing everything at home. None of us ever imagined such a lockdown life, and here we are adjusting to adopt new ways to manage work and home tasks.
Communicate More:
As it is said "communication is the key". Without communicating with our colleagues and family, we can't manage our work and home lives. We all are stuck at home, and remote work can be tricky if you have to help your kids with homework and do work tasks simultaneously. So, due to lockdown and the global pandemic, make sure you don't skip anything. Use team management software to connect with your comrades. On the other hand, you must discuss the educational routine with your children. Discuss your work schedule with your family. Make sure neither do you nor your kids disturb each other during a work call/meeting or an online class.
Put Your Priorities First:
Combating with COVID-19 is not a one day task. We have to adjust ourselves with the upcoming work and home-related challenges. In the meantime, we must not overlook what activities are significant. Make sure you schedule your work meetings and house chores accordingly. Do not mingle your responsibilities with each other. If you do, it can be stressful.
Set Some Rules:
The current lockdown has made us stick to mobile devices. But, such mobile freedom should develop internet addiction among teens. For parents, it is significant to set some ground rules for mobile usage of their kids. Allow children to use smart devices for a limited time, e.g. prohibit cell phone/tablet usage apart from online classes and playtime.
Don't Let Stress Control you:
It is stressful to cope with things nowadays. But we shouldn't let stress drive us. It's time to keep things positive. Relax until the lockdown ends, and we get freedom from COVID-19. According to WHO, we have to live following the precautions so that we can take control of the community spread virus. The peaceful way to pass such a time is to stay calm and go with the SOPs. Time shall pass, we must focus on being productive for now.
Develop Strategies for Remote Learning:
Academic activities have turned mobile with the start of online classes. Virtual learning is somehow useful, but parents need to monitor their kids while giving them internet access. Parents can use parental controls or kids' monitoring app to ensure that their children are not misusing the internet. With a parental monitoring application, you can set screen time usage limits and save your child from getting addicted to mobile screens.
The lockdown is not actually that bad. It gives us time to nourish our relationships and creates a powerful bond between family members. We should avail this part of the time to be productive towards both family and work. How did your lockdown time pass?
The Final Words:
Parental anxiety during COVID-19 for kids schooling is a real thing. Especially when we all are stuck in our homes, parents find it tough to manage work and parenting. An easy approach to keep things smooth is setting some rules and monitoring kids' digital activities. As we all are glued to our mobile devices for work or academic purposes, parents need to trace the digital moves of their kids.