iSpyoo Review 2022 [Updated] – Everything to Know About iSpyoo App
Posted in TheWiSpy alternatives by admin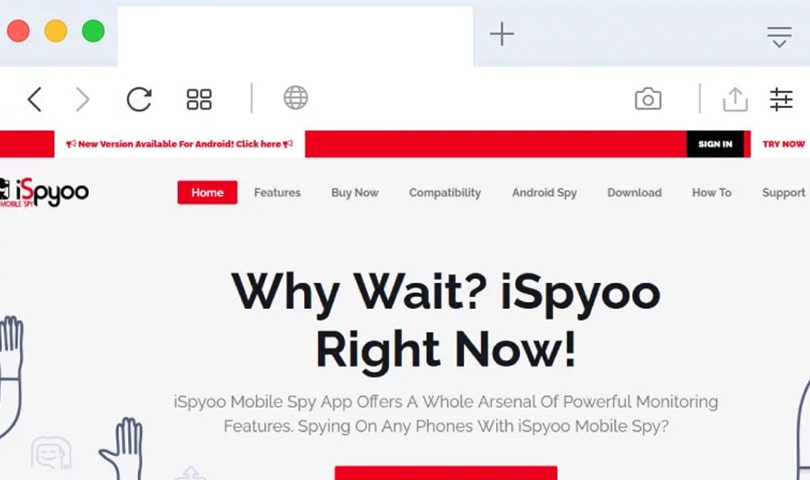 Living in a virtual time, we all have our own cyber lives. The internet has enabled us to dive into the deep ocean of knowledge within a few clicks. Simultaneously, the internet can act as the medium to invite unsolicited dangers to one's life.
With a digital presence, we befriend people from all around the world. Kids have cyber friends nowadays. The alarming thing about the online space is that you don't really know if the person you are talking to exhibits his/her real self or just catfishing you to get some attention. Online deception, infidelity, cyber harassment; countless dangers are wandering around us.
One wrong social connection can ruin your life.
Scary. Isn't it?
Spy apps are available in the online market to keep our family secure from such menaces. And today, we are going to review a well-known mobile monitoring app named as iSpyoo.
So, let's jump right to the iSpyoo review.
iSpyoo Review 2022 – Everything to Know About iSpyoo App
For people who want to monitor someone's mobile phones, iSpyoo can be a good option. The app has emerged as a useful alternative for kids monitoring, spouse tracking, and employee surveillance.
iSpyoo has attained many positive reviews from its customers. As per Trustpilot, the app has achieved a 3.8-stars rating. Whereas on SiteJabber, iSpyoo earned a 3.13-stars rating. However, the reviews of iSpyoo by its customers are pretty good on both platforms.
The following are the main points navigating the iSpyoo review to help you understand the app in a better way.
What is iSpyoo?
How Does iSpyoo Works?
What Devices are Compatible with the iSpyoo App?
What are the Main Features of the iSpyoo App?
How to Install the iSpyoo App?
What is the Pricing of iSpyoo?
Continue reading to explore each point mentioned above in detail.
What is iSpyoo?
iSpyoo is spy software that allows you to monitor the digital activities of your desired mobile phone. The app is designed to record ongoing digital activities of cell phones and tablets in real-time. You can monitor WhatsApp, Facebook, Instagram, and other apps with iSpyoo software.
For parents, iSpyoo delivers powerful kids' monitoring and parental control tools.
iSpyoo offers employee surveillance solutions for businesses so that the management can track every employee.
For couples, the iSpyoo app delivers spouse monitoring solutions to detect or evade infidelity.
iSpyoo is an all-rounder spy app that can help you discover every little detail of your target devices' activities.
How Does iSpyoo Works?
iSpyoo functionality follows the same principle as other spy apps; TheWiSpy, mSpy, etc. The iSpyoo app requires physical installation on the target device. Once installed on the target phone or tablet, iSpyoo starts interacting with the device's operating system and imitates everything in the background. The app stays hidden, and no one can detect its presence. iSpyoo records data from the target device and uploads everything on an online dashboard. The end-user can monitor the recorded data from the dashboard.
What Devices are Compatible with the iSpyoo App?
iSpyoo supports both Android and Apple smart devices. Let's check which OS versions of Android and iOS are supported by iSpyoo.
iSpyoo Android Compatibility:
Android smartphones and tablets are both supported by the iSpyoo app. You can use iSpyoo for Android OS 4 to 10 versions.
iSpyoo iOS Compatibility:
iPhone and iPad can be monitored by iSpyoo. The app supports iOS 6.0 to 13.x versions.
What are the Main Features of the iSpyoo App?
iSpyoo review is incomplete if we don't mention its incredible features.
Here are the details of iSpyoo features that make it a fantastic mobile spyware.
Call Logging – Get details on incoming and outgoing calls. Track call duration, contact information along with dates and timestamps of dialed and received calls.
SMS Tracking – Read SMS conversation in real-time. Monitor sent, received, and deleted text chats remotely. Find out if your child uses slang text abbreviations or your teens involved in sexting with random people.
App Monitoring – Track installed app activities and monitor if your spouse or teen uses dating apps. Monitor all installed apps and track app usage secretly. Discover if your child squanders money via online gambling games and apps.
Track Instant Messengers – Monitor WhatsApp, Viber, Skype, Facebook, and other instant messaging apps. Read text messages, track multimedia, and spy on shared document files remotely. Find if your child is following a suicidal gaming trend with online friends.
Monitor Web Browsing History – Keep track of your kids' online behavior. Monitor search history remotely and discover if your teen watches pornography in alone time.
Keylogging – Monitor keystrokes and track types of messages and queries. Track typed passwords and spy on your target device secretly.
Other Features – iSpyoo offers other powerful spying features like email tracking, multimedia monitoring, address book tracking, and many more.
How to Install the iSpyoo App?
iSpyoo installation procedure is simple; you only require two things;
1- Subscription License
2- Physical Access to the Target Device
Note that, without accessing the target phone or tablet, you can't initiate the installation process.
Here are the installation process steps in detail.
Access your target device and open settings.
From the settings, enable installation from unknown sources.
Now, download the app from the website.
Install the app and validate permissions.
Tap the iSpyoo icon and sign up.
Configure the app and hide the app icon.
The iSpyoo app is now installed, and you can monitor your target device through a control panel remotely.
What is the Pricing of iSpyoo?
iSpyoo offers affordable pricing plans to help you through efficient spying.
Here are the details of the pricing packages of the iSpyoo app. Choose the one that meets your requirements.
Standard Subscription – $16.99/month.
Premium Subscription – $19.99/month.
Gold Subscription – $22.99/month.
iSpyoo Review – The Verdict:
iSpyoo mobile monitoring, no doubt, delivers exceptional features. But, as per some customer reviews, the service providers have failed to offer efficient support services. However, as per some studies, iSpyoo app compatibility is only limited to Android and iOS devices. In summary, iSpyoo is a practical tool to spy on kids, spouses, or employees.
Don't forget to read XNSpy reviews, CocoSpy reviews, FlexiSpy reviews. You can also find TheWiSpy alternatives.