Is Your Child Addicted to Facebook? An Easy Guide to Control Your Kid's Facebook Usage
Posted in Social Media by Jhon Wick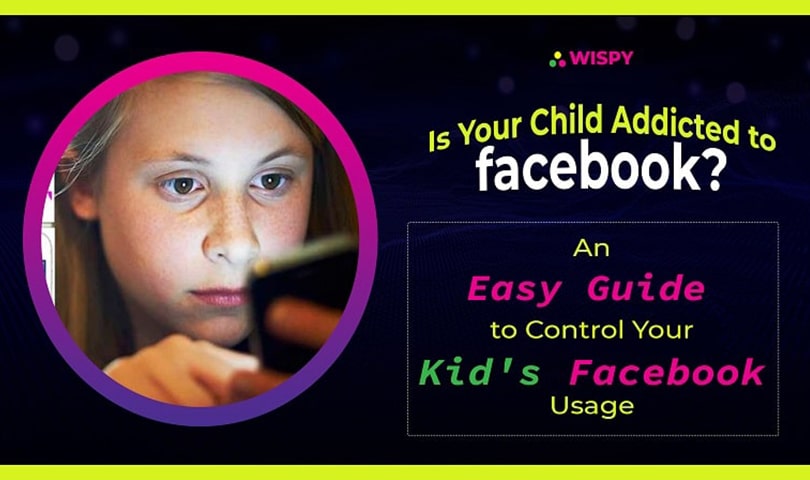 Does your child use too much Facebook?
Does your child's internet addiction make you feel that you failed in parenting?
In the present era, in which almost everything is technology-dependent, we can not keep our kids away from smart devices. The use of phones, tablets, and other smart gadgets is necessary nowadays to stay updated with the outside world. Moreover, mobile devices help kids learn new things by utilizing the internet.
But, in the race of being updated, we ignore the dark side of the internet that can harm kids online. Internet addiction is one of the threats to teens and tweens today. As per the findings of the Centre of Online Addiction, internet addiction and dependence is a serious and growing issue. Every 5 from 10 internet users suffer from some sort of online addiction.
Social media platforms entertain kids in many ways. For instance, social webs like Facebook, Instagram, Twitter, etc. let kids make new friends, share photos, post updates, and do many other tasks. Communicating online is good, but befriending strangers is alarming.
Facebook is the most used social networking website/app. Studies showed that children, especially teens are more prone to develop Facebook addiction and dependence.
In this article, we are going to share some signs that can help parents to determine if their kids are addicted to Facebook. In the latter section, we are going to reveal an effective guide for parents to control the Facebook overuse of kids.
So, let's get started.
Facebook Addiction – Is Your Child Facebook Addict?
We all see social media as a source of entertainment. Nobody indeed looks at the flip side of the social media world – the cyberthreats. Apart from online scams and dangers, the most serious problem is developing an addiction to social media platforms.
Here are some signs that ensure that your kid is suffering from social media addiction;
Frequently Checking the Mobile Phones
Lack of Interest in Extracurricular Activities
Over-sharing Posts Online
Lack of Communication Skills
Restlessness or Agitation in the Absence of Internet
Absurd Jealousy
The Popularity Fever
Let's discuss each of the signs so that you can identify if your child has any of the Facebook addiction symptoms.
Frequently Checking the Mobile Phones:
If you find your kid glued all the time to his/her mobile phone, then consider it as an alarming sign of cell phone addiction. Teens, addicted to Facebook, continuously check their cell phones to see if they got any new update or notification. Children with Facebook addiction stick to their cell phones day and night. The priority of such Facebook addicts is checking their social media account soon after waking up and before going to bed. Such behaviour can disrupt the daily routine of kids, making them spend more time on the internet than real life. Overuse of the internet and social media can cause serious health problems in children including; bad posture, weak eyesight, sleeping disorders, poor concentration, etc.
Lack of Interest in Extracurricular Activities:
Teens who stay busy using their Facebook space find it hard to take an interest in other routine activities. Facebook addicts have a poorly organised and structured routine, as they take every other task as a second priority. Such kids perform poorly in school and stay inferior in activities like sports, etc.
If your child is comfortable using his/her phone but feels agitated when socializing in public, then it is a big sign of cyber addiction.
Over-sharing Posts Online:
Research showed that social media addicts share everything on their Facebook or Instagram profiles. The urge to post everything online makes people, especially kids, dependent on social media. Such addiction to posting every detail of life online can attract cyber predators to the profiles of children, making it easy for molesters to lure kids. Parents must keep a check on the social media activities of their kids. And if they find any suspicious sign of internet habituation, they must take action to control it.
Lack of Communication Skills:
Social media networks has made it easier to connect with people around the world. But, at the same time, it has distant us from the people that are actually present around us. A social media addict finds comfort in his/her online identity, and when it comes to face-to-face interactions, they lack communication skills.
In the case, your child shows such behaviour, consider it as a red flag for online addiction.
Restlessness or Agitation in the Absence of the Internet:
Internet addiction is just like drug dependence. Social media acts like a drug and gives the user a state of euphoria. Your teen, if addicted to the online social world, will feel restless or get agitated in the absence of the internet. In other words, social media is an escape from reality for its users. So, whenever you want to see if your child has a dependence on Facebook, just try to cut off the internet and observe how he/she reacts.
Absurd Jealousy:
The online world has bloomed so much that everyone wants to modify themselves to please communities online. The concept of fitting in the online space has ruined the teenager's mentality. We all know that most of the social media posts are specially created or they are fake. Despite knowing the fact, people develop jealousy against each other for doing better than them. The state of envy not only affects the kid's mentality and behaviour but also causes adverse problems like bullying, vandalism, etc.
The Popularity Fever:
Everyone wants to be a social media star. Though Facebook is a great place to get attention, and teenagers take full advantage of it. Posting daily activities, photos, check-ins online for the sake of a few likes is usual nowadays. But, the gloomy part is getting no more likes or comments. Kids indeed go to depression when they find fewer likes on their online posts, and it is clearly a sign of internet dependence.
So, what should parents do to control the online space of kids?
Well, there is an easy way around.
Parents can use kid's monitoring and parental control apps to manage and monitor the online as well as offline activities of their children.
Let's dig in more to reveal how parents can monitor and control the cyberspace of their kids.
Control Your Kid's Facebook Usage – TheWiSpy Parental Controls:
Using too much Facebook and other social apps are alarming for both parents and kids.
If you are a worried parent, looking for a reliable solution to control your kid's Facebook usage, then you must try TheWiSpy parental control app.
Why?
Well, TheWiSpy app is a fully-fledged kid's monitoring and parental control app with powerful features that enable parents to keep a record of the online space of their kids.
Here are some robust features of TheWiSpy app:
Social Media Monitoring
Call Recording
SMS Tracking
App Blocking
Screen Time Restrictions
Email Tracking
Multimedia Monitoring
GPS Tracking
Web Filtering
And Many More.
Social media monitoring with TheWiSpy app allows parents to view the online friends and communities of their kids. It also helps parents to discover the reason behind the overuse of mobile devices.
So, whenever you feel the need for monitoring and managing your kid's cyberspace, just install a parental control application in the target device and explore the hidden truths of your kid's life.
Wrapping Up:
Social media addiction is a serious threat to everyone. Teens getting addicted to Facebook, Instagram, etc. not only disrupt their lifestyle but also cause no good to the society as well. Parents can save their children from the nuisance of Facebook dependence by keenly monitoring and controlling their kids online by using a secure phone spyware.
Do you worry about your child's Facebook Addiction?