Is Spying Android Phone Legal?
Posted in Android Spy by admin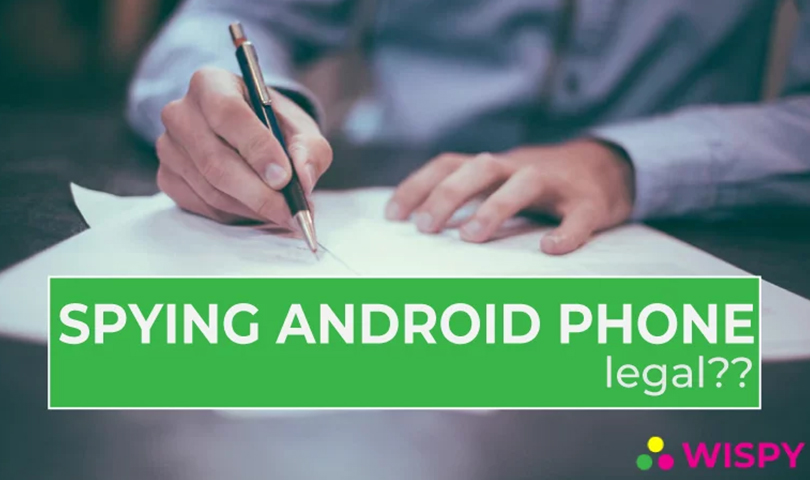 Do you want to spy on someone's phone but are afraid it might be illegal?
If it is, then why there are so much Android spyware available in the market?
Stalking and spying are illegitimate activities because these encourage people to breach the privacy of a person without his/her consent. Nobody likes unwanted eyes seeing every little detail of their personal life.
In a general perspective, spying is illegal. Countries have certain regulations and laws regarding digital confidentiality and privacy. However, every state has its rules when it comes to spying and tracking mobile devices.
Certainly, no one can spy on the mobile phone of adults without their permission. Although, spying on Android phones could be legal under some conditions.
Let's have a look at the whole legal and illegal scenario of Android spying.
Why People Need Android Spy Apps? Is Spying Android Phone Legal?
Now the question arises why spying on Android phones is in need. In today's digital world, the majority of people use Android devices. With that huge number of users, the demand for Android spyware is increasing every day.
If we talk about the legality of spyware, there are some instances in which phone or tablet monitoring can be permissible.
Allow us to describe you the circumstances that approve the use of Android spy apps:
1. To Ensure the Safety of Kids:
Parents are always curious regarding the safety of their kids. Spying Android phone devices of children, especially teens relieve parents by ensuring that their kids are at a safe location. Also, Android spying makes sure that kids are using the internet safely. It is legitimate for parents to monitor their kid's digital space.
2. As for Parental Control:
With diverse content available online, it is challenging to create a protected internet zone without the help of parental monitoring app. Android spyware help parents to set parental controls on the Android devices of their children. By this, parents can block inappropriate content and limit the screen usage of their kids.
3. For Employee Surveillance:
Due to affordability, companies often give Android work devices to their employees. Though it is legal for companies to spy on the work devices only if the employee knows of it. Companies should make clear employee monitoring policies to make sure every resource has acknowledged it. Otherwise, companies can face some legal objections.
How to Ensure Legal Android Spying?
If you want to spy on someone's phone, the first and foremost thing to make sure is the consent of the phone owner. Spying is illegal if the device owner does not know that someone is spying or stalking him/her.
So, if you are a business owner or a busy parent, make certain that you spy on the target Android device with the permission of its owner.
For kids, you have to tell them the harms and dangers of the online as well as the physical world.
But, in the case of employees, you have to tell them that every digital activity will get monitored during work hours. Also, ensure that you spy work phones only for corporate reasons. By this, your employees will be more careful about their productivity and will perform well.
Wait!
Are you looking for a powerful Android spy app?
Don't worry, let us help you with it.
Top Android Spy Apps:
The following is a list of top Android monitoring apps in 2021 that would help you spy your teens and employees:
TheWiSpy
CocoSpy
mSpy
Spyzie
FlexiSpy
These apps are popular among people around the globe. So, despite searching hundreds of Android spying apps online, try the demo of the above-mentioned quality apps and save your time.
To help you further, let us dig in more and describe to you a little extra about the top features of TheWiSpy Android spyware.
TheWiSpy Android Spy App:
TheWiSpy is a leading Android spy app with robust and powerful features. Either for kid's monitoring or employee surveillance, TheWiSpy has proven to be the authentic Android monitoring app around the globe. It is easy to install and simple to operate. Anyone can use this app as there is no technical knowledge required to run the spyware. The user-friendly interface and flexible features make TheWiSpy most demanding app today.
TheWiSpy Features:
Here are some quality features of TheWiSpy that help you to spy on:
Call Recordings
Call Logs
SMS / Text Messages
GPS Location
Browsing History
Emails
Media Gallery
IMs Chats
Social Media
Reminders
Calendars
And Many More…
TheWiSpy Installation Process:
The installation process of TheWiSpy is simple. Just follow these steps and you are all ready to explore your Android target device:
Purchase the License
Install the App
Start Monitoring
TheWiSpy ensures efficient Android spying with high-tech features. The most amazing thing about this app is that you can remotely monitor your Android phone. The remote online dashboard shows everything happening on it.
Hence, it was all about Android spyware, but before choosing an Android spy app, make sure you employ it for legitimate reasons.
Tips to Consider for Legal Android Spying:
Spying someone is a critical practice that is why you need to tell the owner of the target device that you are spying on Android phone or tablet.
You may find numerous apps online that catch the audience with slogans; such as catch your cheating spouse, and so on. Remember that, under any circumstances spouse or partner spying is illegal. No law allows anyone to spy or stalk their partners. Moreover, secret spying is also an illegitimate activity.
So, what should you do to make certain that you are spying legitimately?
Well, take a look at these tips to get on with legal Android spying.
Read the Disclaimer of Android Spying App:
Despite all the promotional messages that might drag you to the illegal spying practices, every Android spy app has a disclaimer on its website. The disclaimer message clarifies that the service providers will not be responsible for any of your illegal actions.
Carefully read the terms and conditions of the Android spying app service provider to get a clear understanding of legitimate and illegitimate use of their products.
Don't get fooled by promotional messages, stay alert, and use Android spying tools legally.
Notify the Owner of Target Device:
Notify the person who owns the target Android device that you intend to spy. You must tell the reasons that make you spy on that specific device. If you spy without the acknowledgment of the device owner, the activity would be an illegal practice. And, the device owner can sue you for breaching his/her privacy without their consent.
Do Not Ignore Ethics:
Whether you spy on your employees for corporate reasons or keep eyes on your kids to ensure their protection, do not cross the line of ethics. If you want to spy someone's Android device, only monitor the data that concerns your spying reasons. Collecting data for blackmailing purposes can make you face some serious legal consequences.
Concluding Thoughts:
Spying someone is a cheesy activity. But, due to the increased risks of the online world, you can spy on someone's Android phone under some legal circumstances. Android spying apps are helping people around the world to make sure that their kids or businesses are safe or not.
Do you want to spy on someone legally?