How to Secretly Free Spy on Android Devices?
Posted in Android Spy by admin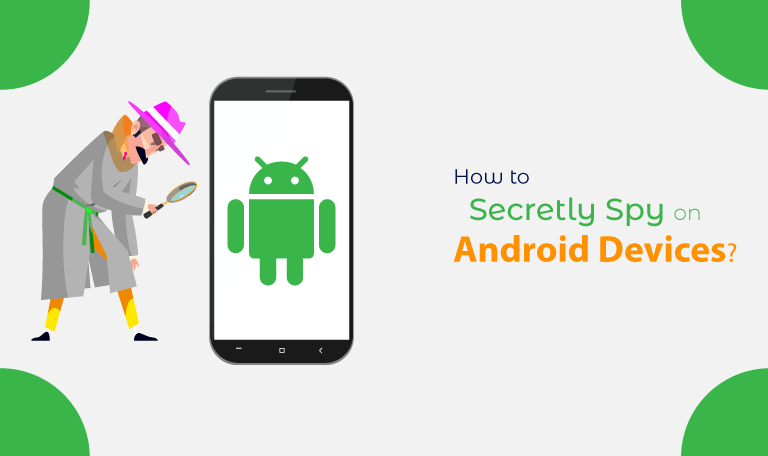 Are you curious to free spy on android devices to find out the friend-circle of your kids?
Well, you should be, not because you want to breach the privacy of your children but to ensure their safety.
Today, we all are busy with our mobile phones. As per the stats of Google, around 2.5 billion users are actively using Android devices in our surroundings. From learning to entertainment, we all have become dependent on our mobile phones.
For parents, it is important to keep a check on the mobile usage of their kids. Even businesses need cell phone tracking to make sure their employees are working dedicatedly. The most efficient way to keep eyes on someone is through cell phone spying.
So, if you are looking for ways to monitor a child's phones without them knowing or employee's work mobile, then this article is going to help you a lot.
Let's get started.
How to Secretly Free Spy on Android Devices?
Free Spying on someone's phone has always been a complicated task. When you decide to monitor someone's cell phone, make sure you have legitimate reasons for it. For example, parents can spy on their teen's mobile devices to make sure they sit in the right company. Similarly, employers can monitor the work devices to see if their staff is working or not.
To secretly free spy Android phones or tablets, you need an Android spy app; such as TheWiSpy.
You must be wondering if the top names of monitoring programs on android provides quality mobile spying; whether such spyware is secure or not.
Well, to ease your concerns, here are the top 5 Android spying tools for you.
mSpy
TheWiSpy
Spyzie
CocoSpy
XnSpy
Now, let's jump to the main point; how to secretly spy on smartphones and tablets with an legitimate free Android spying app?
Step by Step Guide to Secretly Free Spy on Android Devices:
Before you go for the leading mobile spy apps, make sure that you have a strong reason to break into someone's phone. We know that the internet world holds so many threats that haunts parents regarding the social as well as digital security of children. Likewise, businesses also get threatened by online scams and security threats.
Thanks to the updated technology that has provided us with a remote spying solution. Now, you can not only monitor Android phones remotely but can also control the target devices.
In this article, we are going to describe the installation process of TheWiSpy as an example.
So, let's get started.
Step # 1: Buy TheWiSpy License:
The first and foremost step to start spying an Android device is to choose the best Android monitoring tool and purchase its license. TheWiSpy, for instance, offers great Android spying solutions which allow you to monitor and manage your target device efficiently.
Here are top Android monitoring solutions of TheWiSpy;
Android Spying
Mobile Tracking
Kid's Monitoring
Parental Control
Employee Monitoring
Yes, you can do all with this app.
To purchase the license, you have to visit TheWiSpy (or any other Android spy tool) website. The next step is to register yourself and purchase the subscription of the Android spyware. You can choose any package that seems suitable.
Once you get registered and purchase the subscription, it's time to move to the next step.
Step # 2: Install TheWiSpy App in Your Target Android Device:
After purchasing the license, TheWiSpy will send you login credentials and app installation link to your email that you provided at the time of registration. Now, you need to open the installation link in your target device and configure the app in it.
Please note that you need to access the device physically, otherwise you can't spy on your target device.
Once you install the app in your desired Android phone or tablet, you have to configure the settings such as; selecting the operating system, hide the app icon, etc.
The minute you complete the settings, you can start monitoring the target Android device.
Step # 3: Start Monitoring Your Target Device:
TheWiSpy provides its users with an online dashboard having functional features a user-friendly interface. You can easily monitor every digital activity happening in your target device with the help of the web-based control panel. To access the dashboard, the user has to login with the credentials provided by the spyware provider at the time of registration. Once you access the control panel of the Android spyware you can monitor anything you want.
The Myths Related to Android Spyware:
The internet is indeed filled with many lies. When you search for an Android spy app, you will be amazed to see how many companies claim to provide the best Android phone monitoring solutions.
Keep in mind that; "all that glitters is not gold".
Don't rush while choosing the best hidden spy apps for Android for your target device. You may be fooled by false and untrue branding.
Here are some myths about free spy app for Android that you must consider before making a decision.
Remote App Installation:
Many free Android spying apps claim to provide remote installation, which means you do not need to access the phone physically.
Well, such claims are just scams.
You can spy remotely but to install the app, you require access to the target device.
Free Android Spying Apps:
Authentic Android phone monitoring apps are not free, but they offer free trials. As it is said that everything has a price, and so do secure phone spying tools. Spyware companies might provide a one-time trials to basic features but the full version of the spying application is never free.
Spouse Monitoring Solution:
Never fall into cons like spouse monitoring. Legally, only kid's and employee monitoring are allowed. Spying the Android phone of your wife or husband can put you in trouble.
Wrapping Up:
Spying on Android phones has become easier with the help of high-end technology. Android monitoring apps provide an easy way to secretly spy on someone's phone. You only need a spyware tool like TheWiSpy and you are all ready to discover the online world of your kids or employees.
Are you ready to explore what's happening in your child's Android phone?