How to Hack OnePlus Phone without letting Anyone Know?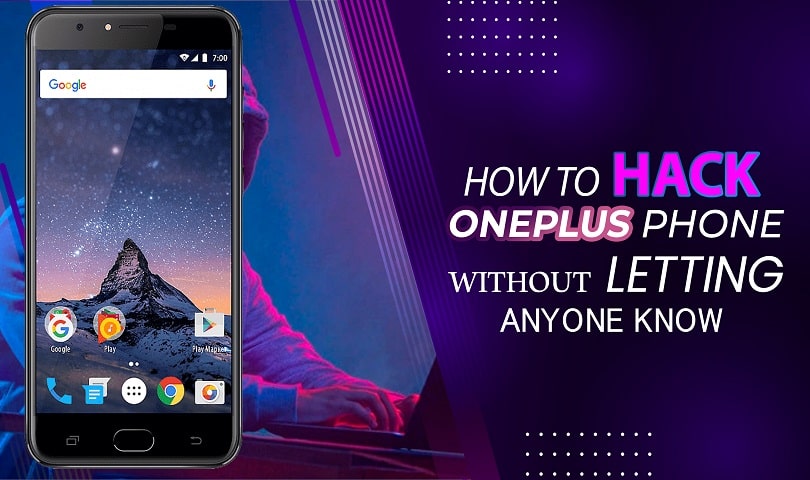 OnePlus is a well-reputed Android manufacturer brand with its flagship killer smartphones. Every year OnePlus introduces us with state-of-the-art mobile features bespoke to the users' needs.
The OnePlus devices have maintained their supremacy in the Android phone market by delivering cutting-edge features to enhance user experience.
Monitoring OnePlus phones can be challenging, especially when you know nothing about mobile tracking. The increasing cyber dangers alarm us to be more vigilant regarding our loved one's cyberspace. Today, we feel more comfortable texting our comrades instead of discussing things personally. Indeed, only you know what is happening inside your cell phone. Though cyberspace provides much privacy, such confidentiality urges people to engage in sexting or other menaces more comfortably.
If you are curious to know the hacking tricks for OnePlus smart devices, you are in the right place.
Let's find out how can you hack OnePlus phones with smart technology.
How to Hack OnePlus Phone with Mobile Tracker?
Using a mobile tracker app to spy on the OnePlus phone is ideal. OnePlus mobile monitoring app will allow you to track cyber actions and enables you to control the online activities of your target's phone.
But, it is better to have options on the side in case you don't want to spy on mobile phones with a phone tracker.
So, is it possible to track OnePlus phones without a mobile monitoring app?
Yes, it is.
The following section will discuss some effective methods to help you spy on OnePlus phones without using third-party software.
Hack OnePlus Phones with Simple Methods:
You can record someone's phone activity and monitor the cyber details of their digital actions remotely. Several methods ensure stealth monitoring to enable you to spy on someone's OnePlus cell phone with remote access.
Like other Android phones, OnePlus phones run on a connected Google account. It means if you have the credentials of a targeted Google account, you can monitor Android cell phones on the go. If not, you can only sneak into someone's cell phone while they are away; and that is a very tricky task.
So, before we discuss the tracking methods in detail, here is a list of components without which it is impossible to track OnePlus cell phones.
Physical Access: Whether you want to sneak into a cell phone or install a tracking app on it, you'll need physical access to the device in order to do so.
Google Account Credentials: You can track Android smartphones with built-in tracking options such as Android device manager or Google maps. For that, you need Google account credentials to look into your target person's cell phone.
Rooting: If you opt for a cell phone tracking app to monitor OnePlus phones, rooting your target device is what you'd have to do. Most mobile tracking apps demand rooting to function correctly on your target device.
Now, let's jump to the main section; how you can hack OnePlus phones in real-time.
How to Hack OnePlus Phone without a Tracking App?
Cell phones are essential to sustain life in the present times.. However, sometimes kids get too engaged in their cyber life and encounter online bullying, predation, trolling, and other threats. Perhaps, digital threats can haunt real-life, resulting in an increased rate of depression among teens. Furthermore, as per studies, cyberbullying leads to lower self-esteem, self-harm, and suicidal attempts.
To save your children from such harms of the internet, here is a built-in Android tracking app to help you hack into their cell phones.
Android Device Manager:
You can easily activate it from the target device's settings.
Just follow;
Unlock Phone > App Drawer > Settings > Security > Android Device Manager.
Or.
Unlock Phone > App Drawer > Google Settings > Android Device Manager.
Once you enable Android device manager, you can visit www.google.com/android/find and log in to your target's Google account to track the OnePlus phones remotely.
Android device manager can help you control the target device's tasks and track the OnePlus mobile phone's location in real-time. You can erase the data stored on your target device, make it ring, and lock it with remote commands.
How to Hack OnePlus Phone with Mobile Tracker?
The mobile tracker app is yet another innovation to help people secure their loved ones in the technology world. Several reasons can make you track a mobile phone. For instance, you may lose your mobile somewhere, or your child doesn't show up home on time, making you curious about their security. In another scenario, employers require an effortless solution to ensure their staff is at the worksite.
Cell phone tracking apps come in handy to track mobile actions in real-time. Using such software, you can view call details, message history, social media activities and track the GPS location of your target OnePlus mobile phone.
To monitor the OnePlus phone with mobile tracker app, you need to follow these steps:
Find the Best Mobile Tracker App (TheWiSpy / mSpy / FlexiSpy).
Get License of the Mobile Tracker App.
Install & Set Up the Tracker on Target OnePlus Phone.
Track OnePlus Phone via Dashboard.
Note that you may encounter countless mobile tracker apps to help you spy on OnePlus phones. The key to picking the best mobile tracker lies in the following section. So, just read it out and find how you can choose the best mobile tracking app for your target OnePlus device.
How to Pick the Best Mobile Tracker App for Target OnePlus Phone?
Here are some attributes of a good cell phone tracking app you must consider.
Excellent Customer Support
Positive Testimonies
Advanced Features
Affordable Pricing
Easy Installation
Every tracker app for Android smartphones is unique. Some deliver basic features, and some offer high-end monitoring tools. Now, it's up to you to choose the cell phone tracker app keenly.
READ ALSO: How to Hack HTC Mobile Phones? 100% Guaranteed
Conclusion:
OnePlus phones are high in demand, especially among teens. The flexibility and cutting-edge features of OnePlus devices make them stand out in the market. As most people are now using OnePlus phones, the need for tracking software to monitor such devices rapidly increases. Several cell phone tracking methods can help you locate or monitor your target OnePlus devices.
We hope that the tracking solutions above mentioned will assist you in tracking your target OnePlus phone efficiently and effortlessly.