Shocking Global Surge in Spyware Usage During COVID-19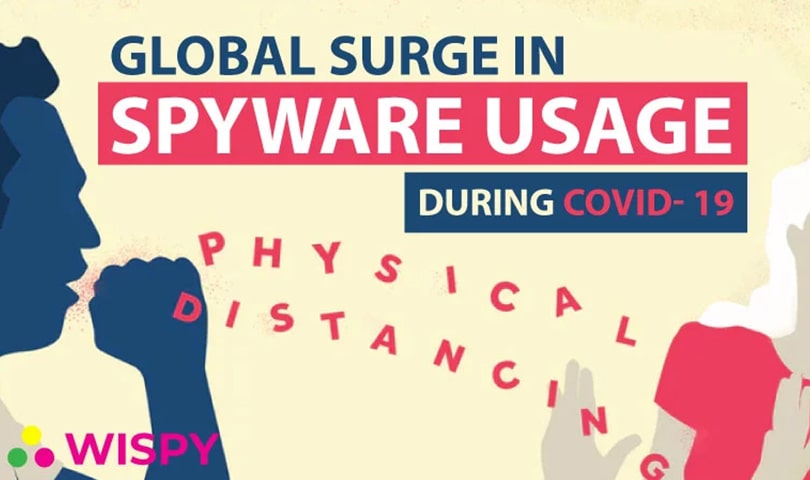 Android spyware is invasive apps to monitor the digital activities of the target user. Such unauthorized programs allow people to track and monitor the personal information of the target user including; photos, videos, social media accounts, browsing history etc. Moreover, stalkerware apps enable people to spy on verbal and text communication i.e. call recordings, text messages including; SMS, WhatsApp messages, and so on.
The use of Android spy apps is getting common with progressing technology.
A leading company of digital security and cyber products, Avast has discovered that there has been a global surge in spyware usage since the lockdown.
51% increase in the stalkerware apps has been observed from March to July 2020 as compared to January to February. Unfortunately, the lockdown has led us to face security threats by getting victimised by spyware apps.
The Pandemic COVID-19 and Global Surge in Spyware Apps
The epidemic of COVID-19 has confined everyone to their homes, resulting in an increase in domestic violence cases. A study showed, with global surge in spyware, there has been a 10.2% increase in domestic violence cases during the lockdown.
Avast blames stalkerware apps for such an elevated rate of domestic violence. According to reports, Avast secured 3500 users from getting victimised by spyware apps, since March. The monthly stats show a 62% increase in the monthly use of spy apps (from March to onwards).
Safety Net Project Director for NNEDV, Erica Olsen said:
"Stalkerware, which is designed to operate in stealth mode with no persistent notification to the user of the device, gives abusers and stalkers a robust and invasive tool to perpetrate harassment, monitoring, stalking, and abuse. This can be terrifying and traumatizing for the person. It also raises significant safety risks when the products allow the abusive person to track and locate the victim without their consent or knowledge. During this public health crisis, there have been several reports documenting the increased detection of stalkerware, which could be indicative of increased access to personal devices during a lockdown or stay-at-home orders. It could also be reflective of an abuser increasing or changing their tactic if the victim is now actually out of the house more often, if they are an essential worker in healthcare, for example."
According to Jaya Baloo, CISO Avast:
"Stalkerware is a growing category of domestic malware with disturbing and dangerous implications. While spyware and info stealers seek to steal personal data, stalkerware is different: it steals the physical and online freedom of the victim. Usually installed secretly on mobile phones by abusive spouses, ex-partners, so-called friends, and even concerned parents, stalkerware tracks the physical location of the victim, monitors sites visited on the internet, text messages and phone calls, undermining a person's individual liberty and online freedom."
Avast Highlighted the Cyber Security Issues Caused by stalkerware Apps
Avast shockingly revealed that not only spy apps are stealing your device data, but the COVID-19 tracking apps are also collecting user information secretly.
The disastrous effects of spyware apps have impacted everyone around the globe. Avast claimed to protect over 43,000 people from malware and spyware attacks.
As per country-specific data, here are the details of targeted users;
3531 from the US
3332 from India
3048 from Brazil
The story of global surge in spyware does not end with stealing personal information but can haunt us in the form of a data breach, security threats, domestic violence, and more.
So, what should a person do to keep safe from the spyware attacks? In the meanwhile don't forget to read the step by step process to remove spyware app from phone instantly.
Let's find out.
Protect Yourself from Spyware Attacks – Pro Tips to Follow:
People are worried about the cyber safety of themselves and their family members. You would be glad to hear that Avast has suggested some security protocols to protect people from malware and spyware attacks.
Here are 3 pro tips to protect yourself from spyware attacks
1- Don't Allow Any Unauthorised Physical Access to Your Phone
2- Install a Reliable Anti-Malware Software in Your Phone
3- Seek Help from Hotlines and Victim's Service Providers
Let's begin to start explain the online protection tips one by one:
1- Don't Allow Any Unauthorised Physical Access to Your Phone:
Mobile users must password-protect their phones. Obviously, your phones hold personal information in the form of text messages, contacts details, pictures, videos, etc. Avast suggests keeping your mobile devices protected from global surge in spyware by a passcode or biometric prints. The reason is simple; living with an abusive partner or friend can give easy access to your phone if not protected. This way the probability of spyware installation or stalkerware increases. Always remember to never give your unlocked phone to anyone because it only takes a few minutes to install spyware, and if it happens, you won't know it.
2- Install a Reliable Anti-Malware Software in Your Phone:
Spyware apps are potentially unwanted programs. A reliable anti-malware software detects such PUPs and sends you an alert to remove it instantly. Avast itself is an anti-malware, designed to catch the stalkerware and protect your phone from security threats. Avast cooperated with Google to remove 8 most malicious apps from the Play Store. With the global surge in spyware apps, Avast is working continuously to provide progressive anti-malware for the cybersecurity of people.
3- Seek Help from Hotlines and Victim's Service Providers:
If your gut feelings tell you that your phone or tablet might contain a spyware, believe what your instinct says. In most of the cases, people can detect suspicious phone activities i.e. a spyware is running on their mobile devices. If you are getting spied by someone, there are chances that you will face security threats, domestic violence, etc.
READ ALSO: Mobile App Usage Consumer Behavior During COVID-19 Pandemic
But what should you do in such a situation?
The first and foremost thing is getting help from support organizations, such as; Operate Safe Escape. It is a victim support organization. Operate safe escape helps people to save themselves from physical and digital threats. If due to the presence of a spyware app on your phone, you can't seek help, then you must reach out to support service providers via a library computer or a friend's phone.
Today, as we face the global pandemic of Coronavirus, it becomes very challenging to keep our routine lives going. Spyware and stalkerware are not the only threat, but pseudo-COVID19 trackers are also red flags. The only way to mitigate the risks of getting victimised by spy apps is by following the safety instructions suggested by Avast.
The Final Words: The best uses of spyware apps is not uncommon. stalkerware and spyware can be use at corporate levels to keep track of employee activities. Also, parents are encouraged to use such software to keep their kids safe from online dangers. But, whether you use it for security purposes, spying on someone without their consent is an illegal activity, and people should learn about its consequences.