The Global Pandemic – How Is It Affecting Our Well Beings?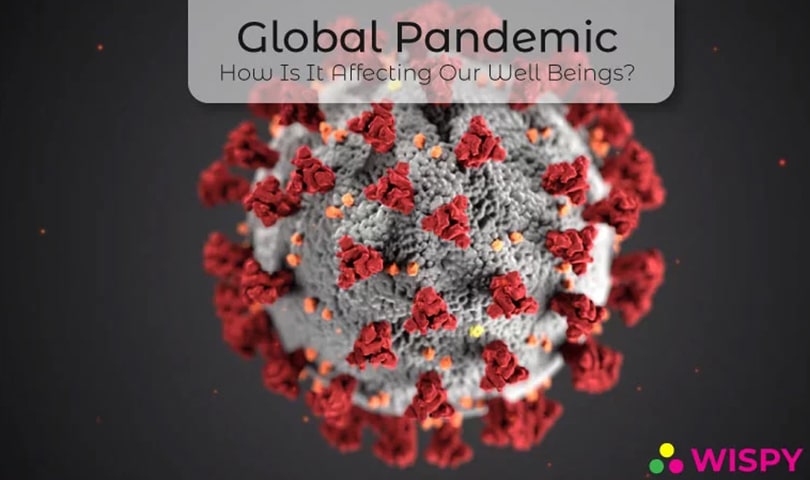 The outbreak of global pandemic Coronavirus has thrilled all of us. As it is necessary to maintain social distancing during the global pandemic, we all are getting affected in some way. Kids are constrained to take online classes, and businesses have shifted to remote working.
For working parents, it is tough to retain personal and work-life altogether at home.
Everyone around us is thrilled, and we all are taking precautionary measures to keep ourselves and our family safe from such a plague.
Here, we are going to cover some insights about how the global pandemic is affecting our well-beings and how we can fight against it.
So, let's get started.
The Global Pandemic – How Is It Affecting Our Well Beings?
Taking care of your home and work simultaneously due to self-isolation is tough to deal with. Despite getting the virus and becoming sick, people have started suffering from mental pressure while staying at home and managing everything remotely.
Among us all, kids suffer the most. Though, adults are also experiencing mental distress due to work recession, household, and many other things.
You can't stay in a box and spend all your life on it. Humans are a social animal, and we must expel our energies to something productive.
But, Alas!
The pandemic is here.
Let's see the adverse effects of the present epidemic in our routine lives.
Disrupted Routine of Kids:
Life today is not the same as it was before, especially for kids. The pandemic has caused some serious effects on the well-being of kids. Seeing their parents working from home or losing their job is not easy to absorb. Likewise, studying online and collaborating with educational procedures have become worse.
Kids are full of energy, and such strength should be expelled out. Otherwise, it can negatively affect the child's mental and physical health. With the spread of COVID-19, public places such as parks, playgrounds, etc. have shut down, and kids are confined to their homes.
According to the report of UNICEF, 99% of kids, worldwide, face some sort of restrictions during the present epidemic.
Kids are missing school that affects their physical and mental health. Moreover, learning from home has proved to be an interrupted activity because kids are getting involved in multitasking. According to the UNICEF report, 91% of the children are facing difficulty in learning online, which makes 1.57 billion kids in total having problems in academics due to interrupted education.
On the other side, because of social distancing kids can not meet their friends and loved ones. Such a confined environment can negatively influence the socializing ability of children.
Limited recreational activities can develop stress among kids. That is why it is important to keep things smooth during this pandemic and pay keen attention to our kids.
RELATED: Shocking Global Surge in Spyware Usage During COVID-19
Remote Jobs – Work From Home:
Working from home is yet another challenge faced by the corporate sector. With a huge number of employees working online, it becomes quite difficult for companies to collaborate with their resources. Stats by the Bureau of Labor Statistics showed that 29% of American employees are working from home.
However, it is observed that working from home yields an increase of 4.4% of the productivity of employees.
Big tech companies including; Google, Apple, Amazon, Twitter have shifted to online working.
To boost work efficiency businesses are focusing on building strong communication tactics. It is better to stay home and protect yourself and your loved ones from the community spread virus.
Tough Parenting:
Well, for parents, it has become tough to manage work and house chores. Also, staying with your kids all day and keeping eyes on their studying and playing routine has become the responsibility of parents. As a result of the lockdown, kids are spending more time using digital devices that is alarming for the parents.
Why?
Because too much screen usage can develop mobile addiction among kids. Parents must use parental controls to limit screen usage. Moreover, excessive mobile usage can make kids lethargic with poor eyesight and bad posture.
What to Deal with Global Pandemic (Coronavirus)?
To cope with the deadly disease spread, we must not panic, first. Everything can be managed at home if we consider a few things that include;
Set play and study routine for kids.
Manage workload.
Don't pressurize yourself or your family members.
Stay in minimal contact with outsiders.
If anyone in the family shows symptoms of COVID-19, isolate him/her immediately.
Sanitize your home and develop a habit of frequent hand washing.
As long as you take precautionary measures, you will be safe and sound.
If you are looking for a digital solution to manage work and parenting with you, then there is a possible solution.
Let's discuss it here.
Digital Monitoring – An Ultimate Way to Manage Work & Kid's Activities:
You must be thinking about how digital kids monitoring can help you through the current pandemic.
Well, if you look at the bright side, there is no better way to manage workload and parenting than a mobile and desktop monitoring app.
Digital Monitoring for Employers:
Companies and management are suffering a lot to keep the work stuff smooth during the lockdown. With big brands going to remote work, every other venture is allowing their employees to work from home.
Businesses effectively communicate and collaborate with their resources using employee surveillance software.
Such Advanced surveillance solution enables businesses to;
Monitor online activities of work phones and desktops.
Track work emails.
Spy on the mobile usage of employees.
Track the GPS location of workers.
Remote access to the target work device.
And many more
Isn't it outstanding keeping eyes on every employee using a single monitoring app?
Well, mobile monitoring also helps parents in many ways.
Let's see how.
Digital Monitoring for Parents:
Parents around the globe are stuck with a tiresome work routine and managing kid's activities. Mobile monitoring apps help parents control the screen usage of children.
Here are more benefits of leading best Android spy apps i.e.
Call Recording
SMS Tracking
App Blocking
Search History Monitoring
GPS Tracking
Social Media Monitoring
And a lot of other mobile monitoring features.
Parents can limit mobile usage using Android monitoring software and allow kids to use cell phones and tablets only in scheduled time.
Conclusion:
With global lockdown, life is not as it was like to be. We all are coping with the intense situation. But, as time goes, things are getting better. All we need to do is stick with the precautionary measures and keep our focus on managing the routine activities.
Technology, in this case too, is here to help us with mobile monitoring tools. If you are looking for an extensive Android monitoring app, then we recommend you TheWiSpy. Manage things digitally, and stay safe during the pandemic.