FlexiSpy Review 2022 [Updated] – A High-End Mobile Monitoring Spyware
Posted in TheWiSpy alternatives by Mike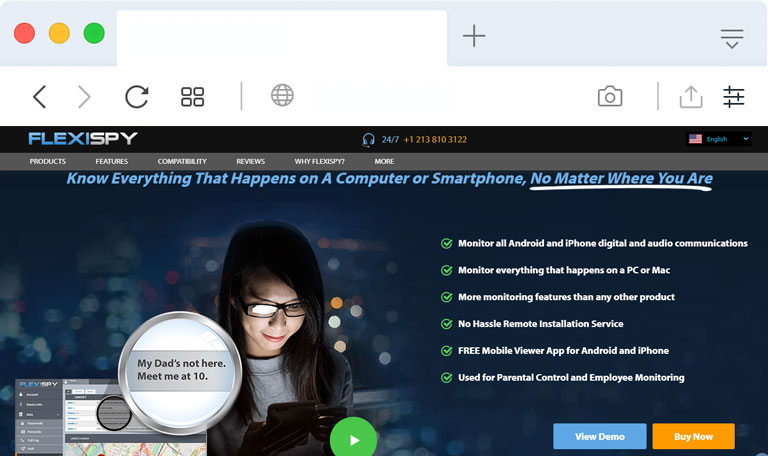 The use of cell phones and the internet is routine these days. Children glued to mobile screens are making parents concerned regarding online privacy. Kids have a lot to explore on the internet, but there is a big chance that they will encounter cyber dangers. With kids addicted to smart devices, parents are implementing modern approaches to track child phone without them knowing. Mobile monitoring spyware has been in great demand to empower parents to explore their kids' online and offline lives.
In this FlexiSpy review, we will discuss facts about the FlexiSpy app regarding spyware reliability, stability, and customer support.
So, let's get started.
FlexiSpy Review – Everything You Need to Know!
This FlexiSpy review is for every person out there looking for a reliable cell phone monitoring solution. With the extensive use of smartphones and tablets, people do find a need for spyware to monitor and control the digital space of their loved ones. Although the internet enables us to explore almost everything, yet it can be a source for unleashing cyberthreats to juveniles. Not only this, the internet can exploit businesses via scams and security breach attacks.
FlexiSpy is a powerful spy app. In the whole spy app industry, we recommend you to trust FlexiSpy blindly because FlexiSpy app is one of the million spyware to deliver what it promises.
FlexiSpy gained a 4.7 trust score or rating points on the website trustpilot.com. Comparatively on Sitejabber, FlexiSpy scored a 3.8-star rating.
Considering the customer reviews and rating, we can assure there is something in this spyware that makes it the most competitive spy app.
You can navigate a detailed FlexiSpy review from the following points;
What is FlexiSpy?
How FlexiSpy Works?
Which Devices are Supported by FlexiSpy?
Does FlexiSpy Require Rooting or Jailbreaking?
What Makes FlexiSpy The Most Powerful Spyware?
How to Install FlexiSpy?
How Much FlexiSpy Costs?
Continue reading the review of FlexiSpy and explore in-depth details of this fantastic mobile phone monitoring and tracking app.
What is FlexiSpy?
FlexiSpy is a known brand for providing high-end mobile phone monitoring and tracking services. The app also functions as a parental control tool. It provides parents with a comprehensive report on all the mobile activities of their kids. FlexiSpy app is well-programmed spyware that works on smartphones, tablets, and personal computers.
How FlexiSpy Works?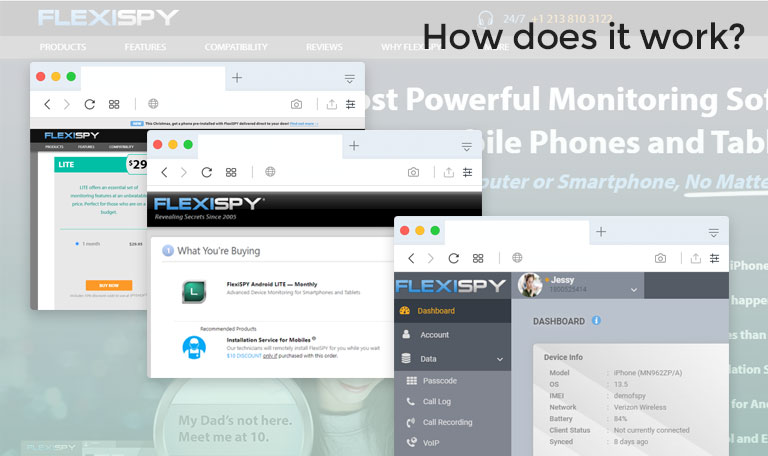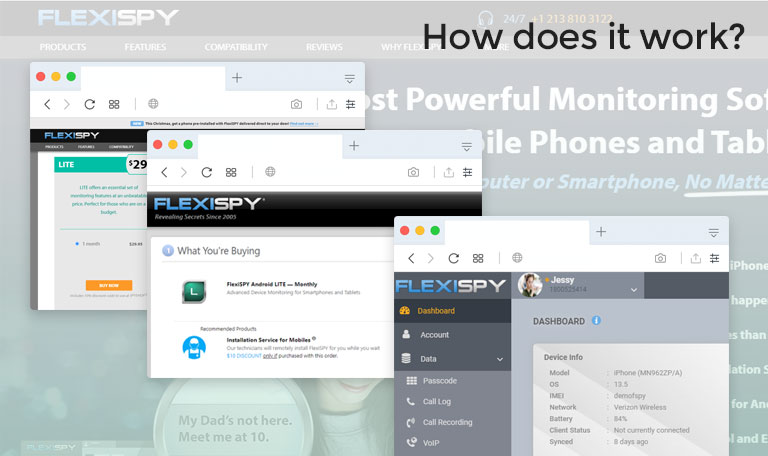 FlexiSpy is a hidden mobile tracking and monitoring app that records the target device's ongoing cyber activities. The spyware then exports all the recorded details to a web-based control panel. You can access and monitor the spied information via an online dashboard. Like other spyware, FlexiSpy interacts with the target device's OS, which means that the spyware fetches and records the target device's data at the backend. The target user can not detect the presence of the FlexiSpy app on his/her device.
Which Devices are Supported by FlexiSpy?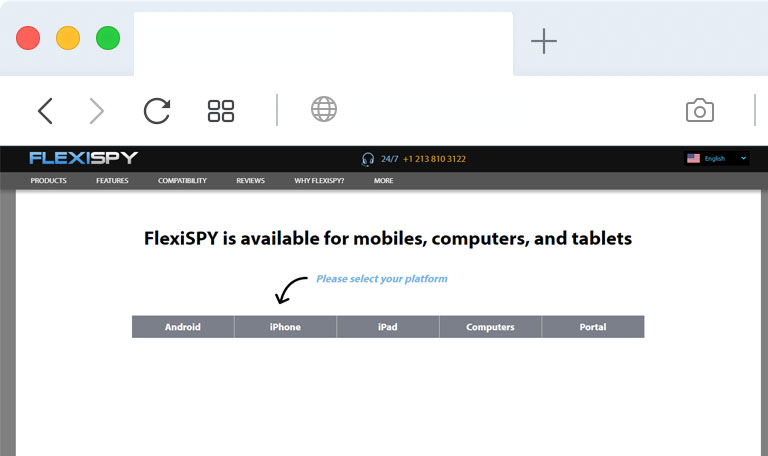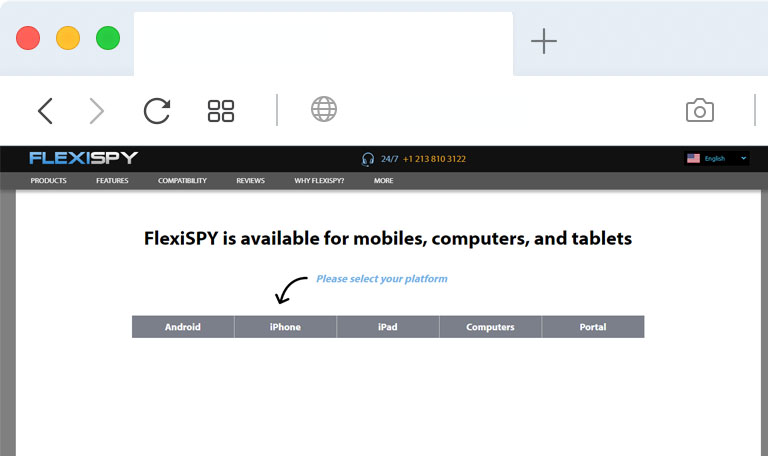 Have you ever paid for something useless?
You can relate if you invest in a spy app that does not show compatibility with your target device.
The FlexiSpy app's beauty is that it supports most of the smart devices present in the cyber world. FlexiSpy is a versatile spy app compatible with Android, iOS, and PCs.
Let's dig in more to reveal FlexiSpy compatibility;
FlexiSpy for Android:
If you require robust Android spying, then FlexiSpy is the spyware app for you. Unlike other spyware that only supports limited Android versions, FlexiSpy runs perfectly on all the OS versions of Android devices.
Yes, you read it right.
The FlexiSpy is compatible with Android 4.0 – 14.
FlexiSpy for iOS:
No doubt FlexiSpy is a complete tool to record and extract mobile information from your Apple target device. The spyware app enables you to monitor iPhone and iPad that run OS 6 to 14.x.
FlexiSpy for Computers:
Kids can't stay away from technology. If your child does not have a smartphone, he or she must have computer access. And, it is significant to monitor the desktop activities of children.
Likewise, businesses store million-dollar information on their computers. That is why companies should start monitoring work desktops.
With FlexiSpy, you can watch all the computer activities secretly and remotely.
Here is the computer compatibility of this fantastic spyware.
FlexiSpy Windows Compatibility:
It is compatible with Windows 7
Windows 8, 8.1 *
Windows 10
FlexiSpy MacOS Compatibility:
Mavericks
MacOS Yosemite
El Capitan
MacOS Sierra
High Sierra
MacOS Mojave
MacOS Catalina
Talking about compatibility, how can we forget the essential point, that is;
Does FlexiSpy Require Rooting or Jailbreaking?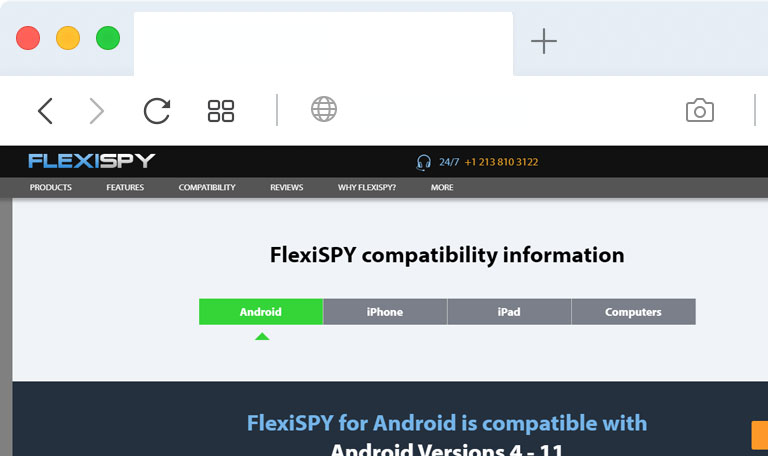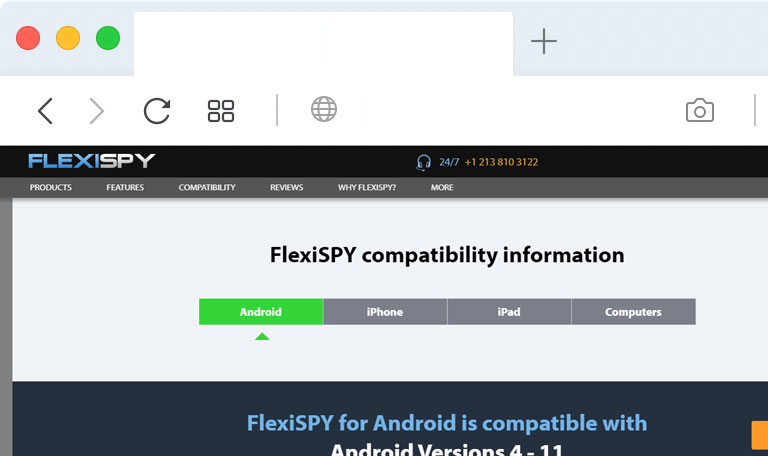 Yes, FlexiSpy requires rooting or jailbreaking of the target device. And for rooting or jailbreaking, you need to get access to the target device, physically. But some of the Android features work without root.
The requirement for rooting or jailbreaking is the only minor flaw of the FlexiSpy app. Otherwise, spyware is known best for providing high-end mobile monitoring features.
Speaking of which, let's take a look at FlexiSpy's monitoring and tracking features.
What Makes FlexiSpy The Most Powerful Spyware?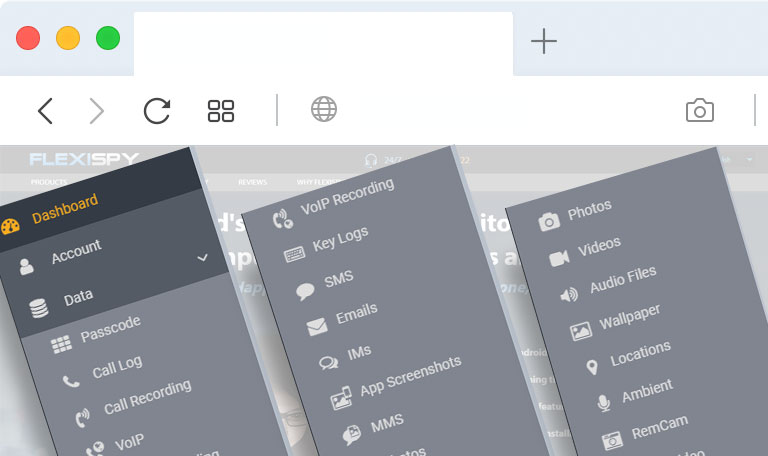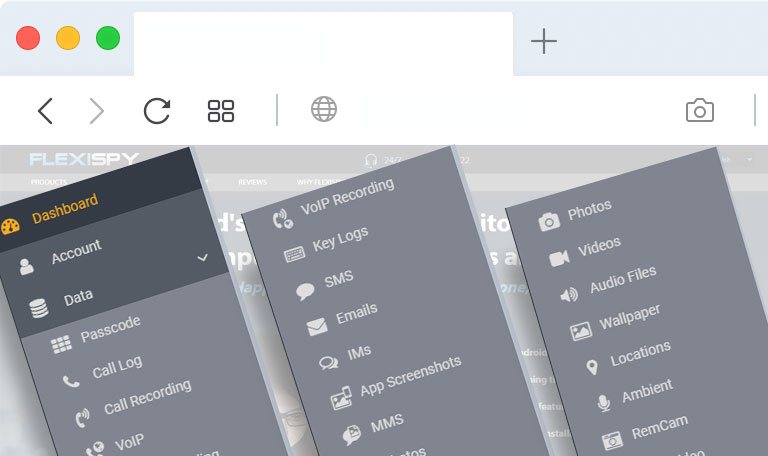 Anything that makes any app robust is the quality features. In the case of FlexiSpy, features like call interception and surround recording, etc., are famous for high-end performance.
Features of FlexiSpy includes;
Call Recording & Interception
GPS Tracking
Ambient Listening
Hidden Video Recording
Text Message Spying
IMs Monitoring
Email Tracking
Geo-fencing
App Monitoring
Screenshot Capturing
And Many More.
Whether you worry about your child's social circle or having suspicious feelings for deceiving employees, FlexiSpy is an all-in-one app to fulfill your spying requirements.
How to Install FlexiSpy?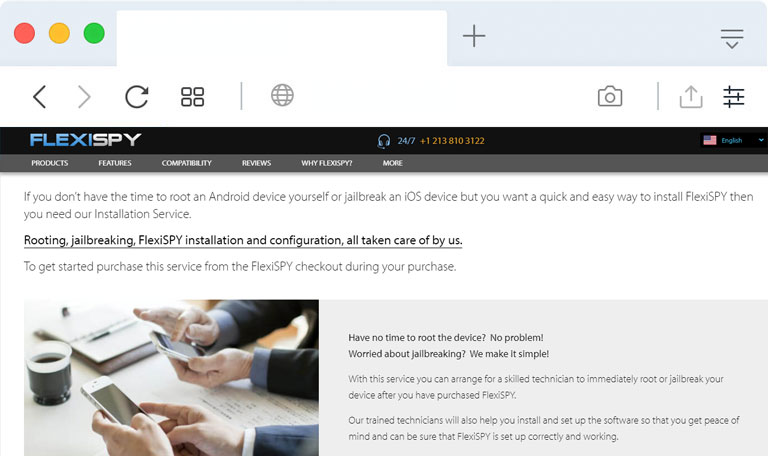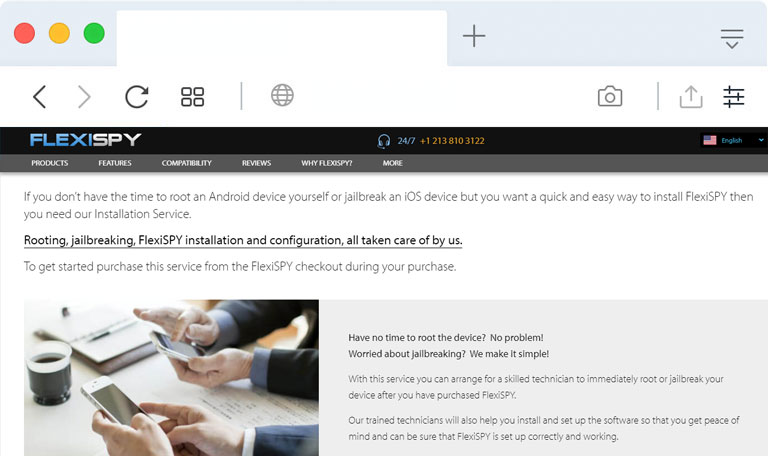 Installing FlexiSpy on your target device is quite a complicated process. And to help you through that, we are going to mention the installation process in this FlexiSpy app review.
Step 1: Get Registered:
First, you need to buy the FlexiSpy subscription from the official source.
Simply go to the FlexiSpy website from your own device and click or tap the "Buy Now" button.
Choose the make and model of your target device and select the suitable subscription package.
Purchase the license.
You will now receive an official email containing the login credentials, license key, and FlexiSpy dashboard URL.
You are done with the first step. Now, you need to unlock and access target phone or tablet to install the spyware in it.
Step 2: Setting Up FlexiSpy on Target Device:
First, unlock the target device and toggle off the Play Protect from the PlayStore.
Open PlayStore > Tap Hamburger Icon > Tap Play Protect > Open Settings > Disable "Scan Apps with Play Protect".
Now, open the web browser of your target device and enter the FlexiSpy download link (djp.bz) on it.
Check the box that says, "I am the customer, and I have a license code."
Tap on "View All Software."
Now, choose the OS of your target device.
Once you choose the type of your target device, FlexiSpy will automatically start downloading.
The minute FlexiSpy gets downloaded, you need to open the app and tap on "Install."
Accept the license agreement and continue.
Now, activate the device administrator.
Allow the spyware to run in the background.
Enter the license key and tap on "Activate."
In the next steps, the app will ask for specific permissions. Allow all the permissions to proceed.
A pop-up window will ask do you wish to hide the application? Tap "NO" if you want to hide the app icon.
Congratulations, the challenging part is completed. Now, all you need to do is open the FlexiSpy dashboard and login with your credentials.
You can monitor and control your target device's digital activities remotely and stealthily from the web control panel.
How Much FlexiSpy Costs?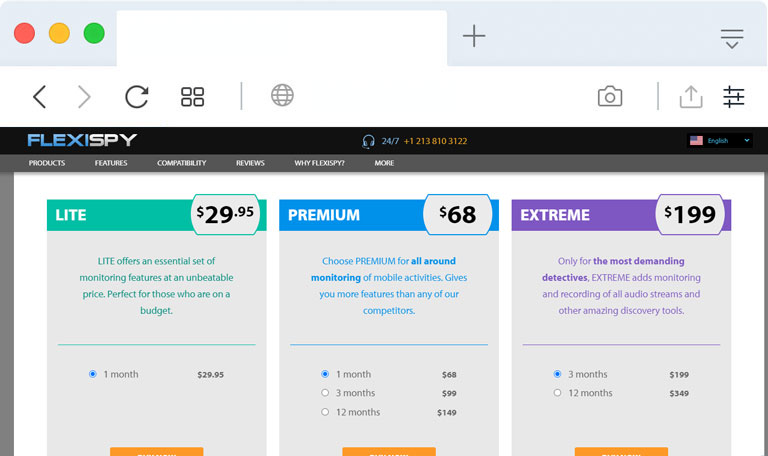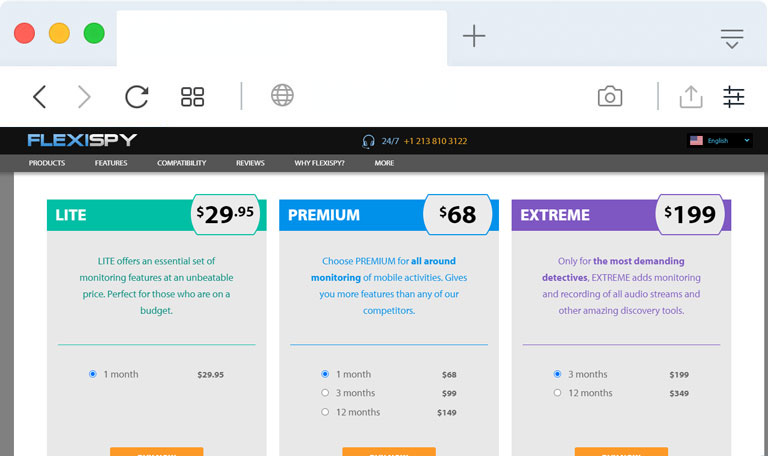 As compared to other mobile monitoring apps, FlexiSpy is a bit expensive.
Here are the details of FlexiSpy packages;
FlexiSpy Android Pricing:
Lite Version: $29.95 per month.
Premium Version: $68 per month.
Extreme Version: $199 per month.
FlexiSpy iOS (iPhone spy) Pricing:
Lite Version: $29.95 per month.
Premium Version: $68 per month.
Extreme Version: $19.99 per week.
FlexiSpy iPad Pricing: $68 per month
FlexiSpy Desktop Pricing:
Computer: $68 per month.
Final Words FlexiSpy Review:
FlexiSpy is a popular name in the spy app market with known reliability and functionality. FlexiSpy works on stealth mode, making itself non-intrusive spyware that is hard to detect. The app is intended for legal use only. If you want to use FlexiSpy to track your kid or employee, you must have a valid reason for it. Also, in any case, you must inform the target user about your spying intentions. FlexiSpy is an all-rounder spy app to fill up all your monitoring and tracking needs. Though the price can be a bit high, the functionality is super great of this incredible spyware.