How to Find Your Lost Phone with or without Mobile Tracker Apps?
Posted in Mobile Tracking by Julie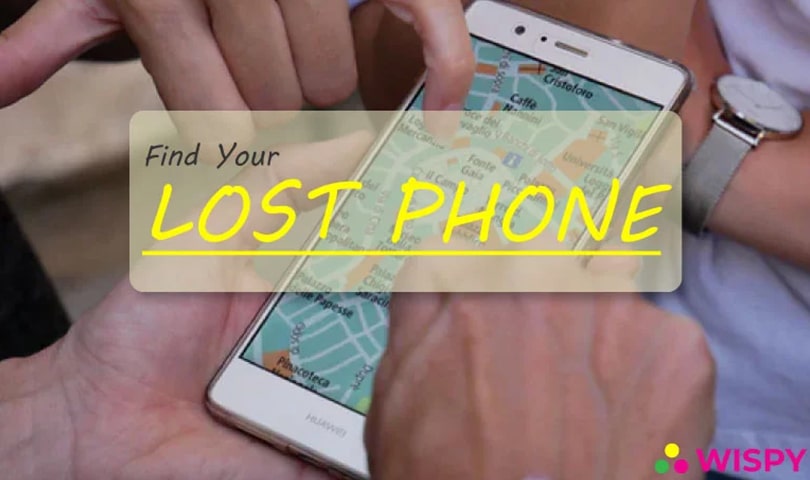 Have you misplaced your phone? Or lost it? Are you sure if someone has not stolen it?
To find lost mobile devices, mobile tracker apps efficiently work by tracking the phone GPS location and fetching the data from the device.
When our mobile device goes missing, we suspect every situation where we probably left our phone. But, in today's digital world such type of worries has easy solutions. With the help of advanced technology, finding a lost phone is like a piece of cake.
Want to find your misplaced cell phone?
Here are two possible ways to do it:
Find your Phone with the Help of a Mobile Tracker App
Find your Phone without Any App
So, stop worrying and let us show you how a mobile phone tracker helps you can find your lost device.
Method 1: Find Your Lost Phone with the Help of a Mobile Tracker App – TheWiSpy:
If you are conscious of your phone being misplaced or stolen, you must take precautionary measures to ensure its security. For that, a mobile tracker app would be a great option. Not only you can backup and protect your phone data, but also you can track the GPS location in case of theft or misplacement.
Among all the mobile tracking apps, TheWiSpy is popular for its efficiency and compelling features. Thus, if you are looking for advanced mobile tracking features, this app is your savior.
To find the real-time location of your cell phone without much effort, employ TheWiSpy tracker app on your mobile phone. With TheWiSpy, you can remotely track the route history of your mobile. In case of theft or robbery, you can get remote access to your phone. You can read messages, listen to phone call recordings, monitor phone data without any suspicion and catch the person who stole your phone.
Easy Steps to Track Lost Mobile Phone with TheWiSpy:
To install TheWiSpy app, follow these steps:
Step 1: Sign up for TheWiSpy Account:
To get TheWiSpy license, you have to sign up for its account. Once you create an account on TheWiSpy, you will receive a confirmation email that helps you with the account activation. After activating your TheWiSpy account, you have to set up the software to proceed with the installation in your Android phone.
Step 2: Choose Your Subscription Plan:
After getting registered to TheWiSpy, you have to select a subscription plan. You can choose either basic or premium edition for monthly or yearly subscriptions.
Step 3: Install TheWiSpy in Your Phone:
Once you subscribed to TheWiSpy service, you have to install the app into your device. After this, login to your TheWiSpy account from any browser to make sure that your app is successfully installed on your phone. Once confirmed, you can choose to either keep the icon displayed, on the phone, you wish to track, or hide it permanently.
Step 4: Start Tracking the Real-Time Location of Your Lost Phone:
Once you install and set up TheWiSpy app on your phone, you can directly go to your account control panel to track your device. Not only you can trace the GPS location of your phone but also monitor other mobile activities. This may include calls, messages, emails, browsing history, gallery, and many more. The dashboard of TheWiSpy is easy to use and categorized according to every feature.
Wait! There is more about this amazing mobile tracking app.
Let us expose the excellent features you get with TheWiSpy app.
Best Features of TheWiSpy:
Track Active GPS Location
Listen to Call Recordings
Read Text and IMs Messages
View Gallery
Monitor Social Media Accounts
Monitor Browsing History
Remote Access to the Device
Tracking mobile devices with a cell phone tracker app helps you find your lost or misplaced phone effortlessly. All you need is to log in to your account and trace your phone location.
Method 2: 3 Ways to Find Your Lost Phone without Any App
Missing or losing a cell phone is the worst nightmare for all of us. Our mobile phones hold personal information. And in case of theft or misplacement, the one thing that comes to the mind of everyone is the misuse of personal data saved in mobile devices.
No worries, every problem comes with a solution.
If you lost your mobile phone and don't know where it is, there are some ways to help you find it.
To find your phone without any app or third-party software, follow these 3 perfect ways:
1. Find Your Phone with IMEI Number:
IMEI number is a specific code every mobile device possesses. It is the International Mobile Equipment Identity of your device. Using IMEI code is the best way to find your lost Android phone without the help of any mobile tracker app. For that, you need the assistance of your network provider and law enforcement agencies.
· How you can find the IMEI number of your phone?
It's simple.
IMEI Tracker is the best option if you want to find ways to track your lost phone with IMEI Number. IMEI number is written on the packaging of your device. If not there, you can find and secure your IMEI number beneath the mobile battery area. Just remove the battery and note the IMEI number written in the inner part of your mobile phone.
Another way to find a cell phone IMEI number is by dialing *#06# from your mobile phone and it will get displayed on your screen. Note it from there and secure it.
You can also find your Android phone IMEI number from the "About Phone" description from the Settings. For that follow this, Settings> About Phone> Status, and fetch the IMEI number from there.
· Find Your Lost Android Phone with IMEI Number:
Once you obtain your phone's IMEI number, you secure its future. In case of theft, robbery, or misplacement, you can easily find your phone location by entering your IMEI number into any online IMEI search portal. Or, you can contact law enforcement agencies to help you locate your phone.
2. Locate Your Cell Phone with Google Device Manager:
Google's "Find My Device" is a pre-installed feature in all Android devices. It is a security feature to ensure the safety of your Android phone.
As all Android devices have a linked Gmail account, it is easy to find lost Android phones with configured Gmail account.
Here is how.
The Gmail account linked with your Android device helps to find your phone via GPS. From Google device manager you can connect your lost phone GPS and find the location of your mobile device.
· How you can find your phone with "Find My Phone"?
Using "Find My Device" you can easily locate your phone.
Just follow these steps:
Go to Find My Device
Choose Lost Device from the List of Available Devices
Using Google device manager, you can ring your phone, lock it, and erase all the data from it.
So, if you lost your phone, immediately open the Google device manager to take suitable actions.
View the Current Location of Your Device Pinpointed on the Map
3. Find Your Lost Phone with Google Maps:
Using Google maps is an effective way to find your Android phone that has enabled location services. In case if the GPS is not active, you can find possible places to find your phone because Google saves location history.
By finding the last location, you can guess the place from where your phone gets misplaced.
You can open Google maps, and locate your phone from its timeline. If your lost phone has enabled location services, Google maps will show you the exact location of your Android phone.
· How you can find your lost phone with Google maps?
To find your phone with Google maps, follow these steps:
Open Google Maps
Sign in to Your Account Linked with Your Lost Device
From the Sidebar Menu, Open Your Timeline
View Your Travel Route, Filter Today or Yesterday to Find Current Locations
Get the Recent Locations that Help You Find Your Phone
To ensure your phone security, make sure that its location is always turned on.
BONUS:
Please note that, if the thief or person who got your phone reset it to factory settings, you will not be able to find it. That is why you should take immediate action if your phone gets missing.
Read Also: How to Track Cell Phones with Just a Number?
Final Note:
Finding a lost phone is not an impossible task. The evolving technology has made it easier to track your lost devices. Although third-party apps like TheWiSpy mobile phone tracker app help you find your Android phone effortlessly but finding a phone without any app is also possible. All you need to do is to take immediate action in case of theft or robbery.