FamiSafe Review 2022 [Updated] – What Makes FamiSafe a Good Parental Control App?
Posted in TheWiSpy alternatives by Mike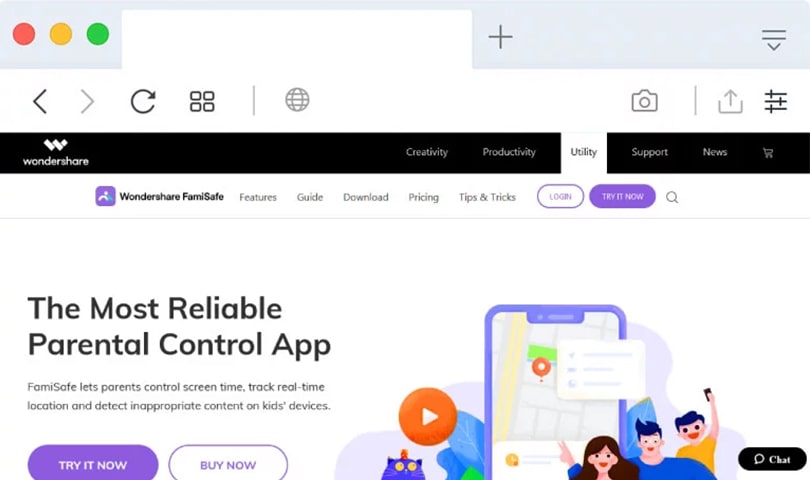 It is very challenging to keep your family safe from digital and physical dangers in today's world. Not knowing where your loved ones are in big trouble, especially when you have no idea about their social circle.
The digital world has brought solutions to our daily life problems. One of the significant inventions of technology is mobile monitoring and parental control apps.
FamiSafe, as the brand name suggests, is a parental control tool developed to secure your family from outside world dangers.
So, if you are looking for parental control and a kids' monitoring app, FamiSafe is a good option for you.
In this article, we review the FamiSafe parental control app in detail. Continue reading to find everything about this fantastic parental control software.
FamiSafe Review 2022 – What Makes FamiSafe a Good Parental Control App?
FamiSafe is a brand known to provide digital and physical security to your loved ones. The software, titled Wondershare FamiSafe, provides digital parental control services to ensure the online and offline protection of kids. Wondershare FamiSafe reviews on Trustpilot are quite positive. The parental control tool has attained a 4.4-stars rating.
As the online world surrounds us, teens and tweens demand cell phones and internet freedom. Reports revealed that teenagers' saturation on the internet is around 95%, among which 85% use social media.
Smart devices have taken over our lives. Even toddlers can operate tablets and switch poem videos.
Many parents are unaware of the right age to provide personal cell phones to kids.
Don't worry if your child is a mobile phone addict, as you can still control his/her digital space with FamiSafe.
Let's get into details and review the FamiSafe app thoroughly.
Here are the main points to help you navigate this review of FamiSafe. What is FamiSafe?
How Can FamiSafe Help You?
Does FamiSafe Support Your Kid's Device?
What Features Does FamiSafe Offer?
How to Get Started with FamiSafe?
How Much FamiSafe Costs?
.Read every point carefully and explore what makes FamiSafe so popular.
What is FamiSafe?
Wondershare FamiSafe is a tool for parents to track and control the digital activities of their teens. FamiSafe is an elite parental control application that enables parents to locate their children in real-time. Using FamiSafe, you can monitor kids' screen activities, track GPS location, filter websites, and manage other digital activities remotely. No matter if you are at the office or attending a meeting outside, you can monitor your kids' mobile phones anytime, anywhere.
How Can FamiSafe Help You?
FamiSafe provides you the leverage to monitor and track your teens' phones remotely. Once installed, FamiSafe empowers parents to access and control kids' mobile phones and tablets via an online portal. Parents can block apps and websites, monitor text messages, and control screen time without having the target phone in their hands.
Yes, FamiSafe fetches data and imitates the target device, which parents can control via an online control panel.
Does FamiSafe Support Your Kid's Device?
FamiSafe supports Android, iOS, macOS, and Windows.
Here is the review of FamiSafe compatibility;
FamiSafe for Android:
Supported OS versions: Android 4.4 to 10.
FamiSafe for iOS:
Supported OS versions: iOS 9 to 13.
FamiSafe for Windows:
Supported OS versions: Windows 7, 8, 8.1, 10, XP, Vista, Surface Pro.
FamiSafe for macOS:
Supported OS versions: macOS 10.8, 10.9, 10.10, 10.11, 10.12.
Now, let's jump to the significant part of this FamiSafe review: the key feature list.
What Features Does FamiSafe Offer?
FamiSafe offers a compact list of features as compared to apps used as parental controls. However, FamiSafe delivers parental control features that are enough to know what your kids do online.
Here are the details of the key features offered by FamiSafe to help parents protect their children.
App Blocker:
FamiSafe app blocker lets you restrict inappropriate apps from the mobile devices of your kids. Parents can block dating apps, gambling games, and any other program that contains harmful explicit content. Moreover, you can monitor app usage time and reveal which app your kid spends most of his/her time on. Another fantastic thing about the app blocker feature is that it sends instant alerts to parents whenever their kids try to access the restricted or blocked application.
Location Tracker:
Location-based services of FamiSafe gives parents peace of mind by providing detailed whereabouts reports. Whenever your kid is out of your sight, you can track his/her location with the help of the FamiSafe app. Location tracking feature enables you to trace the whereabouts, including; live location and location history timeline. Furthermore, FamiSafe offers another incredible feature known as geofencing. It enables you to create safe and unsafe zones on the digital maps of your kids' devices. With geofencing, you can get alerts whenever your child enters the hazardous zone.
Screen Time Monitor:
Cell phone addiction among teens is a rising issue. Sexting and inappropriate double meaning texts are getting so common that almost every teen is indulged in such menaces. FamiSafe screen time monitor enables parents to keep an eye on mobile usage time. Parents can preset screen time, which automatically turns off the device when the time limit is up. Screen time monitor is a useful tool to develop healthy mobile and cyber etiquette among kids.
Web Filters:
If your child is a porn addict, you can block adult sites using FamiSafe web filters. Creating an age-appropriate cyber environment is crucial these days. But web filter tools can help you block unwanted and unethical websites from the screens of your kids. You can blacklist and whitelist websites so that your kid can not access illicit content. Moreover, FamiSafe web filters allow you to monitor browsing history and make sure your kid uses the cyber world safely.
Activity Report:
FamiSafe sends daily activity reports explaining all the mobile/desktop activities of your kids. By monitoring the activity reports, parents can discover what their kids do on their mobile and desktop devices. You can monitor app activities, install app lists, and other details remotely.
Text Message Monitor:
FamiSafe SMS tracker app enables you to monitor suspicious text queries and messages. You can create a list of inappropriate text words or terms, and FamiSafe will send you alerts whenever your child uses those specific words.
Multimedia Monitor:
Now, parents can monitor suspicious photos saved in the multimedia gallery of their kids' devices. FamiSafe enables parents to view explicit images and content saved or downloaded in the media gallery and send instant alerts whenever an inappropriate image is detected.
How to Get Started with FamiSafe?
You must be wondering how to get the Wondershare FamiSafe app.
This review of the FamiSafe parental control app is not completed if we don't mention its installation process.
So, let's see how you can get the FamiSafe app for your kids' phones and tablets.
Step 1. Get Registered:
The very first step to getting started with Wondershare FamiSafe is registration.
Go to famisafe.wondershare.com, create an account, and buy the license. You can choose an appropriate subscription package for your target device.
Step 2. Set Up FamiSafe on Your Kid's Phone:
Now, you need to install the FamiSafe app from the Play Store or App Store on your target device. Once installed, sign in with your registered ID.
Now, you will be asked to select parent's or kid's devices. Choose "kid."
Enter the name and age of your child.
Activate the FamiSafe accessibility and tap on "Enable Now."
Now, go to your kid's phone accessibility settings and turn on the FamiSafe option.
Give users access to FamiSafe and tap on "Enable Now."
Now, allow permissions so that FamiSafe can interact with the target device's data.
Likewise, allow device administrator permissions and notification access.
Allow all the further permissions to get started with the FamiSafe app, and tap "Done" to finish the configuration process.
If your kid uses an Apple device, you need to set up an iOS profile. Just after installing FamiSafe on an Apple device and providing the necessary details, you will be asked to install an iOS profile.
Tap on the option and download the iOS configuration profile.
Now you need to go to Settings > General > Profile > FamiSafe.
Tap on FamiSafe and install it. Tap on Trust to allow remote management.
Go back to the main settings and tap Safari.
Choose "Content Blockers" and activate FamiSafe.
Finally, tap on "Complete" and finish the settings.
Step 3. Access Dashboard & Start Monitoring:
Once you set up FamiSafe on your kids' device, it's time to start monitoring. Simply log in to FamiSafe via the parental app or website. Access the dashboard and select features to monitor specific digital activities of your teens and tweens. You can also block and restrict content from the FamiSafe dashboard.
How Much FamiSafe Costs?
FamiSafe comes in three subscription packages. You can pick the license as per your requirements.
FamiSafe Monthly Package:
Control up to 5 devices at a time.
Avail of all features.
Price: $9.99/monthly.
FamiSafe Quarterly Package:
Control up to 10 devices at a time.
Avail of all features.
Price: $19.99/quarterly.
FamiSafe Yearly Package:
Control up to 30 devices at a time.
Avail of all features.
Price: $35.99/quarterly.
FamiSafe Review – The Verdict:
FamiSafe is a versatile parental control app with powerful features to monitor and manage kids' mobile and desktop devices. The app is designed to ensure your family's virtual safety allowing parents to filter evil content from the screens of kids' devices.
We hope that this FamiSafe review will help you know this parental control app in a better way. Stay safe and keep your family secure from the virtual and physical dangers of the world.

Don't Forget to read Qustodio Review 2022 [Updated] – Explore Everything About Qustodio Parental Control App