How to Enable YouTube and Google Restriction Mode?
Posted in Parental Control by Julie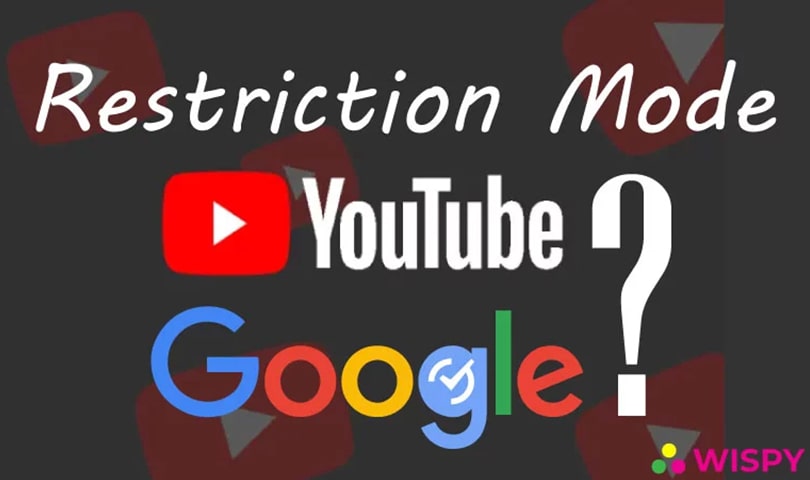 Do you know that YouTube and Google offer parental control features to help you manage content from your child's screen?
Living in a digital age it is challenging for parents to create a secure online environment for their kids. Modern parents are aware of the potential cyber threats that can harm teens in multiple ways.
But, as it is said; that everything comes with a solution. And thanks to the technology that has enabled parents to manage the digital space of their kids by using parental controls.
Does YouTube and Google Provide Restriction Mode
Platforms like Google and YouTube have proved to be a great source of learning. Obviously, Google has the answer to everything, and YouTube contains all types of content. As a parent, you would not like your children watching content inappropriate for their age.
So, what should you do?
The key to keeping your children safe from improper content is enabling Restriction Mode.
In this guide, we are going to explain how parents can restrict content on Google and YouTube.
Let's Get Started.
How to Enable Google Safe Search? A Step By Step Guide:
Google safe search option allows parents to restrict explicit content from the search results of their kid's devices. By enabling safe search, parents can limit inappropriate content, including; pornographic images, videos, websites, etc.
If your kid's device has not enabled safe search, then Google will show all types of search results even if they contain explicit content.
So, the best way to keep your kid safe from inappropriate media is enabling the safe search mode.
You can enable Safe Search on Your Child's Android Phone, Tablet, and Computer.
1- Safe Search from Google App on Android Phones:
Here is how you can turn on Google Safe Search on Android devices;
Launch the Google app from your child's Android phone.
Tap on more "…" at the right corner of the bottom.
Tap Settings and then go to General.
You'll see the option of Safe Search, Toggle it on.
2- Safe Search on Android Phone or Tablet Browser:
Follow these easy steps to enable safe search on an Android phone or tablet browser:
Open "Search Settings".
Find Safe Search Filters.
Tap on "Filter Explicit Results".
Tap Save.
3- Safe Search on Desktop or Laptop:
Here is how you can limit explicit content from the computers of your kids.
Open Google Chrome
Click more from the top right corner.
Go to Settings.
From Search Settings find "Safe Search Filters".
Toggle on Safe Search.
Click Save.
So, that was about enabling Google Safe Search Mode. Now, let's move towards YouTube Restriction Mode and see how it can help you limit the content from your child's screen.
How to Enable YouTube Restricted Mode?
YouTube being the most popular video-sharing platform offers opt-in parental control features known as restriction mode. Parents can turn on restricted mode on both the mobile app and the desktop website.
So, let's see how you can turn on restricted mode on YouTube:
1- Restricted Mode of YouTube on Desktop Website:
Sign in your Google Account.
Open YouTube Web.
Click on your account from the top right corner.
Scroll down and you will see the option of Restricted Mode.
Toggle on the Restricted Mode.
2- Restricted Mode of YouTube on Mobile App:
Open YouTube App.
Tap on Your Account.
Open Settings.
Turn on Restricted Mode.
Do you know what is the best thing about YouTube Restricted Mode?
You can lock the restricted settings so that your child can't undo it without your permission.
Here is how you can Lock YouTube Restricted Mode:
Lock YouTube Restricted Mode:
YouTube Restricted Mode can be locked on any browser. The steps are the same as turning on the restriction. When you activate YouTube restriction, you will see an option of "Lock Restricted Mode for this Browser". Once you click it, YouTube will ask for your account password for the confirmation process.
The minute you lock the YouTube restricted mode, your child will not be able to disable it as it will require the password of the YouTube account.
Well, with the above-mentioned methods, you can only limit the usage of Google search and YouTube videos.
If you want an ultimate parental control solution for your kid's devices, then you must install a third-party parental control app in the tablets and cell phones of your children.
Ultimate Parental Control Solution – TheWiSpy:
This is a bonus section for every parent.
Well, you can say "a little treat from our blog".
TheWiSpy parental control solution provides parents with complete access to their kid's phone and tablet. With parental controls, you can not only restrict Google and YouTube but all the other apps too. Likewise, TheWiSpy allows parents to monitor the screen usage of kids and enable parents to turn off the target device anytime they want.
Every parent wants their children to do healthy online practices, rather than indulging in cyberbullying or other online threats. Stats show that more than 50% of the kids ageing 3-18 years utilize the internet at their home.
MUST READ: What is Parental Control and Why Do you Need
Using TheWiSpy parental control app, parents can keep eyes on all the online activities of their kids with an easy to use control panel.
What You can Do with TheWiSpy Parental Controls:
Monitor Screen Usage: Parents can monitor how much time their kids spent using their phone or tablet. With such a parental control feature, you can guess if your child was studying or playing games online.
Remote Control: TheWiSpy provides parents with remote access to their kid's smart devices. Parents can remotely turn off the mobile phone or tablet of their children if they see them using too much of the smart devices.
Block Apps: Parents can block improper apps including, dating apps, addictive games, etc. from the digital devices for their kids with TheWiSpy app.
Restrict Explicit Content: TheWiSpy allows parents to limit explicit content from the screens of their children. You can block apps that may contain explicit content.
Spy on Digital Activities: Despite device controlling features, TheWiSpy enables parents to keep a record of all the online activities happening on their kid's phone or tablet.
TheWiSpy parental control app is an all in one solution for every parent who wants to monitor and manage the online space of their kids.
Wrapping Up:
With so much increase in cyber threats, parents want their kids to stay away from any online danger that can possibly harm them. Understanding the need for parental controls, popular platforms like Google and YouTube offer built-in restriction modes so that parents can limit the content from the screens of their kids. Parents who want complete control over the smart devices of their kids go for third-party best parental control apps, like TheWiSpy.
So what are your thoughts on digital parenting? Do you use parental controls for your kid's phone or tablet?