5 Top Dangers of Social Media for Teens
Posted in Social Media by Julie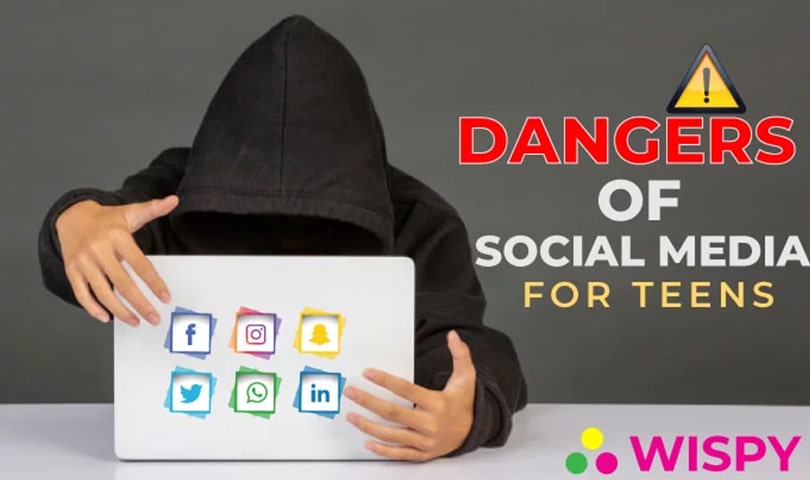 Have you ever spied someone to protect yourself from the dangers of social media?
Or do you have an online stalker?
Social media keeps us all busy nowadays. Almost every single person around has a social media presence. Even kids are familiar with posting and sharing the concept of the social networking world.
Teenagers are very active on social networking channels. Research shows that 84% of teens own their personal smartphones. And around 75% of teenagers use social media multiple times a day. Social media indeed informs us about the daily news and trends, but using too much of it can harm us in many ways.
Social media dangers are not new to the online community, as there have been several scams and frauds reported that were committed using social media.
The adult community somehow knows the prevention of the dangers of social media, but the teenage boys and girls are most vulnerable to encounter cyber threats.
The reason is simple, teenagers do not respect online privacy and explore the digital world fearlessly, resulting in unleashing the hidden online threats that may affect them directly or indirectly.
In this article, we are going to discuss some major social media threats and how people, especially teens, can avoid being victimised by such dangers.
So, let's begin.
Dangers of Social Media – Is It Really a Thing?
We all use social networking channels. And it would not be wrong to say that social media has become an essential thing in our routine. We take such networking sites so lightly that no one could hardly imagine how social media networks can harm us.
Things are either positive(good) or negative(bad). And so does social media. When we talk about an unfiltered online world, we mean all those hidden potential cyber dangers that can target any of us. Social networking sites have become a cyber threat vector, because there are billions of active users present online.
Let's see how unfiltered social media looks like and what dangers it contains:
READ ALSO: Using WhatsApp Can Be Dangerous – Here is how
Strangers – Not Everyone is Your Friend:
The whole world is present online. Using social networking sites, it has become easier to approach any person from any region of the world. People stalk social profiles to get information about the other person. This can result in identity theft, scam, hacking, and other possible threats. Online molestation is yet another among all dangers on social media. People can hide their true selves just to befriend you online and use you for either money scam or sexual favours.
Keep your eyes open and avoid entrusting strangers online.
Exposure to Disturbing, Violent or Explicit Content:
Social media sites have strict policies against the sharing of adult content. But still, you can probably find disturbing content online. Teens and tweens can get exposed to adult-themed or pornographic content that can ruin their mentality. On the other hand, different social media communities endorse unlawful activities such as self-harm challenges, etc.
Moreover, people receive sexually explicit content via social messengers. Research shows that 1 in every 4 kids receive messages, including adult images and videos.
Cyberbullying:
Bullying is a big menace in our society. Before digital devices, kids used to get teased or bullied in schools and colleges. But now, this peril has overcome the digital world. It is easy to post hateful comments or body shame on someone online. Statistics show that 59% of the kids get harassed or bullied through the online space. Such threatening activities lower self-esteem and cause depression, and make the victims stay hidden in their homes.
Online Molestation:
Social networking channels can be used as an online medium for several criminal activities. Online predation is one of the most haunting threats that is affecting the lives of many juveniles. Sexual predators target vulnerable kids and ask them for sexual favours; either by gaining their trust or blackmailing them. Parents must be aware of the social space of their kids so that they can shield them before anything bad happens.
Erosion of Privacy:
We all need to understand that what we share online stays online. Privacy is crucial when you use online networking channels. Sometimes, we share too delicate details about our personal lives, that any online user can misuse against us. We need to be vigilant for our online actions. Because even if you delete or remove something from your timeline, you won't know if someone has its screenshot copy or not.
So, keep your social profiles private, and never over-share any personal matter online.
How to Avoid Dangers of Social Media?
Interaction with social media can invite a number of threats. The best way to secure child online presence is not to ignore the red flags of cyberspace.
Here are some tips that will help you avoid the dangers of the social media world.
1- Boost Your Tech-Literacy:
Knowing well about technology can help you cope in the digital world. The more you know about the tech-world, the more efficiently you can secure your cyberspace from potential threats.
Parents can use parental monitoring tools and the best parental control apps to make sure their kids are doing fine online. Free Kids monitoring apps assist parents to keep sharp eyes on what their children do using cell phones and tablets.
2- Don't Blend Your Social Media Life with Your Real Life:
There is a big difference between social media life and real life. If you observe keenly, you will find that every single profile on social media contains a lot of details about its user. Privacy is important. Do not mingle your real life with social media life.
Focus on the people who are around you physically, in every circumstances either good or bad. Social networking is good, but do not miss the essence of real life by chasing things online. Try to hangout with your real friends rather than chasing strangers online.
3- Don't Fall for Glitters:
Facebook, Instagram, and other social media sites are full of perfect profiles. If you follow the influencers, you will see how organised or synchronised their life is.
Well, hold on a second!
Social media profiles do not describe the lifestyle of a person. The content shared on social networking sites is meant to attract an audience. And no one should ever feel inferior by seeing someone living a perfect life. Nobody knows what's behind the covers.
So, never fall for any shiny thing you see online, as all the glitters are not gold.
There is only one rule to follow, use social media, but don't let it affect your life in any way.
READ ALSO: Is Your Child Addicted to Facebook? An Easy Guide to Control Your Kid's Facebook Usage
Wrapping Up:
Online threats are countless, and everyone having a social media profile is at the target. We can't just leave the digital world as our many routine tasks involve the use of mobile devices. The best way to stay secure from online dangers is to stay low key. Thanks to the technology for providing us with unlimited options to secure our digital space. We can now monitor the phones and tablets of our loved ones and see if they are entrapped in any sort of online danger or not. Parents can watch the cyberspace of their children and take immediate action if they find anything wrong.