Cyber Threats – The Real Dangers of Online World
Posted in Cyberbullying by Julie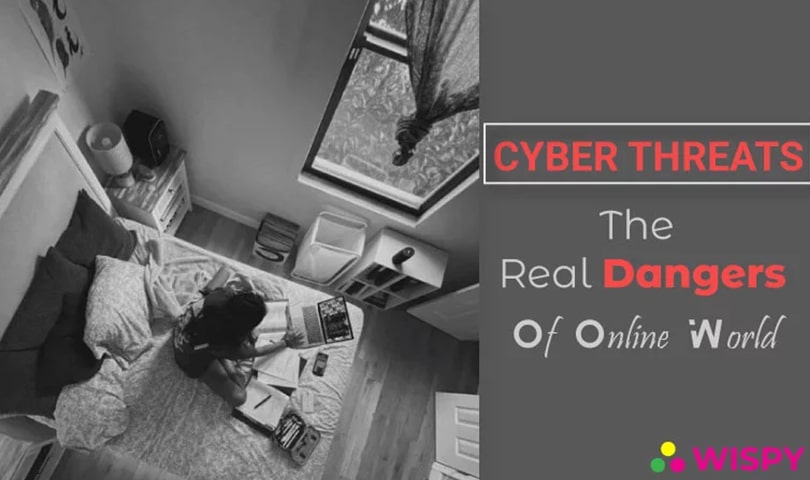 The internet has never been a safe place for kids. Today, cyber threats and the use of the internet has become much common. Nobody considers the harms and dangers of the online world.
If we look at the cyber threats, no one is safe. Businesses, adults, and especially teens get most affected by cyber threats. Cyber criminals can attack any confidential information, whether it is your company details or personal data.
Kids and teens are the most vulnerable target for cyber criminals. The curiosity of teens and tweens sometimes make them dig into the internet that results in uncovering the dangers of the online space.
So, if you are a parent, make sure you allow limited internet access to your kids.
In case you are a business owner, ensure that your company details are safe in the hands of your employees.
Let's throw light on the most threatening internet dangers, and how they affect your business and personal life.
Cyber Threats – Don't Ignore the Red Flags:
Cyber threats are online dangers that can harm you in any way. Mostly, cybercriminals attack personal details such as business data or private pictures to blackmail people.
Here are some top online threats and dangers everyone should be aware of:
Cyberbullying
Online Predators
Security Threats
Scams
Adult Content
Let's take a look at each of these online threats and see how it can hurt your child or business.
Cyberbullying: (Bully or Victim of Bullying)
Do you want your kid to become a bully or a victim of bullying?
No one wants it.
Bullying is not new to kids. Whether it is the school or online space, bullies don't stop making trouble for fellow kids. According to a survey, 90% of teenagers consider online bullying as distress. Cyberbullying involves mean comments, mocking, and other disrespecting acts that lower the self-esteem of the victim. In many cases, kids attempted suicide because of bullying.
Now, as it is easy to reach people online, bullies target juveniles using social media sites. The rate of cyberbullying is increasing with the increased use of digital devices.
Parents can not restrict the use of smart devices as they help in digital learning. But, by using the parental control app, parents can monitor internet screen usage of their kids.
Online Predators: (Sexual and Molesters)
Despite cyberbullying, another threat that risks a kid's life is online predators. Sexual predators and molesters are all around the world, and sadly the internet world is not safe from them. Such evil people seek vulnerable kids online so that they can take advantage of their innocence.
In most cases, online sexual predators reach kids through a social media or gaming platform, befriend them and then ask for sexual favours. Another disturbing thing is that child molesters hide their reality from kids and comfort them by gaining their trust. Online predation is a serious menace that can also lead to kidnapping and rape.
Parents must take notes on the children online activities using the teen spy app. Providing kids with unsupervised internet and mobile access can invite cyber dangers. To overlook such trouble, parents should ensure what their kids do online and who do they talk. A cell phone monitor without them knowing is always a better solution to keep eyes on kids.
Security Threats: (Protect Kids on Social Media)
Keeping personal data safe should be the foremost responsibility of everyone. From kids, teens to adults, we should consider the data protection of our personal details on online channels including; Facebook, Instagram, Twitter, etc.
Unfortunately, we ignore the importance of social boundaries and share whatever we like on our social media profiles without restricting it from the public. Posting personal information online can invite hackers, bullies, and other evil-minded people to take advantage of your private details.
Does Android Spy Apps Ensure Data Protection
Before anything goes wrong, parents must teach their teens and tweens about the importance of privacy. And for more precaution, parents can use the cell phone and tablet monitoring tool to ensure the Android data protection of their loved ones.
Scams: (Victimize Adults to Get Money)
Scams are common internet threats that can even victimize adults. Scam offers usually propose something free in return of a little investment. Well, this con has tricked many people around the globe. Most scams offer free access to paid sites or gaming pages in return for credit card details. Kids do not understand this trick and do as the scammer says. Money scams empty bank account of the victim without their knowledge.
To avoid scams, no one should fall for any exchange offer presented by someone on the internet. Parents should restrict their phone access to their kids to protect their bank credentials. Also, parents can watch out their kids with the help of kid's monitoring and parental control apps for android to make sure that kids are using the internet safely.
Adult Content: (Dating Sites Influence)
The online world can be daunting for your kids, as there are too many black sides that you don't want your kids to watch. Including such adult and violent exploit the innocence of children. No parent would like kids to develop adult content addiction. Also, dating sites influence teens so much that they find pleasure indulging in adult activities. It is the responsibility of parents to keep track of their child's online space. Otherwise, kids will engage in prohibited content.
What To Do?
If you are a parent, you must worry about the safety of your children in the online space. To keep your kids away from cyber dangers, you should start monitoring the digital devices of your children. For efficient digital monitoring, try TheWiSpy cell phone monitoring app and enjoy the benefits of advanced mobile surveillance.
Here is what you can do with TheWiSpy app:
Call recording
SMS spying
Email tracking
Multimedia monitoring
GPS location tracking
Social media monitoring
Web browsing history spying
TheWiSpy provides extensive mobile and desktop monitoring solutions around the globe. Just to mention that cyber threats not only target children but businesses too. Online hackers and predators seek sensitive information so that they can blackmail vulnerable people and get advantages from them. So, stop avoiding the red flags and start monitoring the digital space of your kids now.