Cyber Predation – How Online Predators Reach Kids Online?
Posted in Cyberbullying by Mike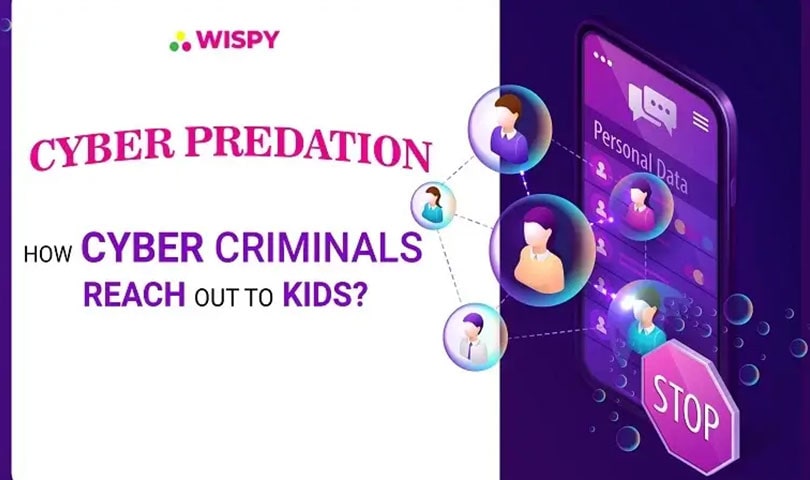 The rising rate of child abduction has already threatened parents to the core. Now, that everyone is using cyberspace, it has become easy for sexual predators to target vulnerable juveniles. Unfortunately, threats like catfishing, sexual exploitation, social engineering are common on online platforms.
You will be shocked to know that during the recent global lockdown, the cases of cyber predation increased by 45%.
Kids, nowadays, demand personal cellular devices along with internet freedom. Well, parents can't forbid children from using smart devices. The internet world indeed holds so much informative content. But, still, the online space can unleash countless threats that can exploit kids.
Cyber predation is a growing concern among parents. Online predators are adults luring vulnerable children for abuse and sexual purposes. The daunting fact about online predation is that there are around 500,000 active sexual predators online every day. Child grooming and manipulation are the common goals of online sexual predators.
For parents, it is quite worrisome to keep their kids safe from online sexual exploitation. It is crucial to detect a cyber predator before he targets your kid online.
Parents must know where and how these online predators lure children.
Let's find out more about cyber predation and discover how online predators reach out to juveniles without letting their parents know.
Cyber Predation – How Online Predators Reach Kids Online?
Cyber predators are individuals who actively search for teens and tweens to prey on them for sexual benefits. Children are pure, and they cannot judge someone's true intentions. Online molesters take advantage of such innocence and target juveniles for grooming.
Many cyber predation cases allegedly reported torture, rape, and killing of the victim. Online predators first gain the trust of juveniles and then exploit them sexually. In the case, if a child wants to escape from such a mess, these cybercriminals start blackmailing them.
Indeed, cyber predation is a serious issue.
The immense online space provides limitless ways to interact with a cyber-criminal. As per the study of National Juvenile Online Victimization, 100% of the cyber predators are males.
Online predators target kids that are:
Attention Seekers
Rebellious
Lonely
New in the Online World
Insecure about their Sexuality
If you are thinking about how cyber predators reach out to children, you must have forgotten about mobile apps. Cell phone apps are a common source to interact with strangers online.
RELATED: Cyber Threats – The Real Dangers of Online World
Here is a list of decoy apps that cyber predators can use to lure kids:
Tiktok
Kik
Sarahah
Whisper
Badoo
Ask.FM
Scout
Yubo
Tinder
Grindr
Hot or Not
Wishbone
There are many secret apps available online. It is impossible to mention every decoy app in a single article. But, we can explain how such apps look. So that parents can detect and restrict such mysterious software from their kids' phones and tablets.
Apps Used by Online Predators – What to Look For?
Cell phone addiction among children is a problematic issue nowadays. With kids glued to their mobile screens. It is tough for parents to know what they actually do using their cell phones and tablets.
Don't worry.
The following are some characteristics of mobile apps that cyber predators use as a medium to target children.
Receive or send text messages.
Offers a secret folder. Or enable content hiding.
Enable location tracking
Allow multimedia sharing.
Ability to stream live video.
If you doubt your kid is being groomed by an online predator, make sure to check mobile apps that offer the features above mentioned.
Remember that, being a parent, you must monitor the online activities of your children.
Continue reading as we are going to mention some practical tips to help you protect your kids from online predators.
READ ALSO: What is Social Engineering? How Can Parents Safeguard Kids from Social Engineering?
How Can Parents Protect Children from Cyber Predators?
Parents are the guardian of kids. No parent would want children to suffer from the menace of sexual abuse and molestation. Digitalisation indeed has opened so many gates for online abusers. Every 1 in 5 children receives unwanted, sexually solicited messages. It is time for parents to roll up their sleeves and start taking precautionary measures before it gets too late.
Teach Online Etiquettes:
Having an online presence is risky, especially for kids. Many chat groups, concealed with online gaming websites can exploit your kid with pornographic or violent content. Parents must teach online etiquette to their children. Teach your children the importance of privacy. Ask them not to share their personal details online.
Set Some Ground Rules:
You can discuss online threats with your kids to make them aware of the potential cyber-attacks. Parents must have a detailed conversation with their kids regarding the causes and effects of cyber predation. Ask your child not to trust anyone who sympathises with him/her. Only allow your kids to use mobile devices and the internet for a certain period of time. Forbid mobile usage during family time. Make sure your child does not overuse mobile phones or tablets at study time.
Use a Parental Control App:
Parents having stubborn and rebellious kids can use parental control apps to protect them from online dangers. Parental control apps like TheWiSpy help parents restrict inappropriate content from kids' screens. Moreover, parents can remotely monitor their kids' devices and discover if someone is catfishing them. It is a smart step for parents to use a parental control app.
Here are some of the top-notch features of TheWiSpy parental control app;
Screen Recording
App Monitoring
App Blocking
GPS Tracking
Geofencing
Surround Recording
Call Recording
SMS Monitoring
And many more.
TheWiSpy app is a complete solution to help you with kids' monitoring. Using TheWiSpy, you can not only monitor the online space, but can also track the geographical location to ensure your kids' safety.
The Final Words:
Smartphones, along with unlimited internet access, can invite so many dangers to kids' lives. The only way parents can prevent cyber predation cases is by understanding why their kids find the need of talking to strangers. Parents can legitimately monitor and control their kids' cyberspace with a parental monitoring application and protect them from the internet's harsh environment.
So, are you ready to start monitoring your child's phone/tablet?