Parental Controls – An Easy Way to Control Your Kids Smart Devices
Posted in Parental Control by Mike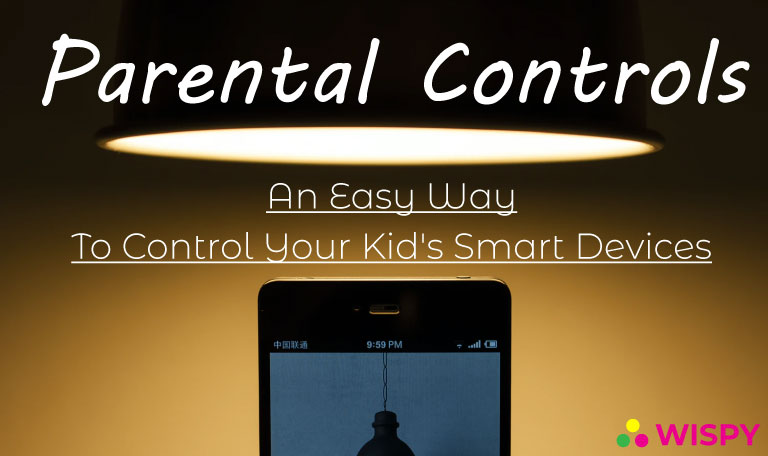 Do you know what parental controls are? Have you got any idea to control your kids smartphone or tablets devices
If you don't, then no worries.
Children today start using digital devices from a very young age of 3. Though it is for poems or games, kids love to engage with mobile devices. At the present time, digital education is booming and providing interesting results in a kid's learning ability.
But, parents must not leave their kids alone with mobile devices, as only a few clicks can reveal the dark side of the online world to your kids.
We know that it is tough for working parents to keep a record of their kids online and offline activities. That is why it is important for parents to consider kids monitoring so that they can keep eyes on their kids all the time.
In this guide, we are going to cover some amazing insights about parental controls to help parents monitor and control the online space of their kids.
So. let's get started.
What are Parental Controls? Ways to Control Kids Whereabouts
Now the first question arises what are parental controls. Well basically Parental controls are digital tools that enable parents to manage and control the smart devices of their kids. With parental controls, you can block improper apps, webs, etc. Parents can also monitor the online activities of their kids using parental control tools.
It is a fact that three out of five parents worry that their kid might get exposed to the wrong side of the internet. Understanding the need, technology has provided parents with an easy solution to control the mobile activities of their children.
Enable Parental Controls on Your Kid's Mobile:
Most of the smart devices come with pre-installed parental control features. Popular apps like YouTube also offer a restricted mode to secure the online environment of children. Google offers a Family Link app to enable parents to monitor and manage the digital space of children.
Here, we will explain how you can enable parental controls on Android, Windows, iOS, Amazon Fire.
Let's get started.
Android Parental Controls:
Yes, Android gives parents the liberty to control the smartphones and tablets of their kids. To set Android parental controls, you have to download the Family Link app from the Play Store. Just download the app on your child's phone and create an account for your kid. Enter your child's name and tap on "daily limit card". Once done, edit the limits as per your needs and follow the instructions. The Family Link app will notify your child when his/her allowed time is about to end. The minute the time is up, your child's device will be locked automatically. Family Link app also allows parents to track the whereabouts of their kids remotely.
You can set parental controls from the settings menu of the Play Store. All you need to do is restrict the apps and set a pin for the settings. Your child will never know that his/her digital space is restricted.
Windows 10 Parental Controls:
Luckily, Windows 10 also provides parental control options to restrict the digital space of kids. Microsoft lets you filter media, websites, and restrict apps, games, etc. Also, you can set screen usage limits using a Microsoft account.
Parents need to create a child's account on Microsoft and restrict content and improper games via account.microsoft.com/family.
iOS Parental Controls:
When it comes to providing a secure digital environment, nothing can beat iOS. Apple devices come with built-in screen time features that enable parents to monitor the screen usage of their kid's devices. Also, parents can limit the web browsing of their kids.
Open Settings, go to Accessibility. Tap on Guided Access and activate it. From here, you can set a screen limit and set auto-lock to your child's iOS device.
Amazon Fire Parental Controls:
Amazon Fire offers a feature named as FreeTime to enable parents to limit purchases, block content, and ban ads. Parents can set time restrictions on Amazon Fire and limit the screen usage of their children. Amazon Fire allows parents to create two adult and four children accounts, all password protected.
All you need to do is open settings, enable parental controls, set restrictions, and tap finish.
Isn't it amazing how such platforms provide great usability along with advanced parental control features?
Now, here is something extra for you.
Have you ever heard about parental control tools?
No?
Don't worry, we got you.
Parental Control Tools – Apps to Control and Monitor Your Child's Devices:
Parental control apps are designed in such a way to provide all in one parental monitoring solutions with remote access to the kid's device. With the help of parental control app, parents can remotely view what their kids do online. Moreover, parental control tools allow parents to track the real-time location of their kids anytime they want. There is no requirement to follow lengthy and technical installation procedures to set up a parental control app on your child's Android phone.
If you install a third-party parental control software in your kid's device you will be able to;
Block Inappropriate Apps
Limit Screen Usage
Monitor Online Activities
Track GPS Location
Geo-Fence Safe and Unsafe Zones
Restrict Addictive Games
In today's digital age, there is nothing better than controlling your child's phone with a parental control app.
If you have no idea about the leading parental control apps, here is a glimpse of top parental control software;
TheWiSpy
mSpy
NortonFamily
FamiSafe
CocoSpy
Children indeed have access to the mobile devices of their parents. Despite letting kids face online dangers, parents must control the digital space of their kids.
The Final Words:
Parental controls have become a necessity today because of increasing cyber and physical threats. Kids are no longer safe outside, not even on social media. Cyberbullying, lethal challenges, online predators, are some nuisances that have exploited the internet space. The best way to keep kids secure from such a menace is the use of parental control tools. TheWiSpy, like other top parental control software, provides an easy-to-use dashboard and a simple installation process, so that every parent can monitor their kid's phone efficiently.