CocoSpy Review 2022 [Updated] – Recommended or Not Trusted?
Posted in TheWiSpy alternatives by Julie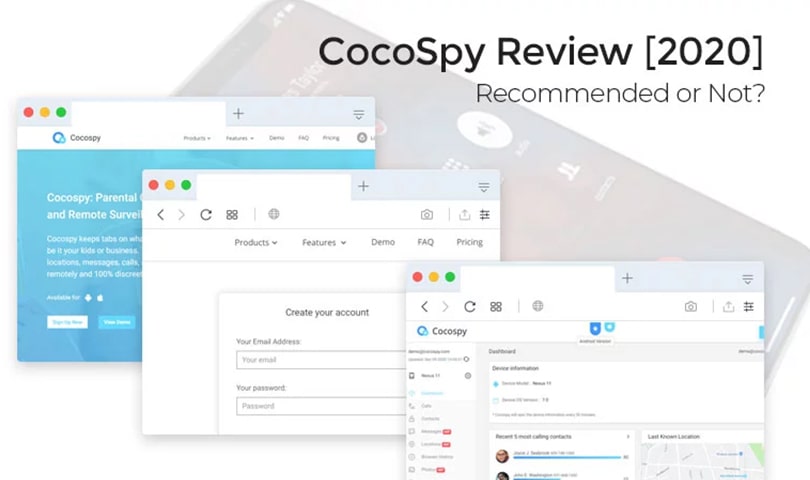 The time is gone when we used to see spy agents on television serials. Today, everyone around us is a spy.
Do you know how?
From social media stalking to spying on someone's' phone or personal life, it all seems normal nowadays. And to upraise the spying behavior, mobile monitoring apps are substantially available in the online market.
Many parents are unaware of the fact that countless online dangers and cyberattacks surround their kids. Snooping into your kids' digital space is legal. Because parents want the best version of their kids and never want anything to harm them.
However, spying on your spouse, employee, or any other adult is illegal. And if you want to do so, you must acknowledge the target individual about the spying activities.
This spy app review is dedicated to popular spyware named CocoSpy. In this review, we are going to cover features, functionality, pricing, and other factors that a user must know before purchasing the CocoSpy app.
The following section will guide you through this CocoSpy Review;
What is CocoSpy?
How CocoSpy Records Digital Data?
Which Devices are Compatible with CocoSpy?
What are the Top Features of CocoSpy?
How to Install CocoSpy?
What is the Price of CocoSpy?
Let's begin.
CocoSpy Review [2022] – Recommended or Not Trusted?
What is CocoSpy?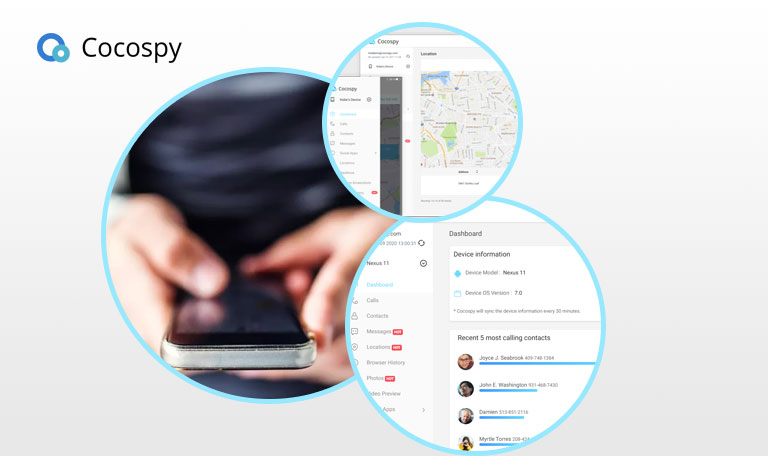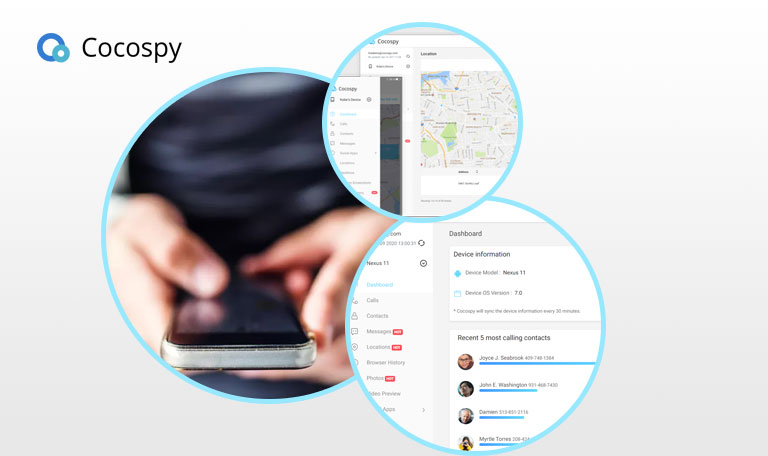 CocoSpy is a well-reputed spy app that empowers you to snoop into your target mobile device. It fetches data from smart devices like a pro.
CocoSpy is remote mobile monitoring software that claims to provide its services across 190+ countries with more than a million users worldwide.
The app has pretty good ratings on the internet. As per SpyDrill, CocoSpy earns an 8.4/10 star rating. On the contrary, TrustPilot rate CocoSpy with 3.5/5 stars.
We must say that customer reviews have already spoken for the popularity of the CocoSpy app.
Are you getting curious to know what makes CocoSpy the demanding spy app?
Let's jump to the next sections and explore everything about this fantastic spyware.
How CocoSpy Records Digital Data?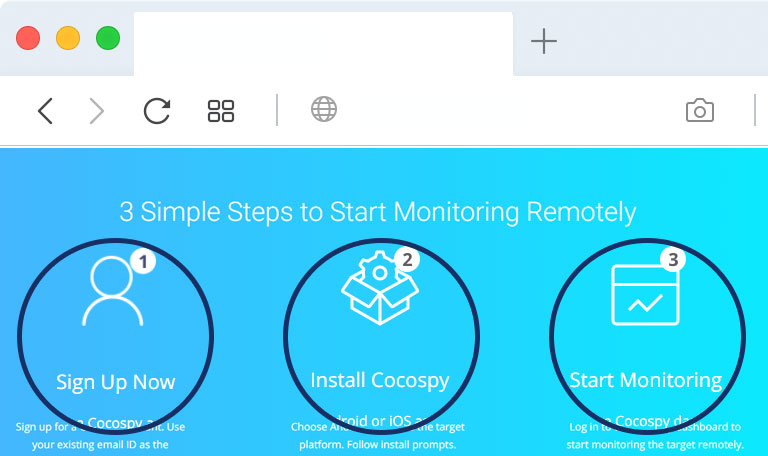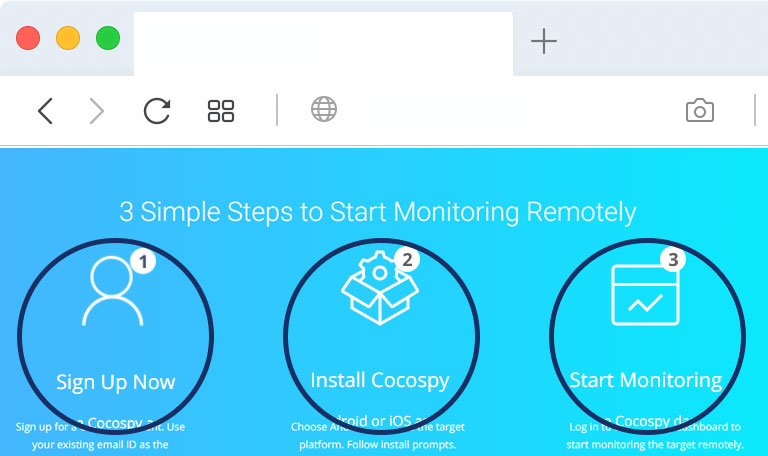 CocoSpy is a remote mobile phone monitoring app, which means that it secretly records the target mobile device's digital activities. Stealth mode is the excellent trait of mobile spy apps that keep them away from the target user's eyes.
CocoSpy app, when installed, merges with the operating system of the target phone/tablet. Hence, everything that happens on the target device gets recorded by the CocoSpy app.
Whether it is online social app activities or offline calendar date checks, the app imitates everything. It uploads the recorded file to the dashboard. You can access the CocoSpy dashboard by logging in to your account. And to get an account, you need to get a CocoSpy license following the registration process. The CocoSpy control panel allows you to manage and monitor the mobile activities of the target device remotely. You can control app usage and watch the mobile screen without leaving any clue.
Which Devices are Compatible with CocoSpy app?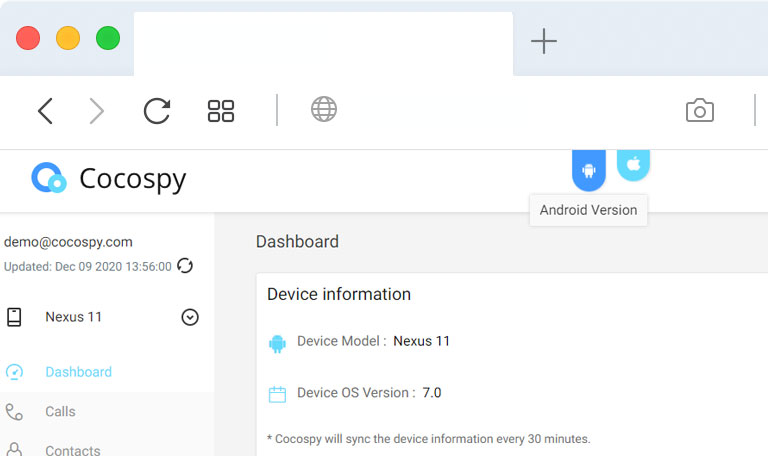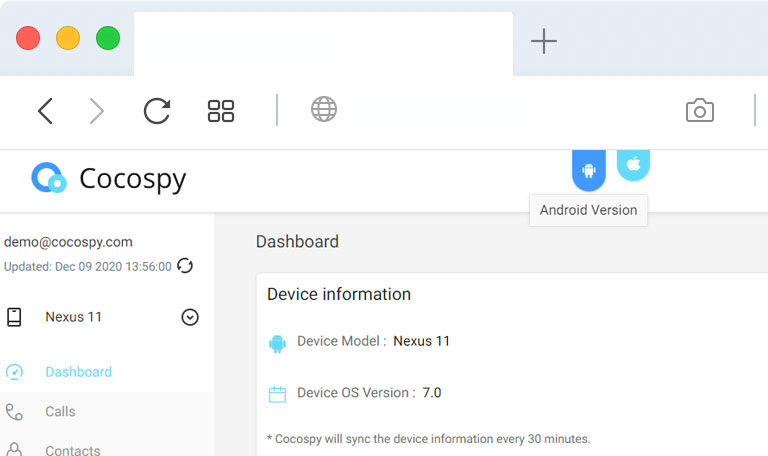 When it comes to compatibility, you will find many spyware apps that only support Android or iOS.
It is a fantastic thing about CocoSpy that the app is compatible with both Android and iOS devices. Not only this, but CocoSpy offers ultimate monitoring tools without rooting or jailbreaking. Rooting or jailbreaking can open your device to malware attacks. Your target device is safe with CocoSpy.
Android Compatibility: Android smart devices that run version 4 or plus.
iOS Compatibility: Apple devices that run iOS version 7 or plus.
What are the Top Features of CocoSpy?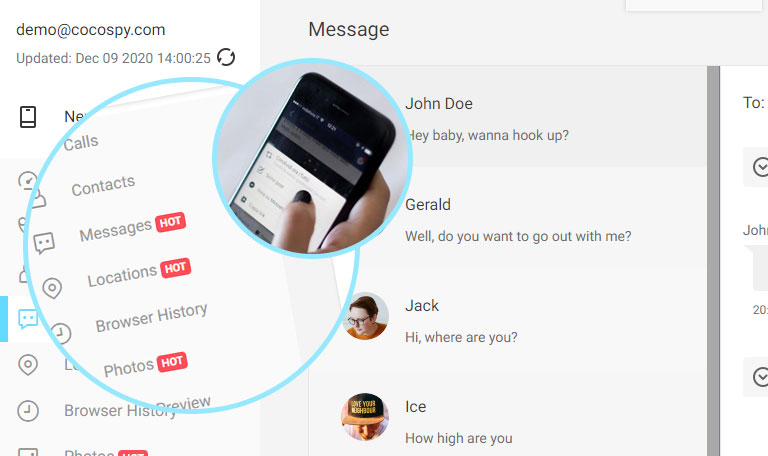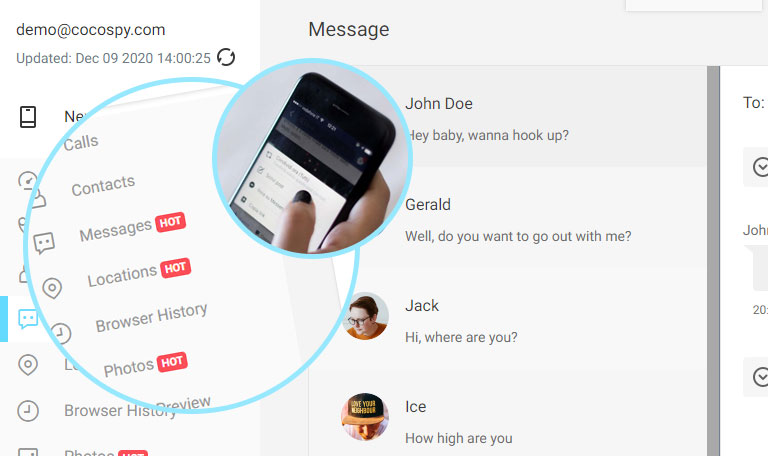 The cocoSpy mobile monitoring feature list is short but sufficient. The app offers excellent features to enable cell phone monitoring without any requirement to have technical knowledge.
Yes, if you are a layperson and know little about hacking someones' phone, then CocoSpy is for you!
Know, let's discuss the top features of CocoSpy in detail;
Call Tracker:
If you are a concerned parent, you must know the online and offline world's cyber threats. Kids now have smartphones. And for parents, it is quite distressing seeing their children talking to random strangers on phone calls. Similarly, businesses can't stand with their employees continuously talking on phone calls during work hours.
CocoSpy call tracker enables you to check incoming and outgoing phone calls. You can monitor call duration along with the date and time stamps. Moreover, the CocoSpy call tracking feature allows you to check the contact details of top callers. Amazingly, you do not have to root or jailbreak the target device to track phone calls.
SMS Tracker:
Text messages can be significant evidence if someone gets caught sexting or using double meaning text abbreviations.
CocoSpy SMS tracker enables you to read send and receive SMS and MMS along with dare and timestamps. Moreover, you can access deleted messages as well.
SMS tracking feature of CocoSpy can help parents to reveal the unseen chat conversations of their kids. Likewise, tracking SMS messages of work phones enable business management to know if their employees are misusing or leaking the company's official details.
Location Tracker:
Here comes the location tracking feature of CocoSpy to relieve all your worries. Now you can track GPS and Wi-Fi-based locations using the CocoSpy app.
Does your child bunk classes?
Well, most of the teens do. But, now, parents can locate their real-time location with CocoSpy's incredible location tracking feature. You can get details about geographical coordinates, addresses of visited places. Location tracking also allows you to monitor entry and exit pinpoints and location history in real-time.
So, whether it is an employee, kid, friend, or spouse, you can track them all using Cocospy location tracker.
Geofence Alerts:
Geofencing alerts of CocoSpy allows you to mark geographical boundaries for permitted and prohibited zones. For instance, you can set the office or school's edge on the work phone or kids' mobile. CocoSpy geofencing alerts will notify you each time your target user enters or leaves the boundary area. Similarly, you can set unsafe zones on your kids' phones and get an update whenever your child enters the prohibited zones.
Social Media Monitor:
Social app monitoring is the most demanding feature of CocoSpy. The app allows you to read WhatsApp messages, monitor Facebook chats, view Instagram conversations, and track Snapchat streaks in real-time. You can view the shared multimedia files as well. Monitoring social media with CocoSpy does not require rooting for Android.
Instant Messenger Tracker:
When it comes to monitoring instant messengers like WhatsApp and Viber, CocoSpy is the ultimate app to help you with it. You can read WhatsApp messages, shared multimedia, call details with this efficient app. Similarly, CocoSpy allows you to view secret Viber chats, call history, and shared pictures/videos in real-time.
Browsing History Monitor:
To know if your child searches for sensual content or your teen is addicted to pornography, you must check the browsing history of your child's phone. For that, CocoSpy browsing history monitoring can help you. Using such a feature, you can check most visited websites, track browsing history, and view bookmarked websites secretly.
SIM Location Tracker:
SIM location tracker is a unique feature of CocoSpy. Teens are phone addicts, and such behavior makes them take cell phones everywhere they go. Whether their phones have GPS location enabled or not, you can track them using SIM location tracking of CocoSpy. SIM tracking can allow you to check network and carrier details. Moreover, you can follow the network-based location of your target phone.
Amazingly, the SIM locator sends you a notification when your target device changes its SIM card. Furthermore, you can check the IMEI number of the target device as well.
With all these fantastic features, we must conclude in CocoSpy review that it is power-packed spyware to provide you with complete details of your target device.
Now, let's see how you can install and set up CocoSpy on target mobile devices.
How to Install CocoSpy?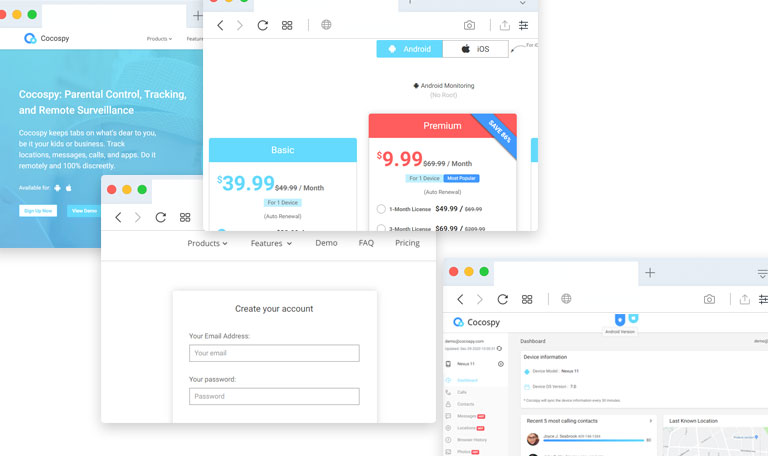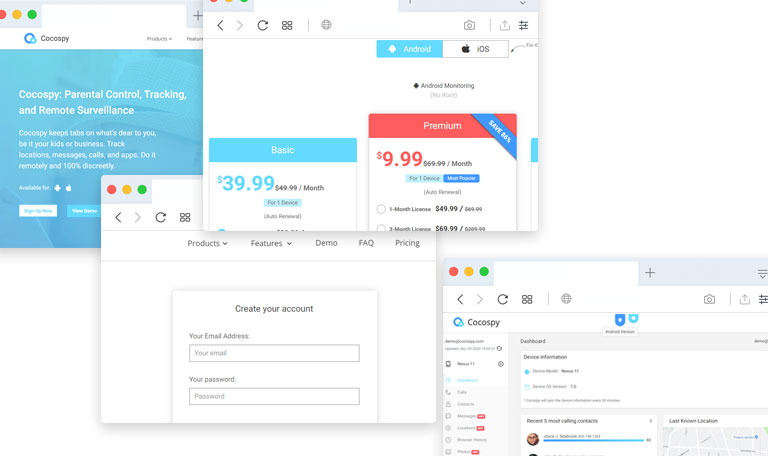 Installing CocoSpy involves two steps;
Registration Purchase
Setting up CocoSpy on your target device.
Here, we will explain, step-wise, how you can configure CocoSpy if you are a first-time user.
Step 1: Get Registered with CocoSpy:
Go to the

official website of CocoSpy

from your device.
From the top right corner, click "Sign Up Now."
Now, create an account by providing your email address and set a password.
Click "Sign Up Now."
The next page will ask you to select your target device, choose the OS of your target phone (Android or iOS).
Now, select a subscription plan that suits your budget and spying requirements.
Once you buy the subscription, click "proceed."
The minute you purchase the subscription, CocoSpy will send you an official email that holds your login details, activation key, and a download link.
Now, you are done with the registration process. The next step will require physical access to your target device to install CocoSpy on it manually.
Step 2: Set Up CocoSpy on Your Target Device:
Here is the CocoSpy installation guide.
Follow these steps to install CocoSpy on your target phone/tablet.
Pick up and unlock your target device.
Open the browser and enter the download link (trackpro.vip).
You will be redirected to the CocoSpy download page, slide right to download.
Tap "Next" and confirm the installation process.
Now, tap on "Install."
Agree to the policies of CocoSpy.
Now, to sign in, add your login credentials.
Tap "Next" and allow all the permissions.
Now, tap on "Proceed to Settings" and check the System Auto Start option. If you are not redirected to system auto-start management, do it manually.
Again, tap "Proceed to Settings" and toggle on user data access.
Now, turn on the accessibility of CocoSpy in the same manner.
Once configured, check the section "Hide the Application," and you are all set to tap on the "Start Monitoring" button.
Tap "Start" and access your target device remotely and stealthily.
READ ALSO: FlexiSpy Review 2022 [Updated] – A High-End Mobile Monitoring Spyware
What is the Price of CocoSpy?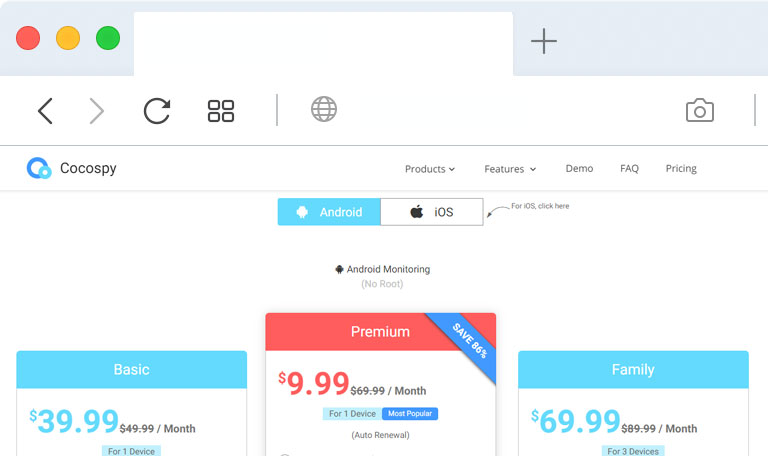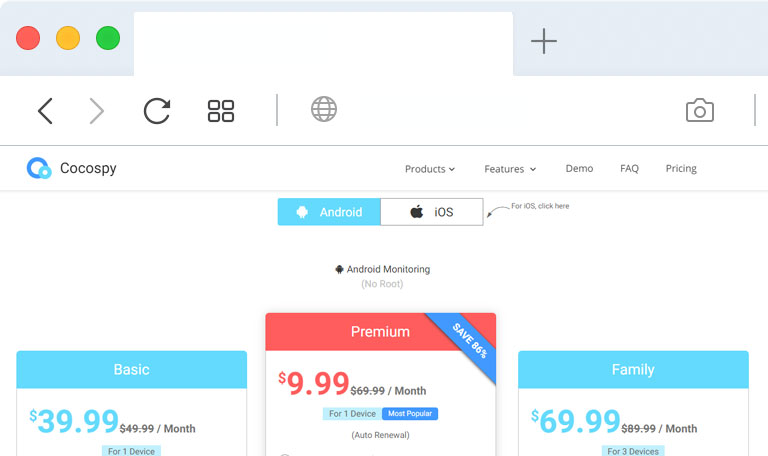 CocoSpy offers affordable subscription packages.
Let's find out the fantastic deals of CocoSpy for Android and iOS devices.
CocoSpy Pricing for Android:
Basic Package (for a single device):
1-Month License: $39.99
3-Month License: $59.99
12-Month License: $99.99
Premium Package for Android (for a single device):
1-Month License: $49.99
3-Month License: $69.99
12-Month License: $119.99
Family Package for Android (for three devices):
1-Month License: $69.99
3-Month License: $99.99
12-Month License: $199.99
CocoSpy Pricing for iOS:
CocoSpy Pricing for iOS:
Premium Package for iOS (for a single device):
1-Month License: $49.99
3-Month License: $79.99
12-Month License: $129.99
Family Package for iOS (for five devices):
1-Month License: $99.99
3-Month License: $199.99
12-Month License: $399.99
Business Package for iOS (for 25 devices):
1-Month License: $399.99
3-Month License: $699.99
12-Month License: $999.99
CocoSpy Review – The Final Words:
CocoSpy is a favourite spyware app for both iOS and Android monitoring. With such user-friendliness and credibility, CocoSpy is trusted worldwide among parents and employers. In this review of CocoSpy, we have covered all the main aspects of this app regarding functionality, compatibility, installation, etc. We hope that you'll find this information useful and select your CocoSpy package wisely.