How to Know if Your Child is Using Online Dating Apps?
Posted in Digital Parenting by admin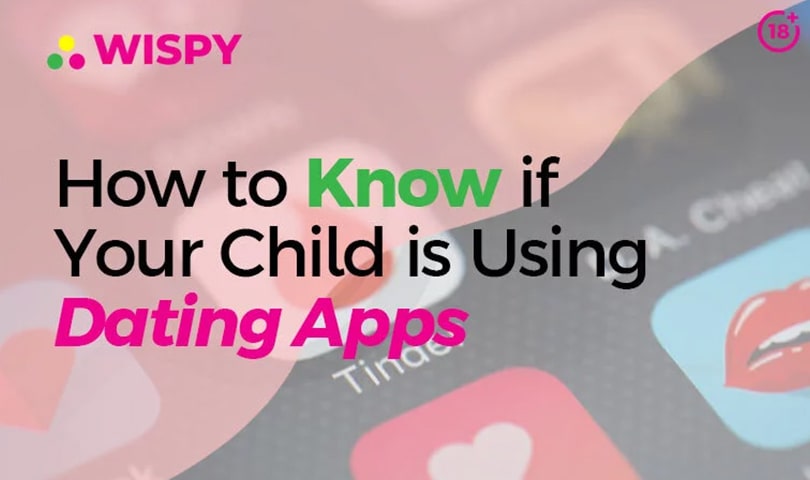 Are you seeking effective ways to keep your kids safe from online dating apps?
Being a parent these days is challenging beyond imaginations. New times bring new and even advanced parenting challenges.
Along with raising healthy and happy kids, parents are now dealing with the trouble of their teens becoming cell phone addicts. Mobile phone dependence turns into internet addiction in no time. And the internet is clutching so many things in it, including; both good and bad content.
Dating apps are famous among the younger generation. Obviously, everyone is finding love so desperately that makes one in three people dating online.
The quest to find "the one" has now populated among teenagers.
Let's discuss the dating trend among teens and discover how parents can save their kids from dating apps.
How to Know if Your Child is Using Online Dating Apps?
The rise of smartphone use has transformed our ways of living. From booking a cab online to shopping from online stores, we have already become dependent on cellular devices.
Now, the act of finding love has also become limited to smartphones.
Yes, you read it right.
Dating websites and applications are booming these days. The reason is a big crowd of youngsters finding their perfect match online.
Before we discuss anything, allow us to put forth dating app usage stats among online users.
Online Dating Stats – Why People Use Online Dating Apps?
In the past, people used to meet at social gatherings, or their friends set up blind dates for them. But now, the trend of online dating has eliminated the element of finding your loved one accidentally.
You must have heard about Tinder or Bumble.
As per a recent survey, 32 million Americans are using online dating apps or websites.
Now, we seek people online with interests similar to ours. It all depends on a single swipe to choose who you want to date.
Here is a quick overview of online dating habits among the young generation.
48% of dating apps users do online dating for fun.
13% of the online dating apps users are looking for a hookup only.
Some people date online to seek a serious relationship.
25% of people share personal details on online dating sites or apps.
1 in 10 people share nude photos, personal contact numbers, and home addresses with their online dates.
57% of online daters are involved in catfishing and online deception. They lie about their appearance, name, marital status, location, etc.
55% of people got threatened by online dating sites or partners.
27% of the online daters use cybersecurity precautions to save their devices and personal details.
16% of the online daters do nothing to protect their privacy.
Now, let's have a look at famous dating apps for teens so that parents can restrict such apps and webs from their kids' mobile screens.
RELATED: Porn Addiction Among Teens – Here is What Every Parent Must Do
7 Famous Online Dating Apps for Teens – An Alarming Sign for Parents:
Parental concerns to create a safer digital environment for kids are authentic. With so many cyber threats revolving around online, parenting has become much more difficult than ever before. There was a time when kids were threatened by social media dangers. But now the situation has become worse with teens getting attracted to dating apps.
Below is a list of the free top 7 famous online dating apps for teens that every parent should know.
Tinder
Bumble
MyLOL
Skout
Meet Me
Hot or Not
Yubo
Carefully read the descriptions of these teen dating apps and save your children from potential cyber threats.
Tinder:
The Tinder app is famous among teens and adults. Every online user is familiar with the concept of swiping left or right. Tinder app shows you potential daters matching your interests and proximal to your location. Most people use Tinder for hookups. The app is valid for teenagers of 18 years or more, but it has been observed that younger teens can bypass the age restrictions and use the app.
Bumble:
Bumble is also a matchmaking app. This dating app authorizes women to make their first move. Using Bumble, only women are empowered to reach men. Such a feature lures young teenage girls, making them believe that they are the ones who have control over choosing someone for them. Although, it is nothing but a false sense of insecurity. Once a girl reaches her date, the person on the other side can contact her anytime.
MyLOL:
MyLOL is a famous dating platform for teenagers. The service provider claims to provide dating services for teens aging 13 to 19.
Weird? Isn't it?
MyLOL advertises itself as the best dating app and site from where teenagers can mingle online and start dating. No doubt, such an open gateway can invite cyber threats, including; sexting among teens and many others.
Skout:
As the name indicates, Skout is an online platform where kids can make new friends. Unlike dating apps, Skout is merely a social app for kids to connect with new people. However, the approved age for joining Skout is 13 years, which can alarm parents about the online social activities of their young teens.
READ MORE: Teens Texting Abbreviations – Is Your Child Hiding Something?
MeetMe:
MeetMe is not a matchmaking or dating platform. The app finds people with similar interests to its users and suggests them with new connections. The downfall of this application is that it allows teens as young as the age of 13, to join the platform. Many minors are now using the MeetMe app for dating purposes.
Hot or Not:
The name of this app is a red flag itself. Hot or Not is a frivolous app on which teens rate each other based on appearance. Such an activity of rating others concerning aesthetics develop insecurity and damage the self-esteem of young teens.
Yubo:
The app Yobu is just like Tinder on which teens can swipe left or right to users' profiles. Yobu also finds potential matches present at nearby localities with similar likes and dislikes. The age limit to use Yobu is 18 years, but younger teens can easily evade the restriction.
Tips for Parents to Save Their Kids from Dating Apps:
Living in today's digital world, parents can save their kids from using dating apps in either of the two ways;
1- Teach Your Kids Online Etiquettes
2- Control Kids' Devices
Effective communication between parents and kids, discussing the possible dangers of using dating apps, can help a lot. But, if your child is stubborn and does not listen to you, then there is no other way than to use a parental control app.
The Final Words:
The internet evolution and the dependence on mobile devices have opened too many possibilities for teenagers. The use of dating apps among teens is a rising issue nowadays. Parents can now monitor the screens of their teens using apps like TheWiSpy. Using a parental control app, you can keep firm eyes on your teens' online activities. What do you think is the best way to stop kids from online dating?