Christmas 2021 – Are You All Prepared for XMAS Celebrations?
Posted in Events and Deals by Julie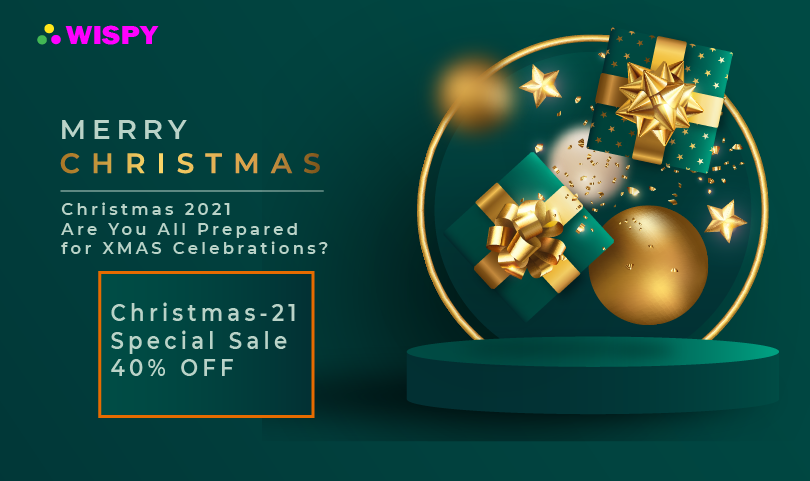 Christmas is around the corner; everyone is busy purchasing gifts, Christmas trees, ornaments, and preparing for the auspicious event with all their heart. Meanwhile, as per sayings, Grinch is getting ready to ruin Christmas 2021 plans.
Today, the Grinch is not a hypothetical character, but we can relate it to the overuse of technology. Yes, being busy on our cell phones, we pass over many tasks, neglect our duties and end up devastated. Likewise, kids spending hours on cell phones and tablets on Christmas Eve not only detaches them from the essence of family gatherings but also skims over Christmas celebrations.
Christmas is an occasion to count blessings and cherish peace with folks and peers. People around the globe spend thousands of dollars to shop Christmas presents for their kids, parents, and spouses.
It is overwhelming that most parents in the United States present cell phones and tablets to their young ones as a Christmas gift.
So, are you all prepared to rejoice Christmas in tranquillity, or do you have pending tasks on your checklist?
Don't worry!.
In this article, we will discuss a to-do list to help you prepare for the Christmas holidays.
Let's cut to the chase and have a look at some Christmas preparations you need to complete before the big night.
Christmas 2021 – Are You All Prepared for XMAS Celebrations?
Are you all set to sing Christmas Carol and have put a Christmas wreath on your front door?
It's time to rehearse the "Jingle Bell" once again. From baking gingerbread cookies to decorating a Christmas tree in your lounge, there are so many tasks that you need to check off our Christmas preparation list.
Let's have a quick look at some critical Christmas arrangements we all have to make.
Get the Perfect Christmas Tree:
Christmas is incomplete without a Christmas tree. During the Christmas season, there is a variety of pine trees in the market. You can pick long, short, or any sized tree that suits perfectly as per your lounge dimensions. Pick the best Christmas tree and decorate it with little snowmen, angels, baubles and other ornaments. Decorating a Christmas tree is a family activity, so you have to make sure all your family members participate in garnishing the family Christmas tree. You must decorate your Christmas tree on Advent Sunday so that Santa can appear on Christmas eve and place presents beneath your Christmas tree.
Create Christmas Movie List:
Christmas is a premium time to enjoy with your family. And, nothing competes with the joy of a family movie night. You can pick good Christmas movies from Netflix or Amazon Prime to watch with your family.
Tip: If you have children, choose age-appropriate movies and enjoy the movie night full of joy.
Plan Ice Skating with Family:
Christmas comes in winter, and it is a great time to go ice skating with your family. So, put on your ice skates and go skating. Usually, on Christmas eve, the ground is fully covered with snow. You can find a public court and skate there free of cost; an affordable yet enjoyable memory to make.
Bake Gingerbread Cookies:
Every family has a special recipe for cookies. You can choose your best cookie recipe and decorate them with your favorite icing and sprinkles. Most families bake gingerbread cookies as a Christmas souvenir. But, you can make any cookie Christmas themed with a combination of red, white, and green icing. Christmas cookies can shape like Santa Claus, Gingerbread men, Elves, Christmas tree, Reindeer, and so forth.
Hang The Stockings & Mistletoe:
Setting up the wreath and fairy lights are not enough. There are other decorative elements necessary for Christmas embellishment. Hang stockings in your lounge so that you can put little presents in it for your family. Stuff the stockings with candies and treats as well.
Hang a bunch of mistletoe in your house. So that, if two people, fortunately, get together under the mistletoe, they got to kiss each other.
Shop & Wrap Christmas Gift:
How can we forget to shop for Christmas presents? This year, celebrate Christmas traditionally. Research shows that Christmas has lost its essence. People buy gadgets and high-tech devices for their families instead of purchasing clothing, toys, and sports gear. You can bring back the Christmas joy by purchasing the best Christmas presents for your spouse and kids. Don't forget to wrap all the presents before Christmas. If you get confused about picking a Christmas present for your loved ones, you can always seek help from Pinterest. There are thousands of Christmas gift ideas already published on that platform.
Build a Snowman:
If you live in a snowy area, then you can create something magical out of the snow. Build a snowman. All you need is some carrots, buttons, tree branches, a hat, and a muffler, and your snowman is ready. You can also go sledding with your kids and enjoy the wintry Christmas night.
Do Charity:
While counting your blessings this Christmas eve, remember to help the needy people. Do as much charity as you can. Or bring gifts to people living on the streets to make their Christmas special. You can volunteer and arrange Christmas dinner for less fortunate people.
Set Up Child Monitors to Track Your Children:
Christmas is a busy event for parents and well for kids. Children go outside to skate, build snowmen, or meet their friends. During outdoor activities, parents must track their children to ensure their safety. You can set monitoring cameras around your house to keep a check on your child's whereabouts.
But, what if your child leaves your house premises?
No need to worry!
You can get a cell phone tracking app and install it on your kid's phone. This way, you can keep track of your child's location even if they go far from the house. Also, a mobile phone tracker helps parents monitor if their kids are watching Netflix excessively or playing too many video games.
TheWiSpy is an all-in-one solution for parental monitoring for Christmas. It can track mobile devices and provide parents complete control over their kids' cell phones and tablets. Yes, you can restrict videos, block apps, and even lock your child's cell phone with remote commands.
Merry Christmas from TheWiSpy:
Statistics from 2019 shows that 40% of parents gifted mobile phones to their young ones as a Christmas present. Parents need a monitoring tool to ensure optimized digital consumption among kids, along with cyber independence. And for that, TheWiSpy app is the savior.
On the auspicious event of Christmas, TheWiSpy is offering a mega sale of 40% off so that parents can enjoy Christmas in serenity.
Use the promo code "Christmas-21" and get your hands on the world's leading mobile tracking and parental control app at a discounted price. Hurry up, TheWiSpy's Christmas sale is only live till Christmas eve.